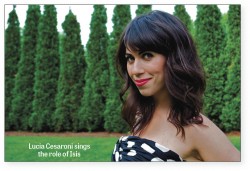 With more companies scheduling operas in March and May, April does not quite overflow with opera performances as it used to. Nevertheless, an astonishing variety of works are on offer from warhorses to rarities and from the eighteenth century to the present.
The month begins with the world premiere of the Canadian opera Isis and Osiris, Gods of Egypt composed by Peter Anthony Togni to a libretto by poet Sharon Singer. The opera, presented by Voicebox: Opera in Concert, concerns the central figures of ancient Egyptian myth.
Via email Singer explained the importance of the myth and the genesis of the opera: "I have been working on this project since before Peter became involved. My fascination with ancient Egypt goes back many decades. The myth of Isis and Osiris is the overarching myth of ancient Egypt since it explains and describes the creation of the world and how evil came into the world and the afterlife. The spine of the myth is the concept of ma'at which is the Egyptian word for law, order, truth and justice.
"The opera, Isis and Osiris, Gods of Egypt is inspired by this strange and compelling myth that centres on one of the world's great love stories. Four siblings, children of the gods – Isis, Osiris, Seth and Nepthys – come to earth to live as human beings. The idealistic King Osiris and his sister-wife, Queen Isis, bring their people the gifts of civilization: agriculture, weaving, a code of laws, the arts, and worship of the gods. Their brother Seth, however, is jealous of their power, their wisdom and their devotion to each other. He murders Osiris and usurps the throne, provoking a conflagration that Isis with all her strength, love, and magic, must try to extinguish.
"This story cried out to be created as an opera, which had never been done before. It's a larger-than-life tale filled with sibling rivalry, jealousy, fratricide, brutal murders, magic and resurrection. In spite of this bedrock of a story from prehistory, the opera is very contemporary in the issues that it explores such as the eternal battle between good and evil, the selfish and power-mad Seth, versus the idealistic Osiris, who seeks to create a peaceful kingdom founded on justice, fairness and compassion."
"I had written the first draft of the libretto for the opera and I was looking for a composer. Peter and I were introduced by a mutual friend, mezzo-soprano Andrea Ludwig, who was enthusiastic about my libretto and recommended it to Peter. When he read it, he emailed me these words, 'I read the libretto and I love it! Very dramatic, very singable…I would love to make this happen!!!' Four years later, it is having its world premiere."
Though the story deals with gods, Singer sees them as very human: "Since Isis and Osiris are incarnated as human beings, they had to have human as well as divine qualities."
For his part, Togni explained his approach to composing the opera: "I have tried to be true to Sharon Singer's wonderful libretto. In my musical response I am going for the humanity – a bright and rich sound rather than an approximation of what the music might have sounded like or a tip of the hat to Verdi! Much of music is already influenced by mystical and exotic sounds such as medieval chant and eastern scales. You will find this in my choral music for example – music that is ancient and modern at the same time. I am telling the story in my own harmonic language. I really wanted the opera to dance and as result I use many Arabic rhythms and scales.
"There is a slightly baroque influence mixed with that and the influence of some of the Russian romantic composers. Like a film score, the sound changes from scene to scene and the range is wide, everything from ancient sounding chords to shrieking jagged, blood-on-the-floor orchestral screams! The Egyptians were very forward thinking and I hint at this with my use of the electric organ and harmonies not unlike Pink Floyd and Coldplay. If anything, my music depicts them as a futuristic people.
"I have scored it for a chamber orchestra – two violins, viola, cello, double bass, oboe, clarinet, harpsichord, harp, organ and percussion – lots of percussion! Rather like a baroque band, it has to be tight and crisp sounding."
Isis and Osiris stars soprano Lucia Cesaroni as Isis, tenor Michael Barrett as Osiris, mezzo Julie Nesrallah as Nepthys and Michael Nyby as Seth. With Robert Cooper conducting the chamber orchestra and the OIC Chorus, the opera runs April 1 and 3.
A Mozart Premiere! Next up is the rarity, Lucio Silla (1772), by the 16-year-old Mozart presented by Opera Atelier, April 7 to 16. This is the opera that director Marshall Pynkoski and choreographer Jeannette Lajeunesse Zingg staged to great acclaim first at the Mozartwoche Salzburg and the Salzburg Festival in 2013 and later at La Scala in Milan in 2015. Two stars of the La Scala production will sing in Toronto – Kresimir Spicer as the Roman dictator Silla (i.e. Lucius Sulla, 138-78 BC) and Inge Kalna in the trousers role of Cinna. Joining them will be Peggy Kriha Dye in the second trousers role as the senator Cecilio. Mireille Asselin is Celia, Silla's sister. And Meghan Lindsay is Giunia, Cecilio's beloved, who is desired by Silla. David Fallis conducts the Tafelmusik Baroque Orchestra.
The COC's Cuban Carmen: Playing from April 12 to May 15 is Bizet's Carmen presented by the Canadian Opera Company. Because of the long run there is a double cast. Georgian mezzo Anita Rachvelishvili and French mezzo Clémentine Margaine alternate in the title role. American tenor Russell Thomas and Canadian David Pomeroy sing Carmen's lover Don José. American bass-baritone Christian Van Horn and American baritone Zachary Nelson sing the toreador Escamillo. And Canadians Simone Osbourne and Karine Boucher sing Micaëla. Paolo Carignani conducts.
The COC last presented Carmen in 2010 and premiered the current production designed by Michael Yeargan and François St-Aubin in 2005. The most exciting aspect of this revival is that it will be directed by Joel Ivany, the artistic director for the Toronto alternative opera company Against the Grain Theatre, which has presented such innovative productions as La Bohème staged in a real pub and recently a fully staged and choreographed Messiah.
I spoke with Ivany about what challenges there are in directing a pre-existing physical production where others have made the design choice to move the location to Cuba and the time to the 1940s.
Ivany says, "I've had to try and get inside the mind of the original artistic team to see what they were after. Thankfully the COC had all their reference material, including the original sketches, to find out why it was important for them to set Carmen in this time period.
Ivany tells me that he noticed "that some elements of those original sketches weren't implemented into the production. I had a design person [Camellia Koo] look at it with me to see if we actually could add anything anywhere or change some elements from how this production had been done before." The result will be that "the first three acts therefore are going to look a little bit different from what Toronto audiences have seen before."
The area where Ivany can most exercise his creativity is in directing the acting, especially since the company is doing the original version with dialogue instead of recitatives. Ivany says, "For me so much happens in those dialogues. The storytelling is so incredibly crucial."
Ivany states his goal: "What I'm going for is a good, character-driven spectacle event of what this piece is, within this set and within this company. The best approach is to celebrate what is best about this production and this piece and use its visual strengths and the chorus to the best advantage."
About the contrast between working with his own company and with the COC, Ivany says, "It's great to be able to do the big, but also to be doing experimental work with Against the Grain and seeing where that can lead. I think that's what's unique and great about Canada, and Toronto as well, and I think there are some good days ahead with leaders who are taking chances on those ideas to make sure that this art form keeps evolving and moving forward. It's variety that spurs the creativity."
Silva-Marin's Zarzuela Love Affair: From April 27 to May 1 Toronto Operetta Theatre presents the Canadian premiere of the 1923 zarzuela Los Gavilanes (The Sparrow Hawks) by Jacinto Guerrero (1895-1951). TOT artistic director Guillermo Silva-Marin introduced the zarzuela, the Spanish version of operetta, to Toronto audiences, starting in 2003, immeasurably broadening the palette of music theatre in Toronto.
The action is set near a Provençal fishing village in 1845. Juan, now aged 50 and known as the "Indian," has returned to the village after having made his fortune in Peru. He left hoping to make enough money to marry his beloved Adriana, but he finds that in his absence she married, had a daughter, Rosaura, and is now a widow. Because Rosaura so much resembles the Adriana he left behind, Juan vows to marry her, much to the anger of the village and of Rosaura's boyfriend Gustavo.
Los Gavilanes will be the sixth full zarzuela that Silva-Marin has programmed, but this one has a special meaning for him. As he wrote via email, "Los Gavilanes was the first zarzuela I attended when it was performed in San Juan while I studied at Universidad de Puerto Rico. Actually, it was my first encounter with the lyric theatre during a time when I had little thought that I would someday become a singer."
Silva-Marin notes that Guerrero's music may remind TOT fans of another great operetta composer. As he says, "Years later, I found myself thinking about Los Gavilanes in Toronto. By this time I had researched and presented Imre Kálmán's works Countess Maritza, The Gypsy Princess and Der Zigeunerprimas. On revisiting Los Gavilanes years ago, I was struck by Guerrero's similarity to Kálmán in sonority, orchestration and predilection for melodic invention, and smiled at recognizing that Madrid and Budapest were not truly too far apart. Being 1923, verismo in operetta was not at all an anomaly. Los Gavilanes cannot avoid a Spanish musical sensitivity, but it is not committed to a folkloric palette, rather a more universal sound evolving from the purely comical and satirical in operetta of previous decades."
The dialogue will be in English and the songs sung in Spanish. Miriam Khalil will sing Adriana, Sarah Forestieri will be Rosaura and Ernesto Ramirez will be Gustavo. Guillermo Silva-Marin himself will sing the role of Juan. Larry Beckwith conducts the TOT Orchestra and Silva-Marin directs, assisted by Virginia Reh.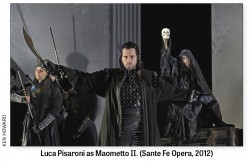 COC's Seventh Rossini: The month closes with the COC's company premiere of Rossini's Maometto II from April 29 to May 14. Acclaimed Italian bass-baritone Luca Pisaroni makes his COC debut in the title role in this production created for Santa Fe Opera in 2012, directed by David Alden and conducted by early music expert Harry Bicket. This will be the seventh Rossini opera the COC has staged and only its second Rossini opera seria, after Tancredi in 2005. Many people will know the opera better under the title Le Siège de Corinthe, the name Rossini gave it when he rewrote the work for Paris in 1826.
Loosely based on history, the central character of Maometto II is the Ottoman Sultan Mehmed II (1432-81) who conquered Constantinople in 1453 and later, in 1470, the Venetian colony Negroponte on the Greek island of Euboea where the opera is set. In Maometto II, the Venetian debate how to deal with the Turkish threat. Calbo counsels the governor, Paolo Erisso, to continue to fight while General Condulmiero counsels surrender. Yet, as with most opere serie, the focus is more on love than politics. Erisso wishes his daughter Anna to marry Calbo but she confesses that she is in love with a man known to her only as "Uberto." As one might expect Uberto turns out to be none other than Maometto II.
Joining Pisaroni is tenor Bruce Sledge as Erisso, soprano Leah Crocetto as Anna, mezzo Elizabeth DeShong in the trousers role of Calbo, tenor Andrew Haji as Condulmiero and tenor Aaron Sheppard as the Muslim noble Selimo.
These five operas are only the largest scale works on offer in April, yet one could hardly hope for more varied and unusual fare.
Christopher Hoile is a Toronto-based writer on opera and theatre. He can be contacted at opera@thewholenote.com.