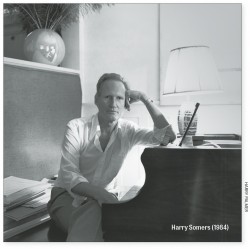 On January 16, Canadian Opera Company General Director Alexander Neef unveiled the COC's 2016/17 season. Where the 2015/16 season featured the first mainstage world premiere of a Canadian opera since 1999, the 2016/17 season will feature the first professional revival since 1975 of Harry Somers' Louis Riel (1967), perhaps the best-known Canadian opera ever written. Other good news includes the company premiere of an opera by Handel, star casting in classic roles, greater use of Canadian directors (and a first female Canadian conductor) and the renewal of Johannes Debus' contract as the COC Music Director.
Bellini and Handel: The 2016/17 season will open with a new production of Bellini's bel canto masterpiece Norma (1831), last seen here in 2006. The new COC production is co-produced with San Francisco Opera, Lyric Opera of Chicago and Gran Teatre del Liceu of Barcelona and is directed by American Kevin Newbury. Two of the most in-demand sopranos today – American-born Sondra Radvanovsky and South African-born Elza van den Heever – alternate as the Druid high priestess Norma. American Russell Thomas returns to sing Pollione, Norma's Roman lover. American mezzo-soprano, Isabel Leonard, returns to the COC in her role debut as Adalgisa, Pollione's new lover. And Russian bass Dimitry Ivashchenko, last heard here as Hunding in Die Walküre, is Oroveso, Norma's father. Bel canto specialist Stephen Lord, who conducted Norma here in 1998, will take the podium. Norma has eight performances from October 6 to November 5, 2016.
Running in repertory with Norma will be the company premiere of Handel's Ariodante (1735), one of several operas by Handel based on Ludovico Ariosto's Renaissance epic Orlando Furioso (1532). This will be the sixth opera by Handel the COC has staged and the third since 2012. After falling into obscurity in the 19th century, Ariodante was revived in the 1970s and is now regarded as one of Handel's greatest operas. The COC production is co-produced with Festival d'Aix-en-Provence, Dutch National Opera, Amsterdam and Lyric Opera of Chicago, and is directed by Richard Jones, who directed The Queen of Spades here in 2002. British mezzo-soprano Alice Coote, last seen here in 2014 as Dejanira in Handel's Hercules, returns in the trousers role of Ariodante. Canadian soprano Jane Archibald makes her role debut as Ginevra, Ariodante's wronged fiancée. Armenian mezzo-soprano Varduhi Abrahamyan makes her Canadian debut as Polinesso, the jealous rival of Ariodante. Young Canadian coloratura soprano Ambur Braid is Ginevra's friend and unwitting betrayer, Dalinda. Canadian tenor Owen McCausland is Ariodante's vengeful brother, Lurcanio, and French bass François Lis makes his Canadian debut as Ginevra's father, the King of Scotland. Johannes Debus will conduct his first Handel opera. Ariodante has seven performances from October 16 to November 4, 2016.
Mozart and Wagner: The winter season pairs two familiar COC productions – Mozart's The Magic Flute, last seen in 2011, and Wagner's Götterdämmerung last seen in 2006. The Magic Flute will be staged by young Canadian director Ashlie Corcoran based on the original direction by Diane Paulus. Québécois early music specialist Bernard Labadie, music director of Les Violons du Roy, will make his COC debut as the conductor. Canadian tenors Andrew Haji and Owen McCausland alternate in the role of Tamino, Russian Elena Tsallagova and Canadian Kirsten MacKinnon alternate in the role of Tamino's beloved Pamina, and Canadian baritones Joshua Hopkins and Phillip Addis alternate as the bird-catcher Papageno. American Kathryn Lewek and Canadian Ambur Braid share the coloratura soprano role of the Queen of the Night, while Croatian bass Goran Jurić, in his Canadian debut, and American bass Matt Boehler share the role of Sarastro. The Magic Flute runs for 12 performances from January 19 to February 24, 2017.
In repertory with Mozart's lighthearted opera is Wagner's doom-laden Götterdämmerung, the fourth opera of Wagner's Ring Cycle, that concludes the action begun in Das Rheingold and carried on through Die Walküre and Siegfried. The charismatic American soprano Christine Goerke, who stunned audiences here with her effortless Brünnhilde in Die Walküre in 2015, returns to complete the valkyrie's fateful journey in Götterdämmerung. Austrian tenor Andreas Schager makes his COC debut as Brünnhilde's beloved Siegfried. German baritone Martin Gantner is Siegfried's rival Gunther. Estonian Ain Anger makes his Canadian debut as Gunther's evil half-brother, Hagen. Ileana Montalbetti is their sister Gutrune and Canadian bass Robert Pomakov is the dwarf Alberich. The original director, Tim Albery, takes the helm and Johannes Debus conducts his first Götterdämmerung. The opera runs for seven performances from February 2 to 25, 2017.
Somers' Riel and Puccini's Tosca: The spring season opens with what will surely be the opera event of the year – the revival of Harry Somers' Louis Riel in a new production directed by Canadian Peter Hinton and conducted by Johannes Debus. Somers wrote the opera for Canada's centennial in 1967 and now the COC is reviving it as a co-production with the National Arts Centre in Ottawa for Canada's sesquicentennial in 2017.
The opera, with a libretto in English, French, Latin and Cree by Mavor Moore and Jacques Languirand, focuses on the Manitoba Métis schoolteacher Louis Riel (1844–85), who led the Red River Rebellion of 1869–70 and the North-West Rebellion of 1884–85. It is a story that serves as a nexus for tensions in Canada among the English, French and First Nations. Led by Riel, the Francophone Métis prevented the newly appointed Anglophone, William McDougall, from entering the huge territory acquired by the newly formed Canadian government. Riel set up his own provisional government and negotiated directly with the Canadian government to establish Manitoba as a province. With the arrival of Canadian troops, Riel was formally exiled from Canada but returned to lead the unsuccessful North-West Rebellion of the Métis in what would become Saskatchewan, where he was tried for high treason and executed.
Singing the title role is COC favourite Russell Braun. The all-Canadian principals include baritone James Westman as Sir John A. Macdonald; soprano Simone Osborne as Marguerite, Riel's wife; mezzo-soprano Allyson McHardy as Julie, Riel's mother and confidante; tenor Michael Colvin as Thomas Scott, the Orangeman executed on orders from Riel; and bass John Relyea as Bishop Taché, the cleric who helped the government betray Riel. The COC gave Louis Riel its world premiere in Toronto in 1967 and later performed it in Montreal. The COC revived it in 1975 and took it to the National Arts Centre in Ottawa and to the Kennedy Center in Washington, D.C., where the Washington Star described it as "one of the most imaginative and powerful scores to have been written in this century." The opera runs for seven performances from April 20 to May 13, 2017.
Moving from the unfamiliar to the familiar, the COC closes the 16/17 season with Puccini's ever-popular Tosca (1900), last seen in 2012. This will be the second revival of the production designed by Kevin Knight and directed by Paul Curran. In 2012, Canadian soprano Adrianne Pieczonka sang the title role. This time because of its extended run, she will share it with American soprano Keri Alkema. Returning to the COC is renowned Mexican tenor Ramón Vargas making his role debut as Tosca's lover, Cavaradossi, a role he shares with Italian tenor Andrea Carè. German bass-baritone Markus Marquardt makes his Canadian debut as the tyrannical Scarpia. The production runs for 12 performances from April 30 to May 20. Canadian conductor Keri-Lynn Wilson will make her COC debut at the podium.
Also good news at the season announcement was that the contract of popular COC music director Johannes Debus has been extended through the 2020/21 season. The revival of Somers' Louis Riel seems to mark a new commitment to Canadian opera after this season's staging of Barbara Monk Feldman's Pyramus and Thisbe. The staying power of operas from the past can only be marked through revivals and the COC is the only company in Canada big enough to revive a large-scale opera like Louis Riel.
Also, the COC showed a new interest in fostering Canadian directing talent with the selection of Ashlie Corcoran and Peter Hinton. The late COC General Director Richard Bradshaw did much in this area by pairing a wide range of Canadian film and stage directors with operas. This led to such successes as Robert Lepage's Bluebeard's Castle/Erwartung in 1992, Atom Egoyan's Salome in 1996, François Girard's Oedipus Rex with A Symphony of Psalms in 1997, not to mention a heart-wrenching Dialogues of the Carmelites by Diana Leblanc 1997, a riveting Tosca by David William and an eerie The Turn of the Screw by Christopher Newton in 2002.
The only negative note is that the number of performances will shrink to 53 in 2016/17 from 55 in 2015/16, thus continuing their gradual decrease from a high of 70 in 2009/10 season.
Turning to the current season: Turning to the present, two COC productions will be playing in February. From February 2 to 14 is François Girard's acclaimed production of Wagner's Siegfried. German tenor Stefan Vinke sings the title role while the amazing soprano Christine Goerke returns as Brünnhilde in this, the third opera in Wagner's Ring Cycle. They are joined by Wolfgang Ablinger-Sperrhacke as the dwarf, Mime, Alan Held as Wotan and Phillip Ens as the dragon, Fafner. Johannes Debus conducts.
Running in repertory with Siegfried is Mozart's The Marriage of Figaro from February 4 to 27 in a production from the Salzburg Festival directed by Claus Guth. Josef Wagner stars in the title role with Jane Archibald as Susanna, Erin Wall as the Countess, Russell Braun as the Count and Emily Fons as Cherubino. Johannes Debus conducts. The COC Ensemble Studio takes over the principal roles on February 22.
Christopher Hoile is a Toronto-based writer on opera and theatre. He can be contacted at opera@thewholenote.com.