The 2015/16 opera season in Toronto is shaping up to be an exciting one. Based on the schedules that have already been announced, there are already two world premieres on offer along with a North American premiere and several Canadian premieres.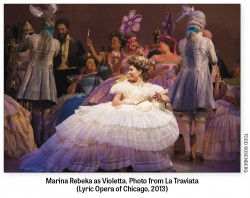 COC entices: While the 2014/15 season was a very safe one for Canada's largest opera company, the coming COC season is much more enticing with a world premiere plus two company premieres alongside four standard repertory works, two of which will be in new productions. The season opens with Verdi's La Traviata running from October 8 to November 6. The COC has replaced its unloved production by Dmitry Bertman with a new co-production with Lyric Opera of Chicago and Houston Grand Opera by Arin Arbus. Russian Ekaterina Siurina and Canadian Joyce El-Khoury will alternate in the role of Violetta; American Charles Castronovo and Canadian tenor Andrew Haji will sing her lover Alfredo; and American Quinn Kelsey and Canadian James Westman will sing Alfredo's disapproving father Germont. The conductor is Marco Guidarini.
The most anticipated opera of the season, however, is the one running in repertory with La Traviata. This is the Pyramus and Thisbe (2010) by Canadian Barbara Monk Feldman. This work is important for the company for several reasons. First of all, it is the first Canadian opera that the COC has produced on its main stage since The Golden Ass by Randolph Peters in 1999. Thus, what has been far too long a wait is now over. Second, this will be the first Canadian opera ever staged in the auditorium of the Four Seasons Centre. Third, this will be only the second opera by a female composer that the COC has ever staged, the first being L'Amour de loin (2000) by Kaija Saariaho in 2012, and the first ever by a female Canadian composer.
Pyramus and Thisbe is presented with two vocal works by Claudio Monteverdi, the Lamento d'Arianna(1608) and Il combattimento di Tancredi e Clorinda (1624). The first is the sole aria remaining from a lost opera by Monteverdi while the second, though sometimes called an opera, is really a narrative sequence of madrigals. Both are company premieres. Krisztina Szabó sings Arianna, Clorinda and Thisbe; Phillip Addis sings Pyramus and Tancredi; and Owen McCausland sings Testo, the narrator in Il combattimento. American Christopher Alden, who directed La Clemenza di Tito in 2013 and Die Fledermaus in 2012, is the stage director and Johannes Debus will conduct. The triple bill will run from October 20 to November 7.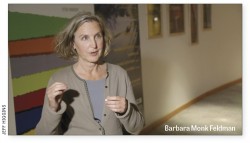 The winter season begins with a remount of Wagner's Siegfried in the familiar production by François Girard. American soprano Christine Goerke, who thrilled audiences earlier this year as Brünnhilde in Die Walküre, returns to continue Brünnhilde's journey in Siegfried. German tenor Stefan Vinke sings the title role; Austrian Wolfgang Ablinger-Sperrhacke is Siegfried's mentor Mime; and American Alan Held sings the god Wotan. Johannes Debus conducts and the production runs from January 23 to February 14.
Playing in repertory with Siegfried is Mozart's The Marriage of Figaro in a production from the Salzburg Festival directed by Claus Guth. Austrian bass-baritone Josef Wagner sings the title role, Canadian Jane Archibald is Susanna, Canadian Erin Wall sings the Countess, Russell Braun is the Count and American Emily Fons is Cherubino. Johannes Debus conducts.
The COC spring season pairs the familiar and the unfamiliar. Bizet's Carmen reappears after only six years, this time directed by Toronto's own Joel Ivany, artistic director of the popular avant-garde opera company Against the Grain Theatre. Georgian Anita Rachvelishvili and French mezzo Clémentine Margaine alternate in the title role; American Russell Thomas and Canadian David Pomeroy sing Don José; Americans Christian Van Horn and Zachary Nelson share the role of Escamillo; and Canadians Simone Osborne and Karine Boucher are Micaëla. Carmen, conducted by Paolo Carignani, runs from April 12 to May 15.
The unfamiliar opera is Maometto II (1820), only the second non-comic opera by Rossini the COC has ever presented. The opera concerns the attempt of Ottoman Sultan Mehmet II (1432-81) to conquer Venice, which unsurprisingly is framed as a story of thwarted love. Italian bass-baritone Luca Pisaroni sings the title role; Leah Crocetto is Maometto's former lover Anna; Elizabeth DeShong sings the trousers role of Anna's current lover Calbo; and Bruce Sledge is the Venetian noble Erisso. David Alden will direct the production from Santa Fe Opera as he did when it premiered there in 2012 and Harry Bickett will conduct. The opera runs from April 29 to May 14.
Opera Atelier's 30th anniversary season also feature something old and something new. Old will be the company's second revival of Lully's Armide (1686), previously presented in 2005 and 2012. Following the Toronto run from October 22 to 31, OA takes the work to Versailles where OA now has a recurring engagement. The production will include such OA favourites as Colin Ainsworth, Daniel Belcher, Peggy Kriha Dye and Carla Huhtanen.
The new production will be Mozart's early opera Lucio Silla (1772). Director Marshall Pynkoski and choreographer Jeannette Lajeunnesse Zingg had such success with it at the Salzburg Festival in 2013, they were invited to take it to La Scala in Milan. Now they will present it for a Canadian audience. Krešimir Špicer sings Lucio based on the Roman dictator Lucius Cornelius Sulla (c.138-78 BC). Meghan Lindsay sings Giunia, the woman Lucio lusts after but who is already engaged to the Roman senator Cecilio, a trousers role sung by Peggy Kriha Dye. Performances run April 7 to 16 and are likely to be in high demand.
Toronto Operetta Theatre also offers two fully staged productions this year. Its season begins with a concert performance of Gilbert and Sullivan's H.M.S. Pinafore (1878) on November 1, but its end-of-year show is a fully staged return of Sigmund Romberg's The Student Prince (1924) starring Ernest Ramírez, Jennifer Taverner and Curtis Sullivan. The season concludes with the Canadian premiere of Jacinto Guerrero's Los Gavilanes (The Sparrow Hawks) from 1923. Running April 27 to May 1, this work, well-known in Spain, is the latest in TOT's admirable exploration of the Spanish and Latin American form of operetta known as zarzuela and stars Guillermo Silva-Marin and Miriam Khalil.
CanStage: An unexpected source for opera this year is Canadian Stage. The company's artistic director Matthew Jocelyn directed both plays and opera during his time in Europe and now fulfills his dream of broadening Canadian Stage's scope to include opera. As a co-production with Soundstreams, the company will present the North American premiere of Julie (2005) by Belgian composer Philippe Boesmans from November 17-29. Based on Strindberg's seminal naturalistic play Miss Julie (1888), the opera stars Lucia Cervoni as Julie, Clarence Frazer as Jean and Sharleen Joynt as Christine. Les Dala conducts and Jocelyn directs.
Opera in Concert: Adding variety and sparkle to Toronto's opera scene are the offerings of Voicebox: Opera in Concert. Its 2015/15 season begins with the Canadian premiere of Alexander Borodin's Prince Igor (1890) on November 22 in Russian with English surtitles. On February 7, it presents the Canadian premiere of Falstaff (1799) by Antonio Salieri (1750-1825) – yes, the villain of Peter Shaffer's play Amadeus (1979) whom Shaffer unjustly accuses of murdering Mozart. Luckily, due to the efforts of such singers as Cecilia Bartoli, Salieri's reputation has revived and Voicebox, with accompaniment by the Aradia Ensemble under Kevin Mallon, will give us a rare chance to hear Salieri's take on Shakespeare's great comic character. The season ender is the world premiere of Isis and Osiris by Peter Anthony Togni to a libretto by poet Sharon Singer. Based on ancient Egyptian mythology, the opera concerns the sibling rivalry of the titular gods, fratricide and the quest for immortality. It stars Lucia Cesaroni, Julie Nesrallah, Ernesto Ramírez and Michael Nyby. Robert Cooper conducts the orchestra and the Voicebox Chorus.
Although not every company has announced its plans, there is already much to look forward to. Stay tuned for more.
Christopher Hoile is a Toronto-based writer on opera and theatre. He can be contacted at opera@thewholenote.com.