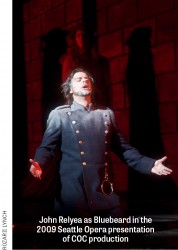 For several years April has been the one month in the year with the single highest concentration of opera presentations. This year, for unknown reasons, May claims that distinction with presentations of music drama from the Middle Ages right up to the present with a particular emphasis on new works.
c.1227 – Ludus Danielis by Anonymous on May 22, 23 and 24. The Toronto Consort has previous presented a series of highly successful concert productions of early operatic masterpieces from the 17th century. With Ludus Danielis (or The Play of Daniel), the Consort gives us an example of a sung drama written before the official invention of opera in the late 16th century. Jacopo Peri's Dafne from 1598, most of the music now lost, is considered the earliest known opera. Yet there are examples in the Middle Ages of sung drama. One of the most notable of these is the Ordo Virtutem (c.1151) by Hildegard of Bingen (1098-1179). The Ludus Danielis was written by students at the school of Beauvais Cathedral in France and recounts the story of Daniel at the court of Belshazzar. What will make this performance unusual is that it will be fully staged. Kevin Skelton in the role of Daniel joins the Consort Medieval players conducted by David Fallis and the Viva! Youth Singers of Toronto. Alex Fallis is the stage director with costumes by Nina Okens and set and lighting by Glenn Davidson.
1781 – Idomeneo by Wolfgang Amadeus Mozart on May 23.
Skipping forward 500 years from the Ludus Danielis, we come to Opera by Request's presentation of Mozart's opera seria about the King of Crete who prays to Neptune to save him from shipwreck vowing to sacrifice the first living being he meets on land. Unfortunately, that being is his son Idamante. Avery Krisman sings Idomeneo, Stephanie Code is Idamante and Hannah Coleman is Idomeneo's daughter Ilia. Annex Singers are conducted by Maria Case and the music director and pianist is William Shookhoff.
1816 – The Barber of Seville by Gioacchino Rossini from April 7 to May 22. The COC production of Barber opened in April and was discussed in this column last month, but with 12 performances it runs deep into May. As Figaro, Canadian Joshua Hopkins, who has made a name for himself elsewhere, sings his first major role with the COC. American Alek Shrader is Count Almaviva, Italian Serena Malfi is his beloved Rosina, Italian Renato Girolami is her jealous guardian and Canadian Robert Gleadow is Bartolo's friend Don Basilio. In May other singers assume the last four roles on May 9, 19 and 21. On May 15 members of the COC Ensemble Studio take over all the singing parts for a performance with discounted tickets. Scotsman Rory Macdonald conducts and Catalonian Joan Font directs.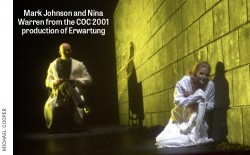 1849 – Luisa Miller by Giuseppe Verdi on May 15. Opera by Request presents one of Verdi's four operas based on plays by German playwright Friedrich Schiller. In the opera as in its source, Kabale und Liebe (Intrigue and Love) of 1784, Luisa is in love with a young man whom she does not know is really Rodolfo, the son of Count Walter in disguise. Walter's steward, the appropriately named Wurm, is secretly in love with Luisa and vows to do everything he can to ruin her relationship with Rodolfo. Naomi Eberhard sings Luisa, Paul Williamson is Rodolfo, Andrew Tees is Count Walter and Steven Hendrikson is Wurm. William Shookhoff conducts from the piano.
1868 – Hamlet by Ambroise Thomas on May 9. Opera by Request's third opera of the month is one that used to be popular until World War I. The main difficulty in English-speaking countries is that the opera has a happy ending in which Hamlet kills Claudius, is absolved of guilt and is finally proclaimed king. The highpoint of the work is a vocally spectacular mad scene for Ophélie before she drowns herself. Simon Chaussé sings Hamlet, Vania Chan is Ophélie, Domenico Sanfilippo is Claudius and Erica Iris Huang is Gertrude. As usual, the tireless William Shookhoff conducts from the piano.
1909 – Erwartung by Arnold Schoenberg.
1918 - Bluebeard's Castle by Béla Bartók, from May 6 to May 23.
This is the double bill directed by Robert Lepage that made COC known around the world. It premiered in 1993 and has been revived in 1995 and 2001. This will be the first time the operas will have been presented in the Four Seasons Centre. Bluebeard's Castle, performed first, is a symbolist version of the Bluebeard legend where Bluebeard's new wife Judith comes to realize that her husband is Death itself. Erwartung means "expectation" but emphasizes the aspect of waiting more than does the English word. Written in 1909 but not performed until 1924, Erwartung is one of the few monodramas aside from Poulenc's La Voix humaine (1959) in the operatic repertory. It follows the crazed thoughts of a woman searching for her lover. But is he dead? Could she have killed him? John Relyea sings Duke Bluebeard and Ekaterina Gubanova is Judith. In Erwartung, Krisztina Szabó is the unnamed Woman. Johannes Debus conducts.
2008 – Earnest, The Importance of Being by Victor Davies from April 29 to May 3. Toronto Operetta Theatre revives its well-received production, first seen in 2008, of an operetta based on Oscar Wilde's famous comedy. As discussed in this column last month, the production stars Jean Stilwell as Lady Bracknell with Cameron McPhail as John, Thomas Macleay as Algernon, Charlotte Knight as Cecily and Michelle Garlough as Gwendolen. Larry Beckwith conducts and Guillermo Silva-Marin directs.
2015 – Alice in Wonderland by Errol Gay from May 7 to 10. The Canadian Children's Opera Company presents a new children's opera with a libretto by Michael Patrick Albano based on the classic novel by Lewis Carroll. Tenor Benoit Boutet will sing the role of the White Rabbit while all the other roles are sung by the CCOC. Ann Cooper Gay conducts the CCOC Chamber Orchestra.
2015 – Führerbunker: An Opera by Andrew Ager on May 1 and 2.
The COSI Connection presents the world premiere of what will likely be the most controversial opera of the month. The hour-long work examines the last ten days of Adolf Hitler and his associates inside his bunker before the Russians occupied Berlin in 1945. In this it covers the same territory as Oliver Hirschbiegel's 2004 film Der Untergang (Downfall) in trying to capture the surreal atmosphere of once-powerful political leaders confronting their doom. As Ager told Musical Toronto in 2014, "People need to know we are treating it as a narration of the individuals involved, and not a glorification ... and at the same time, not a morality play." Jonathan MacArthur will sing the role of Hitler, Sydney Baedke will be Eva Braun with others singing the roles of Goebbels and his wife, Albert Speer and various guards. Ager, whose opera Frankenstein premiered in Toronto in 2010, will conduct a chamber ensemble and Michael Patrick Albano will direct.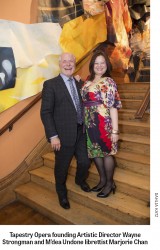 2015 – M'dea Undone by John Harris from May 26 to 29. Tapestry Opera will present the world premiere of a new version of the Medea story in collaboration with Scottish Opera. In collaboration with Scottish composer John Harris, librettist Marjorie Chan has updated the action to the present changing Creon, King of Corinth, to an anonymous President, Creon's daughter Glauce to Dahlia and giving Medea only one son with Jason instead of two. In Chan's version Jason (Peter Barrett) is a war hero who becomes the running mate of the President (James McLean). When Jason announces his engagement to the President's daughter Dahlia (Jacqueline Woodley), M'dea (Lauren Segal), Jason's former lover and mother of his son, seeks revenge. Jordan de Souza will conduct a chamber ensemble and Tim Albery will direct.
2015 – 21C Music Festival: After Hours #1 on May 21. As part of the RCM's 21C Music Festival, Bicycle Opera presents several new mini-operas that it will tour throughout Ontario. These will include The Dancer by James Rolfe, The Yellow Wallpaper by Cecilia Livingston, (What rhymes with) Azimuth? by Ivan Barbotin, Bianchi by Tobin Stokes and an excerpt from Dean Burry's The Bells of Baddeck. The singers are soprano Larissa Koniuk, mezzo Stephanie Tritchew, tenor Graham Thomson and baritone Alexander Dobson. The musicians are violinist Ilana Waniuk, cellist Erika Nielsen Smith and Wesley Shen, music director and piano. Liza Balkan directs.
To be able to sample works of lyric theatre from a period of nearly 800 years in just one month is a luxury available in very few cities in the world. Be sure to make the most of it.
Christopher Hoile is a Toronto-based writer on opera and theatre. He can be contacted at opera@thewholenote.com.