In previous years April has been the month in the year with the single highest concentration of opera presentations. This year that is not the case. The change may be because Easter falls between April 3 and April 5 pushing some presentations into March and delaying others. Or it may simply be that opera companies have tried to spread their offerings out more evenly over March through May. Even so, the Canadian Opera Company, Opera Atelier and Toronto Operetta Theatre all have productions this month, with TOT offering a rare revival and Opera Atelier a 19th-century revision of an 18th-century masterpiece.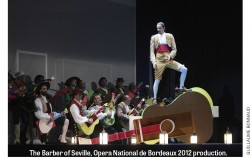 COC's Barber: The first opera to arrive will be the COC's new production of Rossini's The Barber of Seville playing 13 performances from April 17 through May 22. This is a co-production with Houston Grand Opera, Opéra National de Bordeaux and Opera Australia directed by the group known as by its Catalan name of Els Comediants. If the name of the group sounds vaguely familiar it is because the group was responsible for the staging of Rossini's La Cenerentola in 2012, a production most people remember for its inclusion of stylized mice as onlookers. This will be the 11th time the COC has presented Barber, the last time in 2008 directed by Michael Patrick Albano. The production by Els Comediants debuted in Houston in October 2011, later to be seen in Bordeaux in September 2012.
The opera is based on the first of three plays by Pierre-Augustin Caron de Beaumarchais (1732-99) featuring the barber Figaro as a central character. An eternal confusion for operagoers is that the most famous setting of Beaumarchais' second Figaro play, Le Mariage de Figaro (1784), was set first by Mozart in 1786, while the most famous version of the first play in the series, Le Barbier de Séville (1775) was set second by Rossini in 1816. (The third Figaro play, La Mère coupable (1797) did not become an opera until Darius Milhaud set it in 1966 and John Corigliano used it as subplot in his The Ghosts of Versailles in 1991.)
Based in Barcelona, Els Comediants, made up of director Joan Font, set and costume designer Joan Guillén and lighting designer Albert Faura, have created a Cubist-inspired set, painted in Day-Glo colours, that plays with scale and proportion. Xevi Dorca, who worked with Els Comediants on La Cenerentola, also choreographs Barber. On the podium will be Scotsman Rory Macdonald, last seen here as the conductor of Carmen in 2010
Singing the title role is Canadian Joshua Hopkins, chosen by Opera News as one of 25 artists poised to become a major force in the next decade. For most performances, American tenor Alek Shrader is the young Count Almaviva, with Romanian tenor Bogdan Mihai taking over on May 9, 19 and 21. Almaviva's beloved Rosina is sung in most performances by Italian soprano Serena Malfi with American Cecelia Hall taking over on May 7, 9, 19, 21 and 22. Bartolo, Rosina's jealous guardian is sung by Renato Girolami for most performances with Russian bass Nikolay Didenko taking over on May 9, 19 and 21. Don Basilio, Rosina's music teacher in league with Bartolo, is sung for most performances by Canadian Robert Gleadow with Turkish bass Burak Bilgili taking over May 9, 19 and 21.
May 15 will be the date of the Ensemble Studio performance of the opera with tickets priced at only $25 and $55.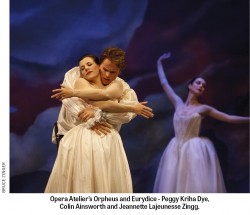 Atelier's Orfeo: The second major production of the month is Opera Atelier's second ever foray into 19th-century opera after its highly successful production of Carl Maria von Weber's Der Freischütz (1821) in 2012. This is the version by Hector Berlioz (1803-69) of Christoph Willibald Gluck's Orfeo et Euridice (1762). Gluck himself wrote two versions of Orfeo. The original of 1762 was written to an Italian libretto and was the first of Gluck's operas that proposed to simplify the opera seria, then in vogue, by stripping away the complexities of music and plot that had gradually accrued to it. Gluck's goals were a return to clarity of music and of storytelling. Twelve years later, in 1774, Gluck revised the opera to a French libretto, now called Orphée et Eurydice, to suit the tastes of the French public. This involved changing the role of Orphée from a castrato in the Italian version to a high male tenor, or haute-contre, in the French version. It also necessitated expanding the ballet sequences.
Because of Opera Atelier, Toronto audiences have had the privilege of seeing both versions: the Italian version in 1997 and the French version in 2007. Now OA will put Torontonians in a very special class by giving us the Berlioz version of 1859. When the Paris Opera considered reviving Orphée et Eurydice in 1859 it was noted that the role of Orphée was too high for an haute-contre. What had happened, as period instrument enthusiasts will know, is that concert pitch had gradually risen over the previous 75 years.The reason for this "pitch inflation" was the rise of independent orchestral music (as opposed to accompanying orchestral music) where instrumentalists felt that a higher pitch gave works a more brilliant sound.
When Giacomo Meyerbeer suggested that French contralto Pauline Viardot (1821-1910), a composer in her own right, should sing Orphée, Berlioz agreed to revise the score with Viardot's voice in mind. He was France's greatest expert in Gluck, whose works he had championed since 1825. In 1856 he wrote: "There are two supreme gods in the art of music: Beethoven and Gluck." In his revision Berlioz used the key scheme of the Italian version but most of the music of the French version, returning to the Italian version only when he thought it superior in terms of music or drama. This new version proved to be a major success and became the principal version played in opera houses until the advent of the early music revival of the 1970s.
Although Berlioz's Orphée is based on 18th-century music, his 1859 revision marks the furthest into the 19th century that Tafelmusik or Opera Atelier have travelled. The production will star Canadian mezzo-soprano Mireille Lebel as Orphée and feature OA favourite Peggy Kriha Dye as Eurydice and Meghan Lindsay as Amour. David Fallis will conduct and Marshall Pynkoski direct. The opera plays April 9, 11, 12, 14, 17 and 18.
TOT's Earnest: The third major production of the month is the revival by Toronto Operetta Theatre of Earnest, the Importance of Being by Victor Davies to a libretto by Eugene Benson. The operetta was a TOT commission and first performed in February 2008. Now TOT gives the work that rarity among new Canadian operas – a second production. Davies is perhaps most famous for his popular Mennonite Piano Concerto (1975) and his oratorio Revelation (1996). His best known opera is Transit of Venus (2007) based on the play by Maureen Hunter. He is currently writing an opera The Ecstasy of Rita Joe, based on the play by George Ryga of the same name.
Benson, among his prodigious scholarly and creative work, has written, among others, the librettos to Héloise and Abélard (1973) by Charles Wilson, commissioned by the Canadian Opera Company to mark its 25th anniversary, and to The Summoning of Everyman (1973) revived by Toronto's Opera in Concert in 2004. 2012 saw the premiere of The Auction: A Folk Opera, for which he wrote the libretto set to music by John Burge. Benson, who believes, as does operetta expert Richard Traubner, that the differences between various types of music theatre are overstated, sees no difficulty in writing an "operetta" for the 21st century. As he says, "After all, Shakespeare's plays have inspired successful works in all genres. Why not Wilde's?"
The work's premiere received very positive notices. Writing in the Globe and Mail, Ken Winters called the piece "..first rate… It left its audience … both startled and delighted. ... It is good entertainment of considerable charm … quite a lively, exhilarating affair." You can listen to excerpts of the operetta in the opera section of Davies' own website victordavies.com.
Renowned mezzo Jean Stilwell heads the cast as the indomitable Lady Bracknell. Michelle Garlough will sing her daughter Gwendolen, Cameron McPhail will be Jack Worthing, Thomas Macleay will be Algernon Moncreif and Charlotte Knight will be Cecily. Other cast members include Gregory Finney as Reverend Chasuble, Roz McArthur as Miss Prism and Sean Curran as Lane. Davies has written a new scene especially for Stilwell in a score filled with lively tangos, marches, waltzes and ballads. Larry Beckwith conducts and Guillermo Silva-Marin directs. Earnest, The Importance of Being runs April 29 and May 1, 2 and 3.
Small company diversity: Productions from smaller companies lend diversity to the month. On April 16 and 18 Opera Belcanto of York performs Puccini's La Bohème at the Richmond Hill Centre for the Performing Arts. Stanislas Vitort is Rodolfo and Gayané Mangassarian is Mimi. David Varjabed conducts the OBC Orchestra and Chorus and Edward Franko directs.
On April 18, Opera by Request presents Francis Poulenc's Dialogues des Carmélites (1957) in concert at the College St. United Church. Caroline Dery sings Blanche de la Force, Maude Paradis the Prioress and Lindsay McIntyre Sister Constance. William Shookhoff is the music director and pianist.
From April 24 to 26, Metro Youth Opera presents Berlioz' Béatrice et Bénédict (1862) at Daniels Spectrum. Simone McIntosh and Asitha Tennekoon play the warring couple while Lindsay McIntyre and Janaka Welihinda sing their friends Héro and Claudio. Natasha Fransblow is the music director and Alison Wong the stage director.
This April may not be quite as superabundant in opera as Aprils past, but even with these six varied operas on offer Torontonians are spoiled for choice.
Christopher Hoile is a Toronto-based writer on opera and theatre. He can be contacted at opera@thewholenote.com.