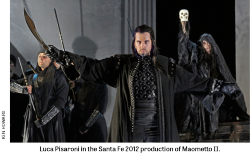 On January 14 Canadian Opera Company General Director Alexander Neef unveiled the COC's 2015/16 season including the first mainstage world premiere of a Canadian opera since 1999 and plans for other productions of Canadian operas in the future. Unlike the present season, the COC's 65th season includes two evenings of works the company has never before presented and is a mixture of opera rarities and masterpieces.
The 2015/16 season will open with a new production of Verdi's La Traviata, replacing the generally disliked production by Dmitri Bertman that played in 1999 and 2007. The new COC production is a coproduction with Lyric Opera of Chicago and Houston Grand Opera directed by Arin Arbus and was well received at its Chicago premiere in 2013. Russian Ekaterina Siurina and Canadian Joyce El-Khoury alternate in the role of Violetta. American Charles Castronovo and Canadian tenor Andrew Haji alternate as Violetta's lover Alfredo. And American Quinn Kelsey and Canadian James Westman alternate as Alfredo's father Germont. Italian conductor Marco Guidarini leads the COC Orchestra and Chorus for 11 performances from October 8 to November 6, 2015.
In repertory with Traviata is the world premiere of Pyramus and Thisbe, written in 2010 by Canadian Barbara Monk Feldman. For those who may wonder, Monk Feldman is the widow of renowned American composer Morton Feldman (1926-87), was formerly his student and married him shortly before his death. The story, as students of Shakespeare will know, is the subject of the play the Mechanicals present to the court at the end of A Midsummer Night's Dream (1595). Though the subject is serious, Shakespeare's amateur troupe performs it so badly it is the comic highpoint of the play. As a tragedy of misunderstandings, Pyramus and Thisbe also served as the model for Shakespeare's Romeo and Juliet written in the same year as Dream.
To complement Monk Feldman's one-act opera are two works by Claudio Monteverdi (1567-1643) from the very beginnings of opera. The Lamento d'Arianna (1608) is the only fragment of music that survives from Monteverdi's second opera Arianna about Ariadne's abandonment by Theseus on the island of Naxos, later the subject of Richard Strauss's Adriadne auf Naxos (1916). The second work is Il combattimento di Tancredi e Clorinda (1624), which is not really an opera at all but a section of Torquato Tasso's epic poem Gerusalemme Liberata (1581) set to music. Toronto last saw it in a production by Toronto Masque Theatre in 2008. The major role is that of the Narrator who describes the encounter during the Crusades of the Christian knight Tancredi with his beloved Clorinda, who, unbeknownst to him, has disguised herself as an enemy Saracen knight.
Krisztina Szabó, who sings Erwartung later this season, will sing Monteverdi's Arianna and Clorinda and Monk Feldman's Thisbe. Phillip Addis returns as Pyramus and Owen McCausland is Testo in Il combattimento. Some COC regulars will be unhappy to learn that Christopher Alden, who gave us such unlovely productions as the Nazi Fledermaus in 2012 and the ruthless Clemenza di Tito in 2013, has been hired to direct. Johannes Debus, however, will conduct the seven performances from October 20 to November 7.
The winter season pairs Wagner's Siegfried (in François Girard's now familiar production) with Mozart's The Marriage of Figaro in a production formerly owned by the Salzburg Festival. American soprano Christine Goerke, who will be making her role debut as Brünnhilde in Die Walküre this season, will return in that role in Siegfried. German tenor Stefan Vinke sings the title character. Austrian Wolfgang Ablinger-Sperrhacke sings the wily dwarf Mime, who raises Siegfried, and Alan Held sings the head Nordic god Wotan, here known only as The Wanderer. Johannes Debus conducts the seven performances from January 23 to February 14.
The Marriage of Figaro is directed by acclaimed German director Claus Guth in a production popular at the Salzburg Festival since it first premiered in 2006. The cast includes Austrian bass-baritone Josef Wagner as Figaro, Canadian Jane Archibald as Susanna, Canadian Erin Wall as the Countess, Russell Braun, who sings the title role in Don Giovanni this season, as the Count and American Emily Fons as Cherubino. Johannes Debus leads the opera through 11 performances from February 4 to 27.
For its spring season of 2016, the COC revives its Carmen seen last only in 2010, this time directed by Toronto's own Joel Ivany, artistic director of Against the Grain Theatre which recently presented its own inventive version of Don Giovanni as #UncleJohn last year. Georgian mezzo Anita Rachvelishvili and French mezzo Clémentine Margaine alternate in the title role. American tenor Russell Thomas and Canadian David Pomeroy alternate as Don José. Canadian sopranos Simone Osborne and Karine Boucher alternate as Micaëla. And Americans Christian Van Horn and Zachary Nelson alternate as the toreador Escamillo. Italian conductor Paolo Carignani leads the COC Orchestra and Chorus in 13 performances from April 12 to May 15.
Closing the 15/16 season is the COC premiere of Rossini's rarely performed grand bel canto opera Maometto II (1820), featuring star Italian bass-baritone Luca Pisaroni in his COC debut. The libretto is based on the historical Ottoman Sultan Mehmed II (1432-81), who set out to conquer the Holy Roman Empire. The production from Santa Fe Opera's successful 2012 revival is directed by Christopher Alden's identical twin brother David, who gave us Rigoletto in a men's club in 2011. Joining Pisaroni are American mezzo-soprano Elizabeth DeShong as the Venetian noble Calbo, American soprano Leah Crocetto as Maometto's forbidden love Anna and American Bruce Sledge as the Venetian governor Erisso. Baroque and classical specialist Harry Bicket conducts the seven performances from April 29 to May 14.
It's odd that Neef would rehire both Alden brothers after the loud disapproval their work has received here over the past several years (especially in light of a decline of 4924 subscription tickets from 2013 to 2014). Nevertheless, there is very good news in Neef's reaffirmation of the COC's commitment to new Canadian operas. Donna, previously commissioned from composer John Rolfe and librettist Anna Chatterton, will have a workshop production at Banff this summer. Hadrian, commissioned from pop composer Rufus Wainwright and playwright Daniel MacIvor, is moving ahead – a first draft of the libretto is at hand. New this year is the announcement of a commission of The Girl King, by Ana Soloković, composer of such hits for the much-missed Queen of Puddings as The Midnight Court in 2005 and Svadba – Wedding in 2011. The libretto will be by Quebecois playwright Michel Marc Bouchard based on his play of the same name about Queen Christina of Sweden (1626-89) that played last year at the Stratford Festival. And also in the works is a revival of Louis Riel (1967) by Harry Somers to star Russell Braun.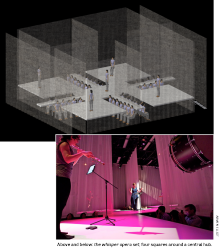 Soundstreams: It's important when Canada's largest producer of opera commits to producing so many new operas over the coming years. Yet, we should not forget that many of Toronto's smaller companies have always had a commitment to producing new work. One such is Soundstreams. From February 26 to March 1 Soundstreams hosts the Canadian premiere of the whisper opera (2013) by Pulitzer Prize-winning American composer David Lang. Lang's libretto is compiled from search-engine responses to such prompts as "When I think of you, I think of …" to explore the tension between our private and online selves. Soprano Tony Arnold and New York's International Contemporary Ensemble (ICE) have already received acclaim for the piece at Lincoln Center and at Chicago's Museum of Contemporary Art.
The opera is so quiet and so delicate that it can be experienced by only 52 people at a time. For this reason Soundstreams will present it at The Theatre Centre at 1115 Queen Street West, in a configuration never before used there. In order to maximize the closeness of the audience to the performers the playing area consists of four squares around a central hub, with the audience, seated in twos, forming the dividing lines between the squares.
In the midst of an overabundance of recorded music, Lang is composing various works that can only be heard live. As he has written, "With the whisper opera I had another of these ideas – what if a piece were so quiet and so intimate and so personal to the performers that you needed to be right next to them or you would hear almost nothing? A piece like this would have to be experienced live. In honour of this, the score to the whisper opera states clearly that it can never be recorded, or filmed, or amplified. The only way this piece can be received is if you are there, listening very very closely." Listening very closely is, of course, something we all should do at any performance, but at the whisper opera, Lang makes this a virtue one hopes we carry over into other experiences of music.
Christopher Hoile is a Toronto-based writer on opera and theatre. He can be contacted at opera@thewholenote.com.