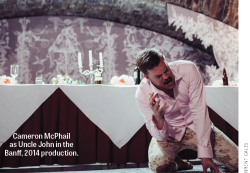 The two largest-scale opera productions for the period from December 1 to February 7 are those of the Canadian Opera Company's winter season. Taken together they provide an example of the two models that the COC is currently following: partnering and production.
From January 24 to February 21, the company presents Mozart's Don Giovanni, a co-production with Festival d'Aix-en-Provence, Bolshoi Theatre and Teatro Real Madrid. This production is an example of what the COC calls partnering: the company contributes money toward the production, but there is little or no COC input in the design or direction.  So, much depends upon choosing one's partners wisely.
Don Giovanni had its premiere at the Festival d'Aix-en-Provence in 2010, directed by acclaimed Russian director Dmitri Tcherniakov. The most controversial aspect of the production is that Tcherniakov has replaced Da Ponte's original scenario with his own. He reimagines Mozart's characters as the neurotic members of one present-day bourgeois family. Zerlina is now Donna Anna's daughter from her first marriage, while Leporello is "a young relative of the Commendatore's, living in his house." Don Giovanni is presented as unhappily married to Donna Elvira. In the new plot Don Giovanni does not destroy himself, rather, his relatives combine to destroy him. The production has been around long enough that it is already available on DVD and in excerpts on YouTube for anyone who wishes to see whether Tcherniakov's concept works or not.
For the COC, Russell Braun sings Don Giovanni, Kyle Ketelsen is Leporello, Jennifer Holloway is Donna Elvira, Jane Archibald is Donna Anna and Michael Schade is Don Ottavio. Michael Hofstetter conducts.
In terms of COC original productions, from January 31 to February 22 it presents Die Walküre, a production designed and directed by Canadians and owned solely by the COC. This COC production of Wagner's Die Walküre had its premiere in 2004 and was revived in 2006 as the second opera of Wagner's complete Ring Cycle. This will be the first time it has been revived on its own. Atom Egoyan directs, Michael Levine is the designer and Johannes Debus conducts.
Of particular note is that renowned German soprano Christine Goerke will be making her role debut in Toronto as Brünnhilde. Clifton Forbis, who sang Siegmund in this production in 2004 and 2006, returns to sing the role again. Sieglinde, Siegmund's sister and lover will be sung by Heidi Melton; Wotan is Johan Reuter; Hunding, Sieglinde's brutal husband is Dimitry Ivashchenko; and Fricka, Wotan's implacable goddess-wife is Janina Baechle.
Crunching the numbers: At the end of October this year the COC held its Annual General Meeting covering the 2013/14 fiscal year and reported "an impressive average attendance of 94 percent (an increase of 4 percent over last season)," a figure that was duly disseminated in the media. By comparison in 2012/13 the COC had 90 percent attendance.
Digging deeper into the numbers is interesting though: in 2012/13 the company presented  61 performances totalling 114,133 tickets sold. In 2013/14 it had 94 percent attendance for 58 performances totalling 111,421 tickets sold. Thus the percentage "increase" of 4 percent at each show had as its corollary a 2.4 percent decline in overall attendance.Worrying is that the number of tickets sold has now declined for the fifth year in a row. Average attendance of 94 percent per show is indeed impressive, but not if the only way to achieve those numbers is by decreasing the number of productions, and the number of performances of those productions.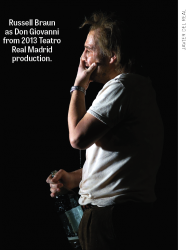 Other diversions: The COC winter season only begins at the end of January, but there are many operatic diversions in December. The starriest of these is a concert production with orchestra of Gioacchino Rossini's last, and, many would say, greatest opera, Guillaume Tell (1829). It is based on Friedrich Schiller's play Wilhelm Tell (1804) about Switzerland's struggle for independence from the Habsburg Empire in the 14th century. The most famous episode is when the Habsburg tyrant Gessler demands proof of Tell's skill as a marksman by having him shoot an apple off the head of Tell's own son. Musically, the opera is best known for its overture, which despite the fame accruing to it from its use in The Lone Ranger and in countless cartoons, in fact provides a précis of the entire action of the opera.
The single performance on December 5 is part of a North American tour of the Teatro Regio Torino with its full orchestra and chorus. The opera-in-concert will be presented in its Italian version (from 1833) with English surtitles and will be conducted by the company's famed music director Gianandrea Noseda. Featured among the all-Italian cast are baritone Luca Salsi as Guglielmo Tell, mezzo-soprano Anna Maria Chiuri as his wife Edwige, soprano Marina Bucciarelli as his son Jemmy and bass Gabriele Sagona as the villainous Austrian governor Gessler. The running time is approximately four hours.
Next in December is another reimagining of Mozart's Don Giovanni, this time as #UncleJohn by Toronto's small but feisty Against the Grain Theatre which produced a highly successful Pelléas et Mélisande outdoors earlier this year. Director Joel Ivany's notion is to change the period to the present and to set the entire action at the reception for the marriage of Zerlina and Masetto. There is no stage. Instead, the singers mingle with and sing from the audience as invited members of the reception. Ivany has translated and updated Da Ponte's libretto so that Leporello's famous catalogue aria now counts up Uncle John's social network followers. Ivany's version was developed in conjunction with the COC at Banff and had its highly praised premiere there in August 2014.
Cameron McPhail sings Uncle John, Neil Craighead is Leporello, Miriam Khalil is Donna Elvira, Betty Waynne Allison is Donna Anna and Sean Clark is Don Ottavio. The design is by Patrick Du Wors and the accompaniment is by a piano quintet with conductor Miloš Repický at the piano. #UncleJohn plays at The Black Box Theatre, December 11, 13, 15, 17 and 19.
December and January also hold offerings for those seeking music theatre written before Mozart or after Rossini. Toronto Operetta Theatre presents Gilbert and Sullivan's ever-popular The Mikado December 27, 28 and 31, 2014, and January 2, 3 and 4, 2015. The production features Joseph Angelo, Lucia Cesaroni, Adrian Kramer, David Ludwig and Giles Tomkins. Derek Bate conducts and Guillermo Silva-Marin directs.
From January 15 to 17 Toronto Masque Theatre presents a new production of Handel's Acis and Galatea (1718) at the Enoch Turner Schoolhouse. Lawrence Wiliford sings Acis, Teri Dunn is Galatea, Peter McGillivray is Polyphemus and Graham Thomson is Damon. Larry Beckwith conducts a seven-member period instrument band from the violin. Daniel Taylor's Schola Cantorum will be the chorus.
Meanwhile Opera by Request is busy with Humperdinck's Hansel and Gretel (1893) on December 7, Moreno Torroba's zarzuela Luisa Fernanda (1932) on December 10, the Canadian premiere of Danish composer August Enna's The Princess and the Pea (1900) on January 11 and Mozart's Die Entführung aus dem Serail on January 24. All performances are in concert at the College Street United Church with William Shookhoff as pianist and music director.
 Finally, on February 1, Voicebox: Opera in Concert presents Kurt Weill's Street Scene (1946) with Jennifer Taverner and Colin Ainsworth. Robert Cooper is the conductor and pianist.
Christopher Hoile is a Toronto-based writer on opera and theatre. He can be contacted at opera@thewholenote.com.