For the 2014/15 opera season in Southern Ontario there will be a gap in offerings for fully-staged operas that many will feel keenly. This is the first season since 1980 in which there will be no Opera Hamilton. The company ceased operations early this year after its fall 2013 production of Verdi's Falstaff. Management at Opera Hamilton used to say that the company functioned as the New York City Opera in relation to the COC's Met, since OH was proud to showcase Canadian singers as often as possible. That comparison now has an ironic ring since the New York City Opera itself ceased operations in October last year. In March, Leonard Turnevicius, longtime reporter on the music scene for The Hamilton Spectator, wrote me to say, "It certainly looks as though fully staged, professional opera in Hamilton has come to an end."
Not helping to alleviate the pall cast by the failure of Opera Hamilton was the announcement by the Canadian Opera Company that it would present only six productions in 2014/15 instead of its usual seven. The last time the COC presented only six productions was in the 2000/01 season when there was no separate COC Ensemble Studio production. (The last time the COC Ensemble Studio had its own production was in the 2007/08 season.)
Besides this, unlike last season when the COC presented three company premieres, this year not only has the COC staged all six operas before, but three of the productions are already familiar to COC audiences. What will make the new season exciting is the chance to see many well-known singers making their COC debuts.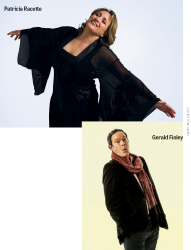 Finley in Falstaff: The season opener is a new production of Verdi's final opera Falstaff by Robert Carsen running October 3 to November 1. This is a co-production with Royal Opera House Covent Garden, Teatro alla Scala, the Metropolitan Opera and De Nederlandse Opera. Many will have already seen what the production looks like from the The Met: Live broadcast of it in December 2013. Carsen has moved the setting forward from Elizabethan times to 1950s England.
For many fans the main draw for Falstaff besides Carsen's production will be the chance to see Canadian baritone Gerald Finley in the title role, back at the COC for the first time in 20 years. Canadians in the rest of the cast include Simone Osborne as Nannetta, Frédéric Antoun as her lover Fenton, Russell Braun as Ford, Marie-Nicole Lemieux as Mistress Quickly and Lauren Segal as Meg Page. Johannes Debus conducts.
Racette in Butterfly: Running in repertory with Falstaff will be Puccini's ever-popular Madama Butterfly in the timeless production created by Brian Macdonald and Susan Benson for the COC in 1990. The production running from October 10 to 31 has proved so successful one only wishes the COC had asked the duo to created more opera productions. The production will mark the COC debuts of several singers. Patricia Racette and Kelly Kaduce will alternate in the role of Cio-Cio San and Stefano Secco and Andrea Carè will alternate as Pinkterton. Dwayne Croft, making his COC debut, will alternate with Canadian Gregory Dahl as Sharpless, and Elizabeth DeShong returns to the COC as Suzuki. Patrick Lange conducts.
Braun in Giovanni: The winter season begins with a new production of Mozart's Don Giovanni in a co-production with Festival d'Aix-en-Provence, Bolshoi Theatre and Teatro Real Madrid. The stage direction is by the Russian Dmitri Tcherniakov, though Tcherniakov has not stuck to merely directing Mozart's opera. He has also given it a new story. Donna Anna is the daughter of the "Commander" but so is Zerlina. Donna Elvira is Donna Anna's cousin and Don Giovanni is her husband. Leporello is said to be a relative who lives with them. The production had its world premiere in 2009 at Aix and that performance was filmed and is available on DVD from BelAir Classiques for those who want to test how they like Tcherniakov's concept.
Russell Braun will sing Don Giovanni with Kyle Ketelsen as Leporello. They will be joined by Jennifer Holloway, Jane Archibald and Michael Schade. German early music specialist Michael Hofstetter will conduct. The opera runs from January 24 to February 21.
Goerke in Walküre: Running in repertory with the Mozart is a return of Atom Egoyan's production of Wagner's Die Walküre, first seen on its own in 2004 and last seen as part of the full Der Ring des Nibelungen in 2006. The cast is full of singers making their COC debuts, most notably renowned soprano Christine Goerke making her role debut as Brünnhilde. Also appearing with the COC for the first time are Heidi Melton as Sieglinde, Johan Reuter as Wotan, Dmitry Ivaschenko as Hunding and Janina Baechle as Fricka. Clifton Forbis returns in the role of Siegmund and Johannes Debus conducts. The opera runs from January 31 to February 22.
Hopkins in Barber: The spring season opens with a new production of Rossini's The Barber of Seville, last seen here in 2008. This is a co-production with Houston Grand Opera, Opéra National de Bordeaux and Opera Australia. The stage director is the Catalonian Joan Font and the production is credited to a group called Els Comediants. If these names seem familiar it is because they were responsible for the colourful rat-filled production of Rossini's La Cenerentola seen here in 2011. Again there will be many performers new to the COC, such as Joshua Hopkins as Figaro, Alek Shrader as Almaviva and Serena Malfi and Cecelia Hall alternating as Rosina. Rory Macdonald conducts and the production runs April 17 to May 22.
Relyea in Lepage revival: Running in repertory with the Rossini is the third revival of Robert Lepage's double bill of Bartók's Bluebeard's Castle and Schoenberg's Erwartung. The surreal pairing was first seen in 1993 and last in 2002. The production marked the first time the COC was invited to the Edinburgh Festival and later to BAM in New York. The production, like François Girard's Oedipus Rex in 1997, came from a time when the COC created Canadian productions that the rest of the world demanded to see rather than from simply partnering with well-known companies and seeing the results after the bigger companies had staged them.
For this revival, John Relyea and Ekaterina Gubanova will sing Bluebeard and Judith in the Bartók while Krisztina Szabó will take on the role of the anonymous Woman in Erwartung. Johannes Debus will conduct and the double bill will run from May 6 to 23.
Atelier Breaks New Ground: While last season both productions by Opera Atelier were revivals, this season both not only are new but break new ground for the company. Running from October 23 to November 1 is OA's first-ever production of a full-length Handel opera, in this case his Alcina of 1735. The story, from Torquato Tasso's baroque epic Gerusalemme Liberata (1581), concerns the Circe-like sorceress Alcina who lives in a magical world composed of the souls of her past lovers. The question is whether the Christian knight Ruggiero can resist her enchantments to set these souls free.
The cast is made up of singers familiar from previous OA productions. Meghan Lindsay, who sang Agathe in OA's Der Freischütz, returns to sing Alcina, Allyson McHardy sings the trousers role of Ruggiero, and Wallis Giunta is Ruggiero's beloved Bradamante. They are joined by Mireille Asselin (Morgana), Krešimir Špicer (Oronte) and Olivier Laquerre (Melisso).
OA's spring production is Hector Berlioz's 1859 version of Gluck's Orpheus et Eurydice. Berlioz drew from both of Gluck's earlier French and Italian versions of the opera to recast it in his own orchestration, scoring the role of Orpheus for a contralto. Mireille Lebel will sing Orpheus, OA favourite Peggy Kriha Dye returns as Eurydice and Meghan Lindsay will sing Amour. The production is significant both for Opera Atelier and for Tafelmusik since it will mark their furthest incursion to date into the 19th century. The opera runs April 9 to 18. As usual Marshall Pynkoski will be the director for both productions and Jeannette Lajeunnesse Zingg will choreograph the artists of the Atelier Ballet.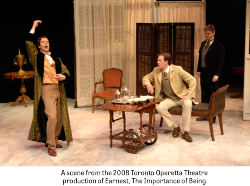 TOT In Earnest: For additional fully-staged productions Torontonians have only to turn to Toronto Operetta Theatre. Its season begins with the zarzuela La Gran Vía (1886) by Federico Chueca on November 2. The work is a celebration of the old neighbourhoods of Madrid that were about to be destroyed by the Haussmann-like creation of a boulevard in the city. The TOT's end-of-year show is a return of Gilbert and Sullivan's The Mikado running from December 27, 2014, to January 4, 2015. The season concludes in April with a revival of the TOT-commissioned operetta Earnest, The Importance of Being (2008) by Victor Davies and Eugene Benson, based on the famous comedy by Oscar Wilde. This will be a rare occasion where a new Canadian work receives a revival after only seven years.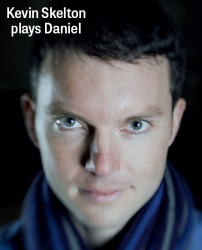 Centuries apart: Enriching the season are two fully-staged productions of music theatre from completely opposite ends of the time spectrum. The Toronto Consort has performed many operas in concert but from May 22 to 24 it will mount a fully-staged production of The Play of Daniel, an English version of Ludus Danielis, a sung medieval play from the 13th century that tells the biblical story of Daniel in the lions' den. Kevin Skelton will sing the role of Daniel with musical direction by David Fallis and stage direction by Alex Fallis.
In contrast to this, Soundstreams will offer the Toronto premiere of The Whisper Opera (2013) by American composer David Lang from February 26 to March 1. The opera explores the tension between our private and online selves by using a libretto made up of search-engine responses to questions of association. Soprano Tony Arnold and New York's International Contemporary Ensemble (ICE) make their Canadian debuts in an opera so quiet that it can be experienced by just 60 people at a time.
Christopher Hoile is a Toronto-based writer on opera and theatre. He can be contacted at opera@thewholenote.com.