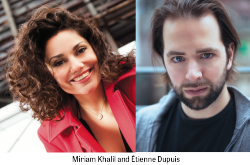 We think of opera season ending with the end of May, but this is by no means the case this year. Three important opera productions take place in June and operatic events occur throughout Ontario in July and August.
First up June 3 to 8 is the world premiere of Airline Icarus by Brian Current to a libretto by Anton Piatigorsky. Icarus is one of the figures in Greek mythology whose story is an example of humanity's overweening pride. His father Daedalus fashioned waxen wings for himself and his son to escape the labyrinth Daedalus designed. While Daedalus took the moderate path halfway between the sun and the sea, Icarus attempted to fly as high as he could; the sun melted his wings and he plunged into the sea.
In referencing the story, Piatigorsky means to "impart a mythic dimension to the mundane experience of contemporary air travel." The action is set on board a plane bound for Cleveland and explores the inner thoughts of the passengers and crew on their journey. The cast includes Dawn Bailey, Vania Chan, Sean Clark, Alexander Dobson, Larissa Koniuk, David Roth, Zorana Sadiq, Geoffrey Sirett, Krisztina Szabó, Jennifer Taverner and Graham Thomson. The composer conducts and Tim Albery, best known for his staging of the COC's Götterdämmerung, directs. The opera runs from June 3 to 8 at Daniels Spectrum. See soundstreams.ca for more information.
From June 12 to 15 is the Toronto premiere of another new opera, Shelter by Juliet Palmer to a libretto by Julie Salverson. A coproduction between Tapestry Opera and Edmonton Opera, Shelter had been scheduled to open last year in Toronto after its world premiere in Edmonton in November 2012. Of the opera, a depiction of a nuclear family in the Atomic Age, Salverson says, "I've always been attracted to catastrophic events. Joseph Campbell says to 'follow your bliss,' and while most people go after love or fulfillment, I'm drawn to tragedy and the fault lines in the psyche of a culture – the secrets that fester in families, leak quietly into communities and eventually, sometimes, explode. Such is the story of Shelter." Toronto audiences will remember New Zealand-born Palmer as the composer of the a cappella sewing-machine opera Stitch in 2008 and the women's boxing opera Voice-Box in 2010. Palmer's music for Shelter is described as combining the influences of Brahms, big band, funk and the post-apocalyptic sounds of 1990s Japanese punk. The cast includes Christine Duncan, Teiya Kasahara, Andrea Ludwig, Keith Klassen and Peter McGillivray. Leslie Dala conducts and Keith Turnbull directs.
June gives us not only new operas but older operas presented in new ways. That is what the inventive company Against the Grain Theatre intends with its production of Debussy's 1902 masterpiece Pelléas et Mélisande. Continuing its mission of performing opera in unconventional places – La Bohème in a pub, The Marriage of Figaro at the AGO – AtG plans to stage Pelléas outdoors in the Max Tanenbaum Courtyard Gardens of the Joey and Toby Tanenbaum Opera Centre at 227 Front St. E. on June 19, 21, 23 and 25.
Sung in French with English surtitles, Pelléas et Mélisande features an outstanding Canadian cast comprising baritone Étienne Dupuis making his role debut as Pelléas, soprano Miriam Khalil as Mélisande, baritone Gregory Dahl as Golaud, bass Alain Coulombe as Arkel, mezzo-soprano Megan Latham as Geneviève and soprano Andrea Núñez as Yniold. Guest music director Julien LeBlanc provides piano accompaniment, and the same creative team that created AtG's much lauded 2012 production of The Turn of the Screw is reunited with direction by Joel Ivany, set design by Camellia Koo and lighting design by Jason Hand.
On June 15, the Open Ears Festival in Kitchener is presenting an opera marathon. First on the bill is the one-person opera Love Songs by Ana Sokolović sung by Kristin Hoff. Next is a series of contemporary opera excerpts from the Bicycle Opera Project (see below). And last is a triple bill of new Canadian operas presented by Essential Opera. Premiered just in April this year, the three are Etiquette by Monica Pearce, Regina by Elisha Denburg and Heather by Chris Thornborrow. Also at Open Ears on June 11 and 12 is the multimedia chamber opera Mirror for soprano and visual artist from Inter Arts Matrix and on June 12 L'Homme et le cielfrom Fawn Opera.
July: Those with a taste for old operas done in period style should head over to the Westben Arts Festival in Campbellford, a town about midway between Toronto and Ottawa on the Trent-Severn Waterway. There from July 4 to 6, Toronto Masque Theatre will perform Henry Purcell's Dido and Aeneas with the Toronto Masque Theatre Chamber Orchestra and Chorus and members of the Westben Festival Chorus under the direction of Larry Beckwith.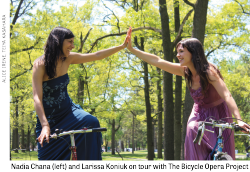 Late July and early August: Summer Opera Lyric Theatre has been a favourite refuge for operagoers in Toronto. This year all of SOLT's performances fall in August. First to open is The Magic Flute playing on August 1, 3, 6 and 9 with Nicole Bellamy as pianist and music director. Next is Madame Butterfly playing on August 2, 5, 7 and 9 with Narmina Afadiyeva as pianist and music director. And last is a rare chance to see Samuel Barber's opera Vanessa (1958) playing on August 2, 6, 8 and 10 with Raisa Nakhmanovich as pianist and music director. The operas are performed by singers who have joined SOLT to hone their skills and develop their careers. This year's stellar faculty includes Derek Bate, Kevin Mallon, Marshall Pynkoski, Wayne Gooding, Kathy Domoney, Henry Ingram, Stuart Hamilton, Catherine Robbin, Diane Loeb and Guillermo Silva-Marin.
Farther afield in Haliburton there are performances of the Highlands Opera Studio run by Richard Margison and Valerie Kuinka. On August 13 and 15 HOS presents a double bill of two comic rarities, Donizetti's Rita (1841) and William Walton's The Bear (1967). On August 22, 24, 26 and 28 it presents Puccini's Tosca. One reason Rita is obscure is that the Opéra Comique for whom he wrote it rejected it and plans for performances in Naples fell through. Rita finally received its posthumous premiere in 1860, ironically at the Opéra Comique. It was only in 2009 that a new critical edition of the score was published.
This summer marks the third anniversary of the innovative Bicycle Opera Project that aims to bring contemporary Canadian opera to communities across Ontario that might otherwise not have the opportunity to hear it. According to its website, "The project focuses on operatic repertoire that deals with contemporary issues relevant to all audiences." The singers and musicians travel from place to place by bicycle along with two trailers full of props, costumes and instruments. In so doing BOP aims to demythologize old ideas of what opera and what opera singers are like.
Their itinerary for this summer includes a stop on June 15 at the Open Ears Festival in Kitchener; July 12 and 13 at the Westben Arts Festival; July 25 to 27 at Stratford Summer Music; August 7 and 8 at the Toronto Summer Music Festival; and stops in between in Kingston, Prince Edward County, Belleville, Hamilton, Bayfield, London, Brantford, Waterloo and Guelph.
BOP's 2014 repertory features short operas A little rain must fall by Chris Thornborrow, Bianchi: A Five Minute Bicycle Opera by Tobin Stokes written especially for the company, (What rhymes with) Azimuth? by Ivan Barbotin and Rosa by James Rolfe as well as opera excerpts from The Brothers Grimm by Dean Burry, Airline Icarus by Brian Current (see above) and L'Homme et le ciel by Adam Scime. The company includes Liza Balkan, stage director; Wesley Shen, music director; Geoffrey Sirett, baritone; Chris Enns, tenor; Stephanie Tritchew, mezzo; and Larissa Koniuk, Artistic Director and soprano.
Have an enjoyable summer!
Christopher Hoile is a Toronto-based writer on opera and theatre. He can be contacted at opera@thewholenote.com.