January 2014 was so full of opera news it was impossible to cover all of it in a single column. As reported last issue, the Canadian Opera Company announced its 2014/15 season on January 15; on January 7 it had announced the launch of the Canadian Opera Orchestra Academy. Developed in collaboration with the Glenn Gould School at the Royal Conservatory of Music and the University of Toronto's Faculty of Music, the COC Orchestra Academy is a mentorship program led by COC Music Director Johannes Debus to offer student musicians professional insight and experience in their pursuit of a career in an opera orchestra. As Debus puts it, "What we're creating with the COC Orchestra Academy is an opportunity to pass on the wealth of experience that the members of the COC Orchestra possess to the next generation of musicians coming up through the ranks. The students selected for the launch of the program represent some promising talent and I'm very interested to see how they will blend in with our players and the perspective they'll gain on the world of the orchestra pit."
Against the Grain: On January 16, the COC announced that it would partner with the upstart Toronto company Against the Grain, best known for presenting operas like La Bohème in pubs. The point of the new training program organized by the Banff Centre is to take opera off the stage and into the community. Following auditions in Toronto and Vancouver, eight emerging professional opera singers will be invited to the intensive. They will workshop skills that challenge the conventions of opera performance, production and design, and develop a modern interpretation of Mozart's Don Giovanni for presentation at venues throughout the Banff community.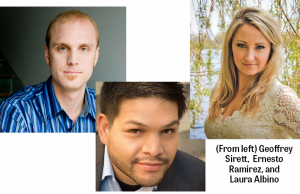 Opera Atelier: The COC was not the only company to announce its 2014/15 season. On January 21, so did Opera Atelier. It will present two new productions – the first fully staged production of Handel's Alcina in Canada from October 23 to November 1, 2014 and the Berlioz 1859 version of Gluck's Orphée et Euridyce from April 9 to 18, 2015. The latter will mark the Tafelmusik Baroque Orchestra's furthest foray into the 19th century.
Tapestry changes guard: On January 28, Tapestry Opera announced Michael Mori as its new artistic director. Mori has been working alongside Tapestry founder Wayne Strongman for the past two years to deepen his understanding of opera creation and the challenges facing the company and the sector. Strongman has said, "It is very satisfying to hand over the artistic reins of Tapestry to Michael Mori, who is a colleague of like aesthetic and human values. You can imagine the pride as I watch the achievements of Tapestry being celebrated and continued with fresh energy and insight."
Opera Hamilton sad end: Amid all this positive news, the announcement that sent a shudder through the Ontario opera world came on January 8. On that date Opera Hamilton announced that it would be ceasing operations and that it would cancel its upcoming performances of Popera on January 11 to 18 and Carmen from April 19 to 26. Co-chair and treasure Peter Uffelmann stated: "We simply do not have the financial resources to continue." He added, "We had hoped a large donation from an individual would arrive in time, but regrettably it did not materialize, and in the absence of any other funding, the Board had no choice but to cancel the rest of the season and cease operations."
Readers will recall that between 1992 and 1994 Opera Hamilton expanded to become Opera Ontario to include performances in Kitchener. That expansion, however, did not prove economically viable and Opera Ontario went bankrupt. In 2008 Opera Hamilton re-emerged from the ruins of Opera Ontario and switched its performance venue from Hamilton Place to the more congenial Dofasco Centre, where Theatre Aquarius performs. It still had a large accumulated deficit and was unable to pay the orchestra for what would prove its final production, Verdi's Falstaff in 2013.
In The Hamilton Spectator, Leonard Turnevicius stated what many were feeling when he wrote, "It's a sad end to an organization that over the years has featured some of this country's finest singers, established artists plus the up-and-comers as well as a number of international imports, but also conductors, directors and designers, the names of whom would fill an entire page of this newspaper."
From its inception in 1980 to its last production in 2013, Opera Hamilton provided not only live opera for the residents of the Niagara peninsula, but a way for Toronto inhabitants to augment the offerings of the COC. The company presented several productions of operas the COC has so far never staged – like Verdi's I due Foscari in 1989 and 1994, Verdi's Nabucco in 1992, Carlisle Floyd's Susannah in 2000, Bizet's Les Pêcheurs des perles in 2002 and 2013 and Delibes Lakmé in 2003 – and some it is likely never to stage like the unusual double bill of Poulenc's La Voix humaine and Massenet's Le Portrait de Manon in 2004. Opera Hamilton provided a way to hear a number of Canadian singers just before their careers took off and incidentally hired a number of established opera singers from Quebec who seldom or never appear at the COC. In January Opera Hamilton co-chair Dennis Darby said, "We're hopeful that maybe something will emerge in the next few months and we'll re-emerge." We can only hope that just as Opera Hamilton survived its near-death experience in 2008 it can do so again, otherwise Ontario audiences and emerging artists will have lost an invaluable cultural asset.
GGS Vixen: On a more positive note, March is unusually filled with opera productions, most of them in concert, yet still a means of offering audiences a way to hear a wider range of works and for singers to display their skill. The only fully staged opera on offer in March is the Glenn Gould School's production of Leoš Janáček's comic opera The Cunning Little Vixen (1924) on March 19 and 21 at Koerner Hall.Toronto has not seen this beautiful work since the COC presented it in 1998. The opera is conducted by Uri Mayer and directed by Ruth Madoc-Jones and will be performed in English with English surtitles.
Voicebox Stiffelio: For those still celebrating the bicentennial of the birth of Giuseppe Verdi (1813-1901), Voicebox: Opera in Concert is the perfect choice. It is presenting the unjustly neglected opera Stiffelio (1850) that Verdi wrote in tandem with Rigoletto. The contemporaneous subject matter about a Protestant minister with an adulterous wife, so scandalized the political and religious powers of the day that Verdi eventually withdrew the work and his autograph copy went missing. In 1992 the Carrara family gave access to their collection of Verdi's papers to scholar Philip Gossett, who discovered the autograph copy among them. This led to the first complete performance of the score by the Metropolitan Opera in 1993, and it will be this version that Voicebox will perform on March 23. The title role will be sung by Ernesto Ramirez, his wayward wife by Laura Albino and her lover by Geoffrey Sirett. The cast will be led from the piano by Michael Rose.
Opera by Request has an especially busy March with performances of Don Giovanni on March 7, La Bohème on March 8 and Massenet's Werther on March 29. All three will take place at the College St. United Church in Toronto and all three will be accompanied on the piano by the indefatigable William Shookhoff.
Christopher Hoile is a Toronto-based writer on opera and theatre. He can be contacted at opera@thewholenote.com.