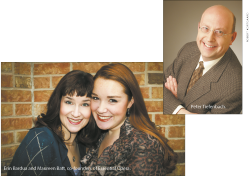 In November it's the turn for the smaller opera companies to shine. Six companies in particular will present the kind of unusual repertoire that keeps the opera landscape in Ontario so diverse.
Arcady: First up, on November 2, is Ronald Beckett's opera Ruth, based on the book in the Bible of the same name. It is performed by Arcady, an ensemble dedicated to the performance of baroque music and Beckett's work. Composed of a collection of singers, actors and instrumentalists from throughout Ontario, Arcady combines established professionals, outstanding university music students and recent performance graduates. The performance takes place at the Hope Christian Reformed Church in Brantford.
The opera will feature a cast of young soloists led by Elise Naccarato in the title role and Michael York as Boaz. The role of the narrator will be sung by tenor Christopher Fischer, Naomi by Montreal's Meagan Zantingh and Malchi-Shua by Brantford's own Shawn Oakes. The work uses three choruses — a chorus of the women from Moab, a male chorus of Elders who appear at the trial of Malchi-Shua and a youth choir. In 2007 Arcady recorded Ruth for Crescendo Records, and anyone wishing get a sense of the 80-minute work can listen to excerpts on iTunes or CDBaby.
TOT: On November 3, Toronto Operetta Theatre presents a concert performance of the zarzuela, The Saucy Señorita (La revoltosa), from 1897 by Ruperto Chapí (1851–1909). A zarzuela is the Spanish version of operetta and the short one-act La revoltosa is considered one of the masterpieces of the form. Beth Hagerman is Mari-Pepa, the flirtatious troublemaker of the title, who causes a row among the men in her Madrid neighbourhood (sung by Diego Catala, Fabian Arciniegas and Marco Petracchi) and angers the women. Music director Narmina Afandiyeva provides the piano accompaniment. The TOT fills out the evening with a selection of hits from the world of zarzuela.
Essential Opera: On November 8, Essential Opera opens its fourth season with Haydn's charming two-act comic opera L'isola disabitata (1779) in concert at Heliconian Hall in Yorkville. This four-character score will be sung in Italian with onscreen English translation. Music direction and piano accompaniment are by Kate Carver.
All the action in L'isola disabitata takes place on a tiny desert island inhabited only by Costanza (Erin Bardua), who was abandoned there 13 years earlier by her faithless fiancé, along with her younger sister Sylvia (Maureen Batt). Their loneliness is interrupted by the arrival of Enrico (Giovanni Spanu) and his best friend (Stefan Fehr), none other than Gernando, Costanza's fiancé.
As Bardua and Batt told me in an interview, "For season four, we wanted to begin with something from the classical period; that's what we started with (Le nozze di Figaro was our first show), and it felt like the perfect time to revisit that era. This Haydn was immediately appealing; it was designed for a small cast and performance space, so as soon as we discovered it, we knew it was a good fit. It's entirely about relationships and how they're formed — Costanza's motherly/sisterly bond with Sylvia; Sylvia's desperate need for variety and affection, which makes her fall instantly for the gruff Enrico; Enrico's loyalty and growing empathy; Gernando's unwavering faith. Those relationships all get resolved in a really satisfying way. Plus, it's pretty funny — Haydn clearly felt the subject matter was lighthearted at its core, and we love laughs at Essential Opera." For an idea of a performance by Essential Opera, Bardua and Batt recommend visiting their YouTube channel for highlights of their season three spring show, Two Weddings & a Funeral.
GGS: On November 15 and 16, the Glenn Gould School of Music at the Royal Conservatory presents a major rarity in the form of The Silent Serenade (Die stumme Serenade) by Erich Wolfgang Korngold (1897–1957). Korngold is probably best known as the composer of numerous rousing scores for Hollywood movies like The Adventures of Robin Hood (1938) and The Sea Hawk (1940). But before leaving for Hollywood at the request of Max Reinhardt, Korngold had written in a wide range of classical genres. One of his six operas, Die tote Stadt (1920) is still performed today.
Peter Tiefenbach, who will conduct The Silent Serenade, told me in an interview that Korngold's stay in the U,S, gave him the desire to write a musical. When he couldn't find a producer in the States, Korngold decided to try his luck in West Germany and had the original English libretto translated into German. It was broadcast by Radio Vienna in 1951 and staged by Theater Dortmund in 1954. Set in Naples in 1826, the plot concerns a fashion designer, Andrea Coclé, who falls in love with his famous actress client Silvia Lombardi. The style is a mix of operetta and jazzy 1920s-style cabaret songs with the most difficult music given to Andrea and Silvia. What excites Tiefenbach most about the work is Korngold's marvellous orchestration for chamber orchestra.
The original English libretto being lost, Korngold's publishers commissioned an English translation of the German. The Glenn Gould School performance will mark the world premiere of this translation. The work, Korngold's only operetta, will be directed by Joel Ivany. The piece was recorded for the first time in 2009 on CPO.
TrypTych: On November 16 and 17, TrypTych will present the first staging in Canada of Verdi's first opera, Oberto, Conte di San Bonifacio (1839), written when the composer was 26. The all-Canadian cast is led by bass Henry Irwin as Oberto and soprano Natalie Donnelly as his daughter Leonora — the first of Verdi's many explorations of the bond between father and daughter. Tenor Lenard Whiting sings Riccardo, the man who seduced and abandoned Leonora, and mezzo-soprano Michèle Bogdanowicz sings Cuniza, the woman whom Riccardo is about to marry. Leonora's bold plan is to confront Riccardo on his wedding day.
The production is directed and designed by Edward Franko with musical direction at the piano by Timothy Cheung. Joining the cast is an augmented Ensemble TrypTych Chamber Choir. November 17 will be the 174th anniversary to the day of the opera's premiere. Performances take place in the newly renovated West Hall Theatre of Trinity Presbyterian Church in Toronto, and will be sung in Italian with English surtitles.
Voicebox: 2013 is the 200th anniversary of Verdi's birth and the 100th anniversary of Benjamin Britten's birth. While TrypTych commemorates the first, Voicebox: Opera in Concert commemorates the second. On November 24 it presents the Canadian premiere of Britten's Gloriana (1953), written for the celebration of the coronation of Queen Elizabeth II. The opera concerns the public and private faces of Queen Elizabeth I and the friendship and friction between the monarch and the Earl of Essex, whose ambition worries her advisors. Betty Waynne Allison sings Queen Elizabeth, Adam Luther is Essex, Jennifer Sullivan is Lady Rich and Jesse Clark is Lord Mountjoy. Peter Tiefenbach is the music director and pianist and Robert Cooper is the choral director.
Britten's portrait of Elizabeth's isolation and failing powers was not deemed celebratory enough and the opera's reputation has been tarnished by the negative reaction of its opening night audience ever since. Recently, however, singers and critics have spoken out against the opera's neglect. Music critic Rupert Christiansen says of the score that "it is magnificent, with episodes that show Britten at the height of his powers" and the opera is "music theatre of Verdian scope and scale ... expressed through a brilliant evocation of the riches of Elizabethan music." Since the larger opera companies in Ontario are unlikely ever to stage any of the six works above, we are lucky to have so many institutions and small companies willing to fill in these gaps. 
Christopher Hoile is a Toronto-based writer on opera and theatre.
He can be contacted at opera@thewholenote.com.