It is not very often that southern Ontario's three biggest opera companies launch their seasons in the same month, but that is exactly what is happening this October. The Canadian Opera Company, Opera Atelier and Opera Hamilton all begin their 2013/14 seasons this month making this an unusually strong month for large-scale opera productions.
The Canadian Opera Company opens the new season with a new production of Puccini's La Bohème running October 3 to 30. This co-production with Houston Grand Opera and the San Francisco Opera is directed by John Caird, who is perhaps most famous as the co-director of the original English version of Les Misérables. Some may ask why the old production with sets by Wolfram Skalicki and costumes by Amrei Skalicki is being replaced. This production premiered in June 1989 and has been revived five times since then. I asked COC media relations manager Jennifer Pugsley whether the considerations related to the physical decay of the production or were purely aesthetic. She responded that the decision to mount a new Bohème involved both. Twenty-five years of use had taken their toll in wear and tear on the old production. But Houston Grand Opera and San Francisco Opera were looking to create a new Bohème and gave the COC a chance to partner with them. The resulting collaboration is still set in the late 19th century but David Farley's design will provide "a refreshed aesthetic."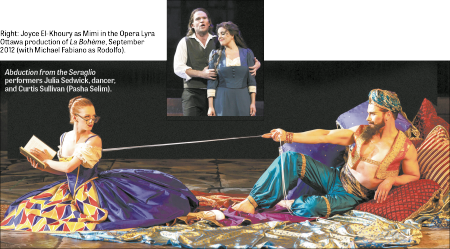 The 12-performance run will necessitate the use of two casts of principals. Mexican tenor David Lomeli had been listed as the Rodolfo for eight of the performances, but in September it was announced he had to withdraw for health reasons. He has been replaced by Americans Dimitri Pittas and Michael Fabiano, two of the most exciting young tenors in opera today. Pittas will sing on October 3, 6, 9 and 12 while Fabiano will sing on October 16, 19, 27 and 30. There is also a third Rodolfo, American Eric Margiore who will sing October 18, 22, 25 and 29.
Two sopranos share the role of Mimì — Italian Grazia Doronzio and Canadian Joyce El-Khoury. Doronzio sings on October 3, 6, 9, 12, 18, 22, 25 and 29 and El-Khoury on October 16, 19, 27 and 30. El-Khoury, who was born in Lebanon but whose family moved to Canada when she was six, will also take on the role of Musetta. She sings that role on October 3, 6, 9, 12, 18, 22, 25 and 29 while Canadian Simone Osborne sings it on October 16, 19, 27 and 30. Famed Italian conductor Carlo Rizzi conducts all performances.
In repertory with La Bohème will be Peter Grimes (1945) by Benjamin Britten (1913-76), to mark the centenary of the composer's birth. Running from October 5 to 26, this will be the opera's third staging at the COC and its first since 2003. In one of his signature roles, Ben Heppner stars as the vilified fisherman Grimes with Ileana Montalbetti as Ellen Orford, the one woman in the village who stands by him. Alan Held, last seen as Jochanaan in Salome and Kurwenal in Tristan und Isolde earlier this year, sings Captain Balstrode, the only male villager concerned about Grimes. Denni Sayers recreates Australian Neil Armfield's direction of this co-production between Opera Australia, Houston Grand Opera and West Australian Opera. The COC has mounted two previous Armfield productions of Britten operas — Billy Budd in 2001 and A Midsummer Night's Dream in 2009. Johannes Debus conducts.
Opera Atelier opens its 2013/14 season with a remount of Mozart's Abduction from the Seraglio that it first staged in 2008. It runs from October 26 to November 2. Abduction will feature Lawrence Wiliford as Belmonte and Adam Fisher as his servant Pedrillo. (In 2008 Frédéric Antoun sang Belmonte and Wiliford sang Pedrillo.) The pair will try to rescue Belmonte's beloved Konstanze (Ambur Braid) and her servant Blonde (Blondchen), played by Carla Huhtanen, from the ever-watchful Osmin (Gustav Andreassen) and Pasha Selim (Curtis Sullivan). Huhtanen, Andreassen and Sullivan all return to the same roles they had in 2008. David Fallis will again conduct the Tafelmusik Baroque Orchestra. Like The Magic Flute, Abduction is a singspiel meaning that the dialogue between arias is spoken, not sung. As last time, the dialogue will be spoken in English and the arias sung in German with English surtitles.
Opera Hamilton begins the new season with its first-ever staging of Verdi's Falstaff running October 19, 22, 24 and 26. John Fanning will sing the title role while James Westman sings Ford. Lyne Fortin and Ariana Chris sing the title roles of Mistress Alice and Mistress Meg, while Lynne McMurtry is Mistress Quickly, Theo Lebow is Fenton and Sasha Djihanian is his beloved Nanetta. Opera Hamilton general director David Speers conducts and Alison Grant directs. As of last year Opera Hamilton began building its own sets. The size of its new performance space in the Dofasco Centre is more in line with that of opera companies of a similar size in the U.S. This means that Opera Hamilton, which previously had always rented productions from elsewhere, for the first time has the chance to reverse the process and sell its productions to other companies. Speers assured me in a telephone interview that Falstaff would be set in Elizabethan England as Verdi intended.
Voicebox: besides these three larger companies, Voicebox: Opera In Concert also begins its new season, its 40th, this month. On October 6 it stages a spoof of Mozart's Der Schauspieldirektor (1786) titled The Stressed-Out Impresario. It stars Voicebox's own artistic director, Guillermo Silva-Marin, in the title role as the impresario who encounters difficulties with various singers competing for leading roles while he tries to balance schedules and fundraising imperatives. Raisa Nakhmanovich is the music director with a cast including Leigh-Ann Allen, Vania Chan, Christina Campsall, Keenan Viau, Domenico Sanfilippo and Sean Catheroy. Like Abduction from the Seraglio, Der Schauspieldirektor is also a singspiel and was specially written by Mozart to compete against an opera buffa by Salieri to decide which genre was better. Salieri's contribution, Prima la musica e poi le parole, like the Mozart, is also a meta-opera — that is, an opera about opera. It is generally thought that Salieri's work is superior to Mozart's, but the main impediment to its success is that its humour depends so heavily on parodies and references to other now-forgotten operas of the time.
Opera by Request has a busy month with three operas in concert in October alone. On October 5 it presents Massenet's Manon (1884) at the Knox Presbyterian Church in Waterloo. On October 18 it has Adriana Lecouvreur (1902) by Francesco Cilea and on October 27 Tales of Hoffmann (1881), both at College Street United Church in Toronto.
Anyone wishing to venture further afield should know that the Gryphon Trio will be performing Christos Hatzis' highly acclaimed Constantinople (2004) at the Grand Theatre in Kingston on October 9. The multimedia music theatre piece, sometimes called a chamber opera, incorporates projections, stage movement, costumes, choreography and lighting, and sets texts for two sopranos from both the Western and Eastern sides of the only city in the world located on two continents. 
Christopher Hoile is a Toronto-based writer on opera and theatre. He can be contacted at opera@thewholenote.com.