The 2013/14 season is more adventurous than last season with companies large and small staging unusual works alongside the more familiar. At the time of writing not all companies have announced their seasons, but judging from those that have there is much to look forward to.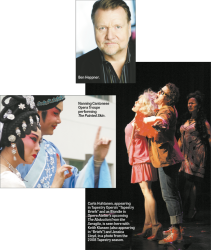 The Canadian Opera Company begins the 2013/14 season with four familiar works, but ends the season with three rarities. The opener is a new production of Puccini's La Bohème running October 3 to 30. This co-production with Houston Grand Opera and the San Francisco Opera is directed by John Caird, who is perhaps most famous as the co-director of the original English version of Les Misérables. Grazia Doronzio and Joyce El-Khoury will alternate in the role of Mimì, while David Lomelí and Eric Margiore will alternate as Rodolfo. Famed Italian conductor Carlo Rizzi will lead the orchestra.
In repertory with La Bohème will be Peter Grimes (1945) by Benjamin Britten (1913–76) to mark the centenary of the composer's birth. Running October 5 to 26, it will be the opera's third staging at the COC and its first since 2003. Ben Heppner stars as the vilified fisherman with Ileana Montalbetti as Ellen Orford, the one woman in the village who stands by him. Denni Sayers recreates Neil Armfield's direction of this coproduction between Australian Opera and the Houston Grand Opera. Johannes Debus conducts.
The winter season begins with a new production of Mozart's Così fan tutte, running January 18 to February 21, directed by filmmaker Atom Egoyan, acclaimed for his previous COC productions of Salome in 1996 and Die Walküre in 2004. Layla Claire will sing Fiordiligi with Wallis Giunta as Dorabella, Paul Appleby as Ferrando, Robert Gleadow as Guglielmo and Johannes Debus conducting. Running in repertory with the Mozart from February 2 to 22, is Verdi's Un ballo in maschera not seen at the COC since 2002. The production from the Berlin Staatsoper is directed by Jossi Wieler and Sergio Morabito and conducted by Stephen Lord. It stars Adrianne Pieczonka as Amelia with Dimitri Pittas as Riccardo and Elena Manistina as Ulrica.
After presenting these four well-known operas, the COC then embarks on a spring season with a remarkable series of three COC premieres in a row. There have been several seasons in the past that included three COC premieres, but the last time three were presented in a row was in 1989 with Janáček's The Makropulos Case, Monteverdi's Il ritorno d'Ulisse in patria and Giordano's Andrea Chénier. This time the series will be Handel's Hercules (1745) from April 5 to 30, Donizetti's Roberto Devereux (1837) from April 25 to May 21 and Massenet's Don Quichotte (1910) from May 9 to 24.
Hercules, originally written as an oratorio has recently found success fully staged as an opera. The COC/Lyric Opera of Chicago coproduction will be directed by Peter Sellars, who directed last season's Tristan und Isolde, and conducted by baroque expert Harry Bicket. Eric Owens sings the role of Hercules, Alice Coote is his jealous wife Dejanira and countertenor David Daniels is Hercules' faithful servant Lichas.
Roberto Devereux is the third part of Donizetti's so-called "three queens trilogy" made famous as such by Beverly Sills. The COC presented the first part, Anna Bolena (1830), back in 1984 and the second part, Maria Stuarda (1835) in 2010. As part of a unified production from Dallas Opera, Devereux has the same production design as Maria Stuarda and the same director, Stephen Lawless. Sondra Radvanovsky will sing Elisabetta, Russell Braun will be Nottingham and Giuseppi Filianoti will be Elizabetta's lover Devereux. Corrado Rovaris will conduct.
Don Quichotte will end the drought in operas by Massenet at the COC since its Werther of 1992. The fantastic production from Seattle Opera directed by Linda Brovsky will feature the renowned Italian bass Ferruccio Furlanetto as Don Quichotte with Quinn Kelsey as his faithful sidekick Sancho Panza and Ekaterina Gubanova as his beloved Dulcinée. Johannes Debus conducts.
Both productions at Opera Atelier this season are revivals. In the fall from October 26 to November 2 is Mozart's The Abduction from the Seraglio first mounted by OA in 2008. In the spring is Lully's Persée first mounted by OA in 2000 and revived in 2004. OA co-founders Marshall Pynkoski and Jeannette Lajeunesse Zingg are hot off the success of their production of Mozart's Lucio Silla (1772) at this year's Salzburg Festival which has led them to be invited to mount the work at Milan's Teatro alla Scala. Abduction will feature Lawrence Wiliford as Belmonte and Adam Fisher as his servant Pedrillo who will try to rescue Belmonte's beloved Konstanze (Ambur Braid) and Carla Huhtanen her servant Blondie (Blondchen) from the ever-watchful Osmin (Gustav Andreassen).
In Persée, Christopher Enns will make his OA debut as an haute-contre in the title role. Mireille Asselin will be his beloved Andromède, Peggy Kriha Dye her rival Mérope and Olivier Laquerre will sing snake-haired monster Méduse. David Fallis conducts the Tafelmusik Baroque Orchestra for both productions. After its Toronto run OA will take Persée to Versailles from May 23 to 25 where it has not been seen since it inaugurated the Royal Opera House there in 1770.
Toronto Operetta Theatre has a lively season on offer. It begins on November 3 with The Rowdy Señorita, a concert of excerpts from the quintessential Spanish zarzuela, La Revoltosa (1897) by Ruperto Chapí (1851–1909). The señorita of the title is Mari-Pepa, who garners married women's wrath by flirting with their husbands. The TOT's holiday operetta is Franz Lehár's ever-popular The Land of Smiles (1923) running from December 27, 2013, to January 5, 2014. This will be the TOT's third presentation of the work and its first since the 2002/03 season.
The TOT's last presentation is the Canadian premiere of The Cousin from Nowhere (Der Vetter aus Dingsda) from 1921 by Eduard Künneke (1885–1953). Sometimes translated as The Cousin from Batavia, this is one of the most delightful of all 20th-century operettas. While Lehár in Vienna was consciously moving operetta towards opera, composers in Berlin like Künneke, Benatzky and Lincke were incorporating the new dance rhythms of the foxtrot and quickstep into their work and thus were moving operetta towards musical comedy. Anyone who likes the popular music of the 1920s played by Max Raabe and his Palast Orchester is sure to enjoy The Cousin from Nowhere.
For additional fully staged operas, there are many intriguing choices. September 10 and 11, the Nanning Cantonese Opera Troupe performs The Painted Skin written by Chinese composer Zhuang Hui Xuan. The story is based on a Qing Dynasty tale of a young scholar who gives sanctuary to a beautiful young woman in distress, not realizing that she is, in reality, a ghost. First performed in 2010, The Painted Skin is part of the resurgence in traditional Chinese opera that includes new works written in the classical style. The opera will be performed in the Sandra Faire and Ivan Fecan Theatre at York University's Keele campus.
In 2013/14, Opera Hamilton is staging Verdi's Falstaff from October 19 to 26 and Bizet's Carmen from April 19 to 26. John Fanning will sing the title role in the Verdi in a production including James Westman and Lyne Fortin. Italian-American mezzo Ginger Costa-Jackson, who received a rave review in the New York Times for her Carmen at Glimmerglass, will sing the title role with American tenor Richard Troxell as Don José.
Those with a taste for early music can look forward to performances of Purcell's Dido and Aeneas from January 17 to 19 by the Schola Cantorum and Theatre of Early Music co-directed by Jeanne Lamon and Daniel Taylor with choreography by Bill Coleman. Performances take place at the Trinity College Chapel at the University of Toronto.
Those with a taste for new music can look forward to Tapestry Opera's program of "Tapestry Briefs," September 19 to 22, for glimpses of scenes developed in Tapestry's Composer-Librettist Laboratory. Michael Mori directs Krisztina Szabó, Peter McGillivray, Carla Huhtanen and Keith Klassen. Musical directors are Gregory Oh and Jennifer Tung. Soundstreams' presentation of the world premiere of Airline Icarus by Brian Current to a libretto by Anton Piatigorsky will run June 3 to 8, 2014. The cast includes Krisztina Szabó and Alexander Dobson and will be directed by Tim Albery.
As usual, operas in concert will lend further variety to the Toronto opera scene. Voicebox: Opera in Concert celebrates its 40th anniversary season with the Canadian premiere of Benjamin Britten's Gloriana (1953) on November 24, Jean-Philippe Rameau's Hippolyte et Aricie (1733) on February 2 and Verdi's oddly neglected Stiffelio (1850) on March 23. The Toronto Consort continues its series of operas by Venetian composer Francesco Cavalli (1602–76) with his Giasone (1649) from April 4 to 6. And Opera by Request will present Puccini's La Bohème in Toronto on September 28 and Massenet's Manon in Waterloo on October 5. 
Christopher Hoile is a Toronto-based writer on opera and theatre. He can be contacted at opera@thewholenote.com.