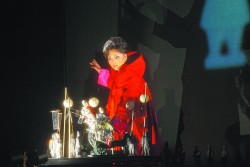 This summer there is not quite as much opera on offer in town as there has been in past seasons. Out of town, however, there is a burgeoning of opera productions and opera-related concerts.
June: In Toronto Luminato (luminatofestival.com) has included opera in each of its past six seasons. This year the focus is on the Canadian premiere of Feng Yi Ting by Chinese composer Guo Wenjing. The opera had its world premiere at the Spoleto Festival in May 2012 and is notable because the three organizations that commissioned the opera (Spoleto, the Lincoln Center Festival and the Chinese organization Currents Art & Music) chose Toronto's own Atom Egoyan as the stage director.
The opera, only 55 minutes long, explores the tale told in the 14th-century novel Romance of the Three Kingdoms of Diao Chan, one of the fabled Four Beauties of ancient China, whose seductive charms ignite an empire-threatening rivalry between a ruthless warlord and her lover, the brave general Lu Bu. It focuses on the pivotal moment when Diao (Shen Tiemei) and her lover (countertenor Jiang Qihu) meet in the Feng Yi Ting ("Phoenix Pavilion"), where she urges him to eliminate his nemesis. One of China's most respected contemporary composers, Guo fuses Chinese and Western classical styles to create a score that sounds at once both ancient and modern. The opera is sung in Mandarin with English and Mandarin surtitles and runs for only three performances from June 20 to 22. For ticket holders Egoyan leads a pre-performance talk about the creation of Feng Yi Ting each evening at 7:10pm at the MacMillan Theatre.
The only other large-scale opera-related production in Toronto this summer is the latest opera/theatre hybrid created by Austrian playwright Michael Sturminger called The Giacomo Variations. Torontonians may recall that Luminato presented Sturminger's Infernal Comedy: Confessions of a Serial Killer in 2010 starring John Malkovich as the killer whose victims, rather than speak, sang selected arias from Baroque operas. The Giacomo Variations also stars Malkovich, this time as the famous adventurer Giacomo Casanova (1725–98), whose memoirs, Histoires de ma vie, were so scandalous they were not published in full until 1960. In Sturminger's piece the dying Casanova looks back on his life where his conquests and opponents are characterized by selected arias from the Mozart/Da Ponte operas accompanied by Orchester Wiener Akademie and conducted by Martin Haselböck. This time Show One, not Luminato, presents the work which runs June 7 to 9 at the Elgin Theatre.
For operas in concert in June, one must look to the Toronto Summer Opera Workshop productions led by vocal coach Luke Housner (lukehousner.com). Concert performances with surtitles are the culmination of intensive 10- to 14-day workshops whose purpose is to expose young singers to the rigours of learning roles. The TSOW performs Mozart's Don Giovanni from June 4 to 6 and Humperdinck's Hänsel und Gretel from June 12 to 14, both held at St. Simon-the-Apostle Anglican Church.
July-August: For staged operas with piano accompaniment in Toronto in July and August, Summer Opera Lyric Theatre is always reliable. This year SOLT (solt.ca) is presenting Handel's Alcina (1735) in Italian on July 26, 28, 31 and August 3. Running with it in repertory is Bellini's I Capuleti e i Montecchi (1830), also in Italian, on July 27, 31, August 2 and 4 and Puccini's familiar La Bohème sung in English on July 27, 30, August 1 and 3. All performances take place at the intimate Robert Gill Theatre on the University of Toronto campus.
For opera outside Toronto, one need only look at the increasing number of summer music festivals. The operatic highlight of the 26th annual Brott Music Festival in Hamilton (brottmusic.com) is a concert performance with the National Academy Orchestra of Verdi's Aida on August 1 at Mohawk College's McIntyre Performing Arts Centre. Sharon Azrieli Perez sings the title role with David Pomeroy as Radames and Emilia Boteva as Amneris. Other opera-related concerts include "Last Night at the Proms Meets Gilbert & Sullivan" on July 27 with David Curry singing all the comic male roles and Brian Jackson conducting the NAO.
This year the Elora Festival (elorafestival.com) also includes opera in concert. On July 27 it presents Handel's Acis and Galatea with the Elora Festival Singers and musicians of the Toronto Masque Theatre conducted by Noel Edison. On August 3 it presents Gilbert and Sullivan's The Mikado with Jim White as Ko-Ko, Allison Angelo as Yum-Yum, Thomas Goerz as Pooh Bah, Jean Stilwell as Katisha, David Curry as Nanki-Poo and Michael Cressman as the Mikado. Edison conducts the Elora Festival Orchestra and Singers. Opera-lovers should also note that to celebrate Verdi's bicentenary, the Elora Festival opens on July 12 with Verdi's Requiem with COC favourites Yannick-Muriel Noah, Anita Krause, David Pomeroy and Robert Pomakov as the soloists.
A bit farther from Toronto is the Highlands Opera Studio in Haliburton (highlandsoperastudio.com) where Richard Margison is the artistic director. On August 6, 8 and 16 it offers a program of "Operatic Highlights." On August 11 there is a concert "Richard Margison & Friends" where the famed tenor and some of his closest friends come together to raise funds to support the HOS. The summer culminates in fully staged performances of Verdi's La Traviata on August 23, 25, 27 and 29. Ambur Braid and Luiza Zhuleva will trade off in the roles of Violetta and Annina, Adam Luther sings Alfredo and Geoffrey Sirett sings Germont. Valerie Kuinka directs and Miloš Replický conducts.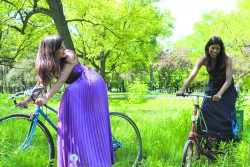 To the west, the ever-expanding Stratford Summer Music (stratfordsummermusic.ca) is presenting the unusual group known as The Bicycle Opera Project, July 26 to 28. The group (bicycleopera.ca) was formed to bring Canadian music to people who might otherwise have little opportunity to hear it and to work to close the distance between audiences and opera singers through performances in intimate spaces. It focuses on operatic repertoire that deals with contemporary issues. At Stratford's Revel Caffè it will perform two programs. The first will include scenes from the operas Rosa by James Rolfe, Slip by Juliet Palmer and Cake by Monica Pearce. The second program features excerpts from Little Miss All Canadian by Lemit Beecher, The Enslavement and Liberation of Oksana G. by Aaron Gervais and Trahisons liquides (in French) by Stacey Brown. The performers are soprano Larissa Koniuk, mezzo Michelle Simmons, baritone Geoffrey Sirett and tenor Will Reid with music director Wesley Shen at the piano, Katherine Watson on flute and Leslie Ting on violin. Michael Mori is the stage director. Outside Stratford, The Bicycle Opera Project will make stops in Toronto, Hamilton, Elora, Fergus, Kitchener, Waterloo, Bayfield and London.
To the northeast of Toronto the Westben Arts Festival (westben.ca) in Campbellford is mounting a fully staged production of Bizet's Carmen on July 5, 6 and 7. The UBC Opera Ensemble is directed by Nancy Hermiston, and Leslie Dala conducts the Westben Festival Orchestra. On July 21 Richard Margison and John Fanning, with accompanist Brian Finley, offer "Sunday Afternoon at the Opera," a celebration of Wagner and Verdi in honour of the composers' bicentenaries. On July 25, 26, 27 and 28 well-known singers Virginia Hatfield, Brett Polegato and James Levesque take a break from opera to explore musicals from The Wizard of Oz to Les Misérables.
If you're looking for major rarities and would rather stay in Canada, simply head to Quebec. The Montreal Baroque Festival (montrealbaroque.com) runs June 21 to 24. In concordance with this year's theme "Nouveaux Mondes," on June 21 Ensemble Caprice and Atelier Lyrique de l'Opéra de Montréal present the Canadian premiere of Vivaldi's opera Motezuma [sic] from 1733. The opera focuses on the last hours of the Aztec king Moctezuma II (died 1520) as he languishes in captivity under the Spanish conquistador Hernán Cortés. This being an opera, librettist Girolamo Alvise Giusti had no trouble in inventing a love story involving Fernando's (i.e. Hernán's) brother Ramiro and Mo(c)tezuma's daughter Teutile. The score, thought lost, was discovered in 2002 in Berlin, though part of Act 1 and most of Act 3 are missing. Various baroque music experts have created reconstructions of the missing portions, the first concert performance since the 18th century occurring in 2005 in a version by Federico Maria Sardelli. For the MBF, Ensemble Caprice's conductor Matthias Maute has created his own reconstruction.
Besides this, La Compagnie Baroque Mont-Royal will present a concert called "L'Opéra de Frédérick II" on June 24 which will explore the type of opera that the Prussian king encouraged to flower at court after his ascension in 1740. Fans of ballet should also note that Les Jardins Chorégraphiques and Les Boréades de Montréal have teamed up to present a famous ballet more often recorded than seen — Les Élémens of 1737 by Jean-Féry Rebel (1666–1747), which depicts no less than the creation of the world out of chaos. The performance takes place June 24.
Not far from Montreal is the site of the Festival de Lanaudière (lanaudiere.org). The highlight of the festival is a concert performance of Wagner's Lohengrin (1850) on August 11 with Yannick Nézet-Séguin conducting the Orchestre Métropolitain and Choeur de l'Orchestre Métropolitain de Montreal. Brandon Jovanovich sings the title role, Heidi Melton is Elsa, Andrew Foster-Williams is Telramund and renowned soprano Deborah Voigt makes her role debut as Ortrud.
Since 2013 is also the 200th anniversary of the birth of Verdi, the festival is offering a starry "Gala Verdi" on August 3 with Jean-Marie Zeitouni conducting the Orchestre du Festival et du Choeur St-Laurent. Soprano Marjorie Owens, mezzo Jamie Barton, tenor Russell Thomas and baritone Quinn Kelsey are the soloists. The concert will feature arias, duets, ensembles, choruses and overtures from 13 of Verdi's operas from Nabucco to Falstaff.
Enjoy the summer! 
Christopher Hoile is a Toronto-based writer on opera and theatre. He can be contacted at opera@thewholenote.com.