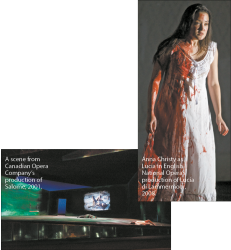 April, as has become usual, offers the most concentrated number of opera productions of any month in the year. Every April we can always count on large-scale productions from the Canadian Opera Company and Opera Atelier and the spring production from Toronto Operetta Theatre, while smaller companies and operas in concert serve the important function of adding variety and breadth. If we artificially extend the month to May 10, an opera lover can sample the whole history of opera from the 17th century to the present.
1683: Venus and Adonis by John Blow on May 10, 11 and 12 by Toronto Masque Theatre. The oldest opera presented in this six-week period tells of the love of the goddess Venus (Marion Newman) for the mortal Adonis (Alexander Dobson). The opera, fully staged with the TMT Orchestra conducted by Larry Beckwith, is on a double bill with the world premiere of The Lesson of Ja Di (below).
1733: La serva padrona by Giovanni Pergolesi on April 5 and 7. Metro Youth Opera was founded by Kate Applin in 2010 to give Toronto's young opera singers the chance to perform complete roles. The company's third production is a triple bill of comedies, the earliest of which is Pergolesi's important work, often seen as the bridge between the baroque and classical periods. The plot is about how the maid Serpina (Applin) tricks her bachelor master (Janaka Welihinda) into marrying her. Alison Wong directs with Blair Salter at the piano.
1790: Così fan tutte by Wolfgang Amadeus Mozart on April 27 only. Opera by Request presents the third of Mozart's collaborations with librettist Lorenzo Da Ponte. Jonathan MacArthur is Ferrando, Josh Whalen is Guglielmo, while Naomi Eberhard and Alexandra Beley are the fiancées, Fiordiligi and Dorabella, whose faithfulness they test. William Shookhoff provides the piano accompaniment.
1791: Mozart'sThe Magic Flute on April 6, 7, 9, 10, 12 and 13. Opera Atelier remounts its much-loved production of Mozart's fairy-tale opera with a cast of OA favourites. Colin Ainsworth sings Tamino, Laura Albino is Pamina, Ambur Braid is the Queen of the Night, João Fernandes is Sarastro with Olivier Laquerre as Papageno and Carla Huhtanen as Papagena. David Fallis conducts the Tafelmusik Baroque Orchestra and Marshall Pynkoski directs.
1816: Il Barbiere di Siviglia by Gioacchino Rossini on April 6 only. Opera by Request presents Rossini's well-known opera based on the first of Beaumarchais' plays about the wily barber Figaro. Jay Lambie sings Figaro, William Parker is his friend Count Almaviva and Nicole Bower is Rosina, the object of the Count's desire. William Shookhoff provides the piano accompaniment. For those interested in comparisons, the Soulpepper Theatre Company presents an adaptation of Beaumarchais' play itself with previews beginning May 9.
1835: Lucia di Lammermoor by Gaetano Donizetti on April 17, 20, 26, 30 and May 9, 12, 15, 18 and 24. The COC presents the acclaimed production of Donizetti's bel canto masterpiece created by director David Alden in 2008 for soprano Anna Christy and the English National Opera. Christy herself sings the title role with Stephen Costello as Edgardo, the man she loves, and Brian Mulligan as Enrico, Lucia's brutal brother who forces her to marry someone else. Stephen Lord conducts the COC Orchestra.
1853: Il Trovatore by Giuseppe Verdi on April 18 and 20. Now in its eighth season, Opera Belcanto of York will present a fully staged production at the Richmond Hill Centre of Verdi's opera about gypsies and children switched at birth. Guest soloists from the Yerevan State Opera include Tatevik Ashuryan as Leonora, Hovhannes Ayvzyan as the troubadour Manrico and Nariné Ananikyan as Azucena with Canadian Jeffrey Carl as the Conte di Luna. OBY founder David Varjabed conducts and Gabriele Graziano directs.
1866: La Vie Parisienne by Jacques Offenbach on May 2, 3, 4 and 5. The final offering of the season from Toronto Operetta Theatre is Offenbach's first full-length operetta dealing with contemporary life in Paris rather than the mythological satires like Orphée aux Enfers (1858) and La Belle Hélène (1864) that made him famous. The story involves the first visit to Paris of a Swedish baron and baroness whose tour is confounded by the actions of a Brazilian millionaire and a Parisian courtesan. The cast includes Elizabeth DeGrazia, Lauren Segal, Christopher Mayell and Adam Fisher. Larry Beckwith conducts and Guillermo Silva-Marin directs. The TOT last staged this operetta in 1992. In an odd coincidence L'Opéra de Québec will later present the work May 11, 14, 16 and 18 in Quebec City.
1901: Rusalka by Antonín Dvořák on April 19 only. Opera by Request presents the first of two Czech operas that form a study in contrasts. Though separated by only three years, Dvořák's opera is fully romantic, while Janáček's Jenůfa is realistic. Janáček's new style of composition based on Czech speech patterns is a break from Dvořák's more traditional symphonic style. Deena Nicklefork sings the title role of the water nymph who falls in love with a mortal, Ryan Harper is the prince she loves, David English is Vodník, the ruler of the lake, and Karen Bojti sings Ježibaba, the witch who changes Rusalka into a mortal at a terrible cost. William Shookhoff is, as usual, the piano accompanist.
1904: Jenůfa by Leoś Janáček on May 5 only. Unlike Rusalka's world of supernatural beings and courtiers, Janáček's Jenůfa focuses on peasant life. Kostelnička (Monica Zerbe), stepmother of Jenůfa (Michèle Cusson), forbids her to marry Števa (Lenard Whiting), unaware that Jenůfa is already pregnant by him. Meanwhile, Števa's half-brother Laca (Paul Williamson) loves Jenůfa and can't understand her indifference to him. William Shookhoff is again the piano accompanist.
1905: Salome by Richard Strauss on April 21 and 27 and May 1, 4, 7, 10 16 and 22. For the first time since 2002, the COC revives Atom Egoyan's acclaimed production of Richard Strauss' shocker based on Oscar Wilde's one-act play. Erika Sunnegårdh sings the title role, Richard Margison is her dissolute father Herod, Hanna Schwarz is her stern mother Herodias and Martin Gantner (April 21 to May 4) and Alan Held (May 7 to 22) sing John the Baptist, the object of Salome's depraved desire. Johannes Debus conducts the COC Orchestra.
1915: Goyescas by Enrique Granados (1867–1916) on April 29 and May 1 and 2. Opera Five helps us fill in our knowledge of opera by presenting a double bill of two one-act operas from Spain. The title of Granados' opera is best known as a piano suite reflecting various paintings by Francisco Goya. The composer was encouraged to turn the suite into an opera and so, contrary to usual procedure, Granados' librettist had to write a libretto to fit the music. The story deals with two men, Fernando (Conrad Siebert) and Paquiro (Giovanni Spanu), who fight a duel over Rosario (Emily Ding), the woman they both love. Maika'i Nash is the music director and pianist and Aria Umezawa is the stage director. Performances take place at Gallery 345.
1922: Mavra by Igor Stravinsky on April 5 and 7. This rarely performed work is part of Metro Youth Opera's triple bill of comic operas. (The COC last performed it in 1965 on a double bill with Salome.) Based on a story by Pushkin, the opera tells how the young Parasha (Laura MacLean) tries to deceive her Mother (Sarah Hicks) by smuggling her lover Vassili (Jan Nato) into the house disguised as the new maid "Mavra." Alison Wong directs with Blair Salter at the piano.
1923: El retablo de maese Pedro by Manuel de Falla on April 29 and May 1 and 2. The second work on Opera Five's Spanish double bill (see above) is a rarely performed one-act opera based on an episode from Don Quixote and usually translated as Master Peter's Puppet Show. The opera focusses on the reactions of Don Quixote (Giovanni Spanu) to a puppet play presented by Pedro (Conrad Siebert) depicting Charlemagne's adoptive daughter being abducted by Moors. As might be expected, Don Quixote cannot control his anger on viewing such an outrage.
1957: Dialogues des Carmélites by Francis Poulenc on May 8, 11, 14, 17, 19, 21, 23 and 25. The COC's final offering of the 2012/13 season is Robert Carsen's production of this 20th-century masterpiece created for the Lyric Opera of Chicago in 2007. Isabel Bayrakdarian starred as Blanche de la Force in Chicago and does so again in Toronto. Daughter of an aristocrat, Blanche decides to become a nun to escape the chaos of the French Revolution only to find herself caught up in it after she joins the convent. The starry cast includes Judith Forst, Adrianne Pieczonka, Hélène Guilmette, Irina Mishura, Frédéric Antoun and Jean-François Lapointe. Johannes Debus conducts the COC Orchestra.
1961: Le magicien by Jean Vallerand (1915–94) on April 5 and 7. The third work on Metro Youth Opera's triple bill is the rarest of all. It is the only opera by Québecois composer Vallerand, written for Jeunesses Musicales as a curtain-raiser for their tour of Debussy's L'Enfant prodigue. The libretto, also written by Vallerand, concerns a magician who brings the marionettes Colombine and Arlequin to life only to find that they refuse to return to their former state. Though it was performed more than 100 times in the 1961–62 season and recorded in by the CBC in 1967, it lapsed into obscurity until it was revived in concert in Montreal in 1989. MYO does us a great service in giving us the chance to see it now.
2013: Inspired by Lorca by Chris Paul Harman on April 30 is not an opera but a song cycle now titled La selva de los relojes (The Forest of Clocks) based on the poetry of Spanish poet Federico García Lorca. I include it here because it is the last piece that the much-loved Queen of Puddings Music Theatre will produce before it dissolves at the end of August. Mezzo-soprano Krisztina Szabó is the soloist and QoP co-founder Dáirine Ní Mheadhra conducts a chamber ensemble of piano, harp, cello, flute and percussion. The performance takes place at the Richard Bradshaw Amphitheatre in the Four Seasons Centre and is free.
2013: Ruth by Jeffrey Ryan on May 4 only. This is a workshop performance given by Tapestry Opera (formerly Tapestry New Opera) of Ryan's opera to a libretto by Michael Lewis MacLennan that reimagines the Biblical story as an immigrant tale about the struggle to find welcome in a new country. The performance takes place at the Ernest Balmer Studio in the Distillery District.
2013: The Lesson of Ja Di by Alice Ping Yee Ho on May 10, 11 and 12 by Toronto Masque Theatre. The newest opera presented in this six-week period is a world premiere written as a companion piece to the oldest opera here, John Blow's Venus and Adonis (above). Based on a true story from the Shang dynasty (second millennium B.C.), it tells of the horrific revenge that a King wreaks on his concubine Da Ji for falling in love with her music teacher, the nobleman Bo Yi. Larry Beckwith conducts the TMT Orchestra on period instruments, augmented on this occasion with traditional Chinese instruments such as the erhu, pipa and guzheng.
Enjoy the bounty on offer in these six weeks and create your own opera festival. 
Christopher Hoile is a Toronto-based writer on opera and theatre. He can be contacted at opera@thewholenote.com.