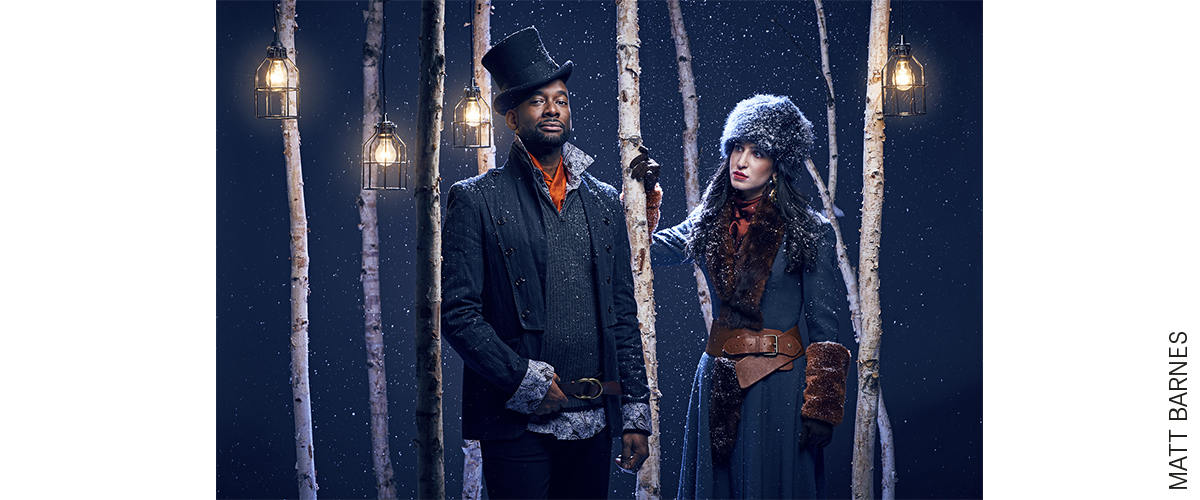 If any more proof was needed that the story of Eugene Onegin in all its forms continues to capture the interest of audiences, the National Ballet of Canada revived John Cranko's Onegin just last fall, and the latest Metropolitan Opera production of Tchaikovsky's opera will appear on Cineplex screens in May.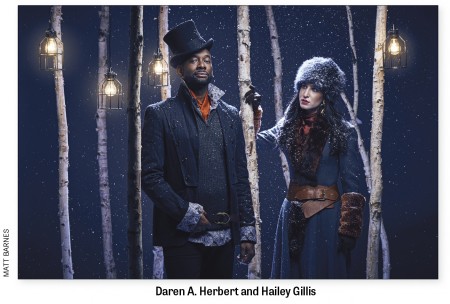 So when I received an email message from the Musical Stage Company in February that tickets were on sale for their production of Onegin, a new Canadian musical opening in May, right away my excited interest was caught. Cranko's Onegin (beloved by Toronto ballet fans) has long been one of my favourite "story ballets," its aloof and then passionate title role a test of star quality for every male principal dancer, and the role of Tatiana, who falls headlong and unrequitedly in love with Onegin, an equal dramatic proving ground for female principals.
Cranko's ballet was not, apparently, the first inspiration for this new telling of the story by Amiel Gladstone and Veda Hille, two of the creators of the 2012 musical Do You Want What I Have Got? A Craigslist Cantata. But Tchaikovsky's version of the story, a favourite of opera fans the world over, definitely was. This new Canadian Onegin had its world premiere a year ago at the Arts Club Theatre in Vancouver where it won rave reviews and an unprecedented ten Jessie awards. The Toronto production features an almost entirely new cast and is directed by Gladstone who will be working with a new creative team; Hille provides the musical direction.
Intrigued and wanting to know more I approached the show's creators, Gladstone and Hille, as well as Musical Stage Company artistic director Mitchell Marcus. Here are those conversations.
AMIEL GLADSTONE and VEDA HILLE
Why Onegin? What was it about the story that caught your interest and inspired you to create a new musical version? After the Craigslist Cantata, which was all about disconnection and more of a revue kind of piece, we wanted to look at something that had real passion and a stronger narrative drive. It was an opportunity to push and challenge ourselves, and see what happened if we tried to make a musical like the ones we'd grown up with. We connected strongly to themes of love - bad timing and trying not to waste your life.
I read in the press release that it was a production of Tchaikovsky's opera that gave the first spark and that you have adopted the opera's structure. In the process of creation, did you also go back to the novel, for inspiration and/or material? Yes, many times and through many different translations. There was even an attempt to follow Pushkin's verse structure, but that lasted for one song. If we'd stuck with that, we'd still be on the first draft. The Pushkin is one of those things that is untranslatable - the original Russian has it all, while in English we can only give an essence. So the show is our essence of "Russianness," of being welcomed at the theatre, of creating a space to sing some songs and tell a story together. In the novel Pushkin is a rascal; we really tried to retain his sense of fun and provocation.
You have adopted the structure of Tchaikovsky's opera and even some of the musical lines. How would you describe the music you have created and the larger musical choices you have made for this show? There are a few Tchaikovsky quotes here and there - hidden Easter eggs for true fans. The music is definitely a mix of what could be considered standard Veda Hille type fair, (piano-based indie folk?) but with a strong sense of cabaret and other musical theatre styles. We were influenced by a wide range - everything from Boney M. to Kendrick Lamar. And we try to rock out a bit.
What was your creative process as composer and book writer? Did words or music come first or did that change along the way? Although Veda is primarily a musician and Amiel a playwright, there isn't a separate composer or book writer. Words would usually come first, then song structure, and then adapting and deepening as we went. We had to remind ourselves what life was like as virginal teenagers. In some cases, we would find a beat and then work off of that.
From the photographs it looks as though you have kept to the story's original period setting. How have you given the story a contemporary relevance or edge? I think you are referring to the Arts Club premiere production in Vancouver. Most of the costumes in that were modern with period touches. We felt items like Onegin's iconic top hat were important and we kept period silhouettes, but most of the costume pieces were things you could find on the rack today. For the Toronto production, we are doing a new design - similar ideas, but possibly exploring more of the Spanish and Italian fashion world. It's a real mix of periods, just as we live now. We've also attempted to clear up any of our questions, along the way. Why does Lensky get so upset? What's the deal with duels anyway? And so on.
You had a great success with the premiere in Vancouver. What do you feel the audience connected with so strongly? It's unabashedly romantic. It's about being together, and love.
This is a bigger project than your earlier Craigslist Cantata. Was it a very different creation and/or workshop development process in this case? The process was both similar and different. Our investigative process was similar - building ideas and themes and then looking at how to continually deepen and clarify. With Craigslist it was all about how to structure, and how to find a through-line not based on plot. With Onegin it's been more about clarity - making it make sense for a modern audience, giving as much agency as possible to Tatyana. When should it sound classical? When should it sound like disco? When was it spoken? Those kinds of questions. We did workshops at the Arts Club and In Tune, we saw how the audience was responding, we could feel we were on the right track - that part felt very similar.
This is a new production with a new creative team other than yourselves, and an almost entirely new cast. Is it a bigger production? Will you be taking this opportunity to make any changes or to explore the material in any new ways? For the most part the design is all new - we are looking at pushing the contemporary even more. As evidenced by your earlier question, the Arts Club version may still look period, but we want to keep making it look more contemporary - or at least keep trying. And we continue to work on the writing, yes. Still many questions around how it all works.
Is there anything you would say to the audience here before they come to see Onegin, to shape their expectations? Bring someone you like, or love, or are hoping to love. We can't wait to see you.
MITCHELL MARCUS
What was it about this show that made you want to produce it in Toronto? There were three things that really appealed to me. First off, the score is unbelievable. I can't get enough of the songs in Onegin and knew that Toronto audiences had to have a chance to hear them. Second, we are fiercely dedicated to growing Canadian musical theatre. Onegin is certainly an impressive and surprising homegrown musical work which made me want to do anything we could to help it. I felt that giving the writers a second production in Toronto, and being able to promote the work nationally and internationally from our city would be advantageous for them. Finally, we believe in building long-term relationships with artists. We were so lucky to produce and tour Do You Want What I Have Got? A Craigslist Cantata by Ami, Veda and Bill Richardson. So continuing to collaborate with Ami and Veda on this new piece was natural and welcome.
How would you describe what makes this version of the story different from the opera and ballet - and relevant, as you have said, to a contemporary audience? I must (embarrassingly) admit to having never seen the ballet or opera. But what I love about what Ami and Veda have done is keeping the piece firmly rooted in the 19th century but giving the music and performance aesthetic a 21st-century feel. I think this highlights the universal nature of love - how we fall into it, how we are shamed by it, how we lose it. Through the hip, artistic sensibilities of Ami and Veda, this story written 150 years ago feels like it captures our contemporary world so beautifully.
Onegin opens on May 13 and plays until June 4 at the Berkeley Street Theatre downstairs.
What's On: It has become a cliche that there is so much going on in the Toronto arts and culture scene that it has become impossible to see everything you want to see, particularly if you like different genres. Even within the genre of music theatre there are almost too many shows to see ranging from opera to traditional broadway fare, to new musicals experimenting with style and form, to various new hybrids of words, music and dance. Not that I would complain.
If you are working on a show yourself it becomes even harder. I have been immersed myself in French Baroque music theatre as fight director for Opera Atelier's production of Charpentier's 17th-century Medea. One of the fascinating things about this production is the modernity and level of passion in the acting, so much so that director Marshall Pynkoski describes the story as one of "domestic passion similar to that of Who's Afraid of Virgina Woolf."
From the shows I was able to see over the last month, two that stood out were rarely seen operas steps from each other along Philosopher's Walk, both with clever and interesting staging experiments by their directors illuminating the stories and making them accessible to the audiences: Marilyn Gronsdal's production of Niccolo Picinnini's La Cecchina for the Glenn Gould School at the RCM with the mutli-level permanent set on the Koerner Hall stage and Tim Albery's setting for the U of T Opera School of Handel's Imeneo along the full width of the back wall of the MacMillan stage with the audience sat on risers on the stage itself.
April also saw the return to Toronto of Garth Drabinksy with Sousatzka, a new musical on a mammoth scale of ambition and sheer size featuring an ensemble of 47 led by three Broadway stars, a multi-award-winning creative team, and a good number of Canadians. Hopes were high for going to Broadway in the fall. As it turned out, the show proved not to be ready yet for that leap.
Elsewhere in the city April saw the return of Soulpepper's popular Spoon River. Sheridan's Musical Theatre program continued to display the initiative which gave birth to the Toronto and Broadway sensation Come from Away, with the workshop production of a new musical by Neil Bartram and Brian Hill, Senza Luce; and Neema Bickersteth brought her one-woman amalgamation of song, dance and story, Century Song, to the new Crow's Theatre space under the banner of Nightwood and Volcano.
Looking ahead: In May, and beyond, there is much to look forward to, from one-night-only events to long-running shows beginning their season at the big festivals.
May 1: One night only at the Atrium: Toronto Masque Theatre makes a specialty of bringing back to life rarities from the past as well as re-interpretations of well-known stories. On this evening they are presenting "The Ben Jonson Project: The Vision of Delight," a staged reading of Ben Jonson's Jacobean The Vision of Delight, reimagined and accompanied by an array of musical styles.
May 7: One night only at the Panasonic Theatre traditional musical theatre fans will be delighted to hear and see Stephen Schwartz (award-winning composer and lyricist of Wicked, Pippin, Godspell and more) live in conversation interspersed with performances of some of his greatest hits by Cynthia Dale, Chilina Kennedy and more.
Opening May 24: Opera as musical theatre: after a long development process with Tapestry Opera, Gervais and Murphy's Oksana G., a daring new music theatre story of human trafficking gets a full production under the leadership of brilliant stage director Tom Diamond and music director Jordan de Souza.
April 18 to May 28 at the Tarragon Theatre, veteran musical theatre performer Tamara Bernier Evans directs the new Midsummer (a play with songs) described as "the hilarious story of a great lost weekend of ill-advised romance."
And a final note: a heads-up for creators of new musical works! May 13 is the deadline to submit for The Aubrey and Marla Dan Fund for New Musicals. The Dan Fund is the first ever fund exclusively for the commissioning of new Canadian musical works. The fund offers financial and dramaturgical support to creators in developing new musicals. Ideas that exemplify the most potential will be awarded an $8,000 commission from the Musical Stage Company and a reading or workshop of a draft. Contact the Musical Stage Company for more information.
Toronto-based "lifelong theatre person" Jennifer (Jenny) Parr works as a director, fight director, stage manager and coach, and is equally crazy about movies and musicals.