What strange days we are living in. As I have been preparing and researching to write this column over the last week or so, the true scope of the COVID-19 pandemic has become increasingly clear. Ontario's provincial government has declared a state of emergency and theatres of every size have first postponed or cancelled spring performances, then followed that by closing down rehearsals and production altogether for an unspecified length of time, at least until the pandemic should be under control.
For theatre artists this is a double whammy. Not only are our livelihoods suddenly up in the air but our world is abruptly taken away. Even the smallest one-person show is created by a group of people, and one of the great joys of being part of this industry is that of working with other artists onstage, backstage, in preparation and rehearsal; experimenting with words, music, design and movement to craft our storytelling to the best of our abilities, then looking forward to the fulfillment of sharing our creations with a live audience. All of that is now on hold.
Many companies and individuals are looking for ways to move some of our work online at least temporarily, which is wonderful, but it is not and cannot ever be the same as sharing a live theatrical experience.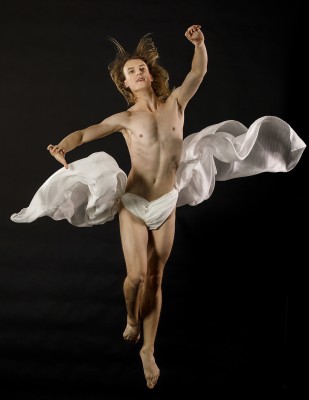 As fight director for Opera Atelier's just cancelled production of Handel's Resurrection, I am in mourning for a show that was just approaching that exciting moment of the rehearsal period when the dancers would have been joining the singers in the studio. My last rehearsal was teaching wonderful actor/singer Carla Huhtanen her portion of the fight choreography as the Archangel. She would have been joined in the last week of March by her nine Warrior Angels, including five of our female dancers wielding swords for the first time. Now all of that wonderful work, that human contact and collaboration, has been put in wraps until the – hoped-for – opportunity comes to bring it back. The same thing is happening to shows around the country and the world.
The chance to be in the audience of other artists' shows is also something I am going to miss, the longer the need to keep up social distancing continues, particularly given the rich variety of live music theatre I have witnessed over the last month or so. Carly Street's one-woman tour-de-force performance in Grounded for Theatre Six at Streetcar Crowsnest, refuses to leave my head. Her searingly real yet funny, moving, portrayal of a woman pilot pulled against her will into the world of waging war by drone, was a devastating portrait of a buoyant human spirit trying to make sense of the ugliness of an increasingly dystopian modern world. (While not really music theatre, a custom-made mix tape played a critical plot role.) Necessary Angel's production of David Greig's two-actor'play The Events followed the same theme, with a gay female priest trying to understand the motivation behind a devastating random attack on her choir, backed up by the presence and singing of an actual community choir on stage with her at each performance.
At the other end of the emotional spectrum was the magical experience of feeling inside the creation of George Seurat's famous painting, A Sunday on the Island of La Grande Jatte, in Eclipse Theatre Company's large cast musical-event staging of Sondheim and Lapine's Sunday in the Park with George at the Jam Factory; and the sweet pleasure of a musical evening with Jane Austen, thanks to U of T Opera at the Faculty of Music's production of Jonathan Dove's Mansfield Park, directed with a light and clever hand by Tim Albery.
April 2020 was going to be a month notable for Canadian work, with shows again ranging from small cast to large, all promising to grab their audiences with stories that need telling: connected to the past but also important in the present and serving to create a better future. Small consolation, but at least I can honour what they promised but were denied the opportunity to deliver.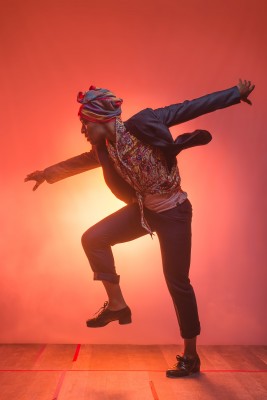 Anandam Dancetheatre: Phenomenal Toronto-based tap dancer Travis Knights, artistic director of the 2018 Vancouver International Tap Dance Festival, was to star in the one-man-show Ephemeral Artifacts for Anandam Dancetheatre Productions at Theatre Passe Muraille. Originally created by director Brandy Leary in 2017, this edition of the show is co-created and choreographed by Leary and Knights together, with the goal of using storytelling, dance and music to explore the intertwined history of tap and jazz, and how both are inextricable from the African American experience, both historical and contemporary. On top of this intriguing premise, this was also going to be a must see for me, having been bowled over by Knights's wonderful combination of Gene Kelly and Bill "Bojangles" Robinson dance styles in Soulpepper's The Promised Land last summer.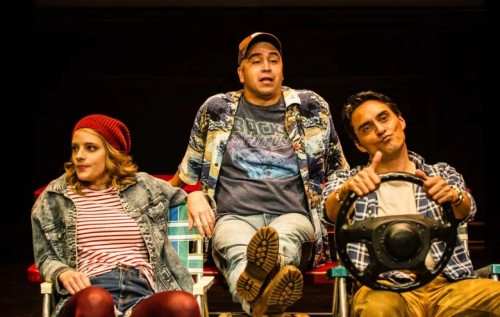 Native Earth Performing Arts were going to present the Toronto premiere of celebrated Ojibway playwright Drew Hayden Taylor's Sir John A: Acts of a Gentrified Ojibway Rebellion, described by the Ottawa Citizen as "a smart punchy show that's bolstered by sharp satire, a quirky musical score ... and a refreshing dose of humour." Main character Bobby Rabbit has some unfinished business with Canada's first prime minister. When Bobby learns that his grandfather's medicine bundle lies mouldering in a British museum – another casualty of the residential school system – he enlists his friend Hugh to execute an epic heist and secure the ultimate bargaining chip – the bones of Sir John A. On their way to find the bones, they give a ride to a Kingston girl trying to get home and the road trip becomes a tangle of comedy, history and politics, all leavened by a fun score with lead vocals by Herbie Barnes as Hugh featuring riffs on The Romantics' What I Like About You, Heart's Crazy on You, Alanis Morissette's You Oughta Know, Sinéad O'Connor's Nothing Compares 2 U, and Cheap Tricks' I Want You to Want Me. I was looking forward to this show not only for the combination of what sounded like a fun story peppered with songs and a contemporary political twist, but also because it was to be directed by the founder of Crow's Theatre, acclaimed Canadian director Jim Millan.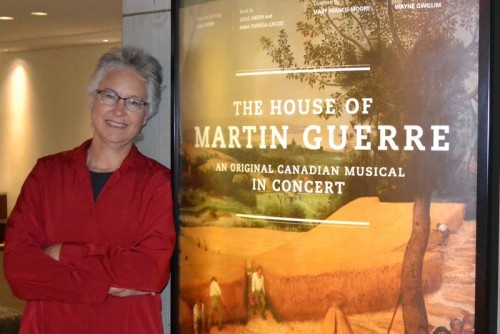 Leslie Arden: Third on my list, and with the biggest cast, was Toronto Musical Concerts' semi-staging of Leslie Arden's Dora Award-winning large-scale musical The House of Martin Guerre. Originally produced by Theatre Plus in 1993, winning three Dora awards, with further award-winning productions following at the Goodman Theatre in Chicago in 1996, and in Toronto again by Canadian Stage in 1997, Martin Guerre then seemed to disappear. It started showing up again, however, in 2018 in a concert staging at the Charlottetown Festival, at Theatre Sheridan in a fully student production in April 2019, and just last fall at the Stratford Festival in a concert staging starring Chilina Kennedy. It turns out that the rights had been tied up for the last two decades with American commercial theatre producers but now that they are free again, productions are popping up all over.
The timing might be to the benefit of the show, as not only does it have a beautiful score, but the story it tells of a woman at the mercy of her community resonates even more today in the era of #MeToo. Based on a well-known legend from 16th-century France, The House of Martin Guerre tells the tale of Bertrande, a young Catholic peasant girl who suffers eight years of abusive marriage to Martin Guerre only to be abandoned by him, left alone with their infant son. Years later, a stranger arrives claiming to be Martin, but completely transformed. Although Bertrande accepts her new loving husband, their happiness is threatened by the jealousy and greed of others. She is ultimately forced to denounce him as an imposter.
Christopher Wilson, the artistic producer of Toronto Musical Concerts (TMC) says that the contemporary relevance of the story was part of the musical's draw. As he put it "This musical is a fascinating exploration of feminism in 16th-century France. It explores the power of the female voice struggling to exert itself amidst traditional conventions and societal pressures. The female protagonist's ultimate desire is to achieve a universal goal – her chosen happiness – despite the collective forces working against her." As well as this political and social relevance, something TMC usually tries to reference in its programming choices, they were delighted to be programming a Canadian mega-musical for the first time.
All of these productions have now unfortunately, but necessarily, been postponed or cancelled, but my hope is that they will find places in the next season, once theatre going is possible once again.
In the meantime, one source I am following for a constantly updated listing of music theatre performances to be found online, is playwright Nick Green's Social Distancing Festival: socialdistancingfestival.com.
Jennifer Parr is a Toronto-based director, dramaturge, fight director, and acting coach, brought up from a young age on a rich mix of musicals, Shakespeare and new Canadian plays.