Of the many music theatre events in October, one that stood out for me was the Canadian Musical Theatre Project's annual festival of new musicals in progress at the beautiful Winter Garden Theatre. An international incubator for the creation of new musicals based at Sheridan College, the CMTP also gives fourth-year Sheridan musical theatre students an unparalleled opportunity to be part of the creation and development of new works alongside working professionals, and, on top of that, to have this exceptional showcase of their own abilities. Of the three musicals presented in excerpt, one in particular caught my eye: Pump Up The Volume by Jeff Thomson (music) and Jeremy Desmon (book and lyrics). Although based on the 1990 film by Alan Moyle, this show exploded onstage with youthful energy echoing the energy and passion of the growing number of youth-led movements to fix what is wrong with our world today, whether the proliferation of guns or the imminence of climate disaster. Songs, script and performances added up to more than the sum of their parts. If the whole musical is this strong, I can see young audiences responding to it in a big way.
This same energy was captured by Hanna Kiel's world-premiere dance piece for Human Body Expression at the end of September: Resonance, explicit in its own language of movement and 80's inspired rock music about the need for all of us to stand together to fight for what is right. (See my review on The WholeNote blog).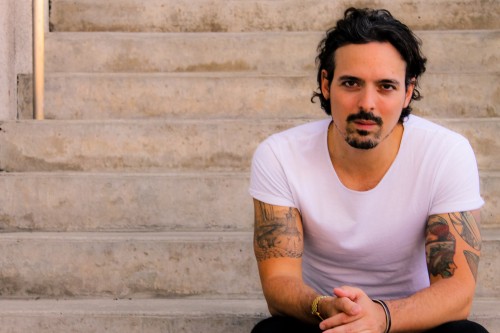 A Million Billion Pieces
Music, as an essential ingredient in portraying youthful passion and idealism, will also be seen in the upcoming new "play with opera," A Million Billion Pieces by David James Brock (book) and Gareth Williams (music). Though a creative extension of The Breath Cycle Project the duo began with Scottish Opera in 2013, Brock explains that the play stands on its own, set in a "SciFi/Fantasy realm where a simple touch can cause the two main characters to explode into a million billion pieces, due to a rare genetic illness." Isolated by their illness, two 16-year-olds, Pria and Theo, craving connection, create online personas and correspond as these 'ideal" selves for a year before daring to meet in person. This online ideal world is set apart from the real world by being "heightened cosmically and sonically," as Brock says, not just with singing but "through vocal effects and scoring, so that the music evolves into fuller vocal lines and scenes as the relationships do," to the point where music enters the real world as Pria and Theo dare to actually meet in person. When I asked Brock if his writing process changed for this project since he was writing for a teenage audience, he said, "not much. The characters are teenagers, but they've lived their whole lives being told they wouldn't survive to adulthood, so they've had to fit as much as possible in on a countdown. These characters are hyper aware of the finite amount of time in a life. I think we all have a sense we're not using the time we have correctly – I certainly do. As a side note, at the climate march recently, I overheard a conversation where two teens truly didn't think the planet would be around when they were 50."
A Million Billion Pieces is directed by Philip Akin and runs November 25 to December 13 in YPT's studio theatre. Paired with it in the season, and beginning two weeks earlier, is a heartfelt musical version of the classic fairy tale of the boy whose nose grows whenever he tells a lie: Pinocchio. Created by Neil Bartram and Brian Hill (who first met as cast mates in the Toronto production of Forever Plaid in the 1990s), this Canadian premiere will be directed by Canadian musical and television star Sheila McCarthy, notable for past incarnations as Audrey in Little Shop of Horrors and Adelaide in Guys and Dolls to name just two.
Orpheus Revisited
Over at the National Ballet of Canada, another classic tale is being explored and revisited through two short ballets: George Balanchine's 1975 Chaconne, and the world premiere of Robert Binet's Orpheus Alive. Both ballets are inspired by the classical tale of the musician, Orpheus, who petitions the gods to bring his beloved wife, Eurydice, back from the dead. Balanchine's piece, while set to some of Gluck's score for his opera Orfeo ed Euridice, is mostly abstract, whereas Binet's new work sets out to really tell the story, setting it in our own times and switching the gender of the leading roles, making Orpheus a woman artist, and Eurydice a man, her husband. He also turns the audience into the gods who must judge their case. Set to a new score by the award-winning composer Missy Mazzoli, and including projections, and text spoken by some of the dancers to the audience, this looks like a must-see for fans of contemporary ballet.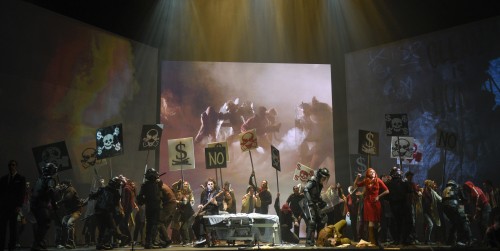 Walls
Another must-see in November is the Toronto premiere (after the world premiere in Vancouver two weeks earlier) of The 9th!, A dance work ten years in the making by co-choreographers Roberto Campanella and Robert Glumbek of ProArteDanza. Set to Beethoven's famously iconic Ninth Symphony and inspired by its connection with the celebration of of the fall of the Berlin Wall 30 years ago (almost to the day of the opening), the full-length work also uses the full four movements of the symphony to explore the idea of the need to demolish inhibiting walls in our lives, both tangible and metaphysical. (November 6 to 9, Fleck Dance Theatre, Harbourfront). (See my upcoming interview with Roberto Campanella on The WholeNote blog.)
The powerful image of a wall is central as well to Another Brick in the Wall, a new opera inspired by and based on Roger Waters' music from the famous Pink Floyd album, The Wall. The album predated the fall of the Berlin Wall by ten years, but the themes being explored by composer Julien Bilodeau and director Dominic Champagne – "the difficulties of a whole generation confronted with the destruction of its dreams" – are certainly similar. (November 13 to 23 at Meridian Hall, the former Sony Centre).
Storytelling through song
Old and new, traditional and experimental, were combined in another October highlight over at Crow's Theatre in collaboration with Eclipse Theatre, with the Toronto premiere of Dave Malloy's Ghost Quartet in a production that – with a stage the size of a postage stamp – managed to create a multi-layered, magical, eerie world of time travelling, interconnected characters, and a wild variety of mixed genre music, folk tale and dialogue that created a hypnotically fascinating world via the stories told by the songs of a concept album that forms the first layer of the show's structure.
Brilliantly directed, designed and performed, this show was/is unique, and yet it also made me think of two ongoing Toronto concert series that in their own ways, create their own magic by revisiting classic songs in new contexts, creating new and enthralling music-theatrical world's for audiences to experience. Both series have shows coming up this month. First is The Musical Stage Company's 13th edition of Uncovered, this time looking at the connected lives and works of Stevie Wonder and Prince, inspired by the fact that the two artists knew and admired each other and influenced each other's work. Following the gender-blind casting tradition begun in 2017 when Maev Beaty played David Bowie, and followed by Sara Farb as Bob Dylan in 2018, this year Sarah Afful takes on the role of Stevie Wonder, with Chy Ryan Spain appearing as Prince.
Toronto's other storytelling-through-song tradition, Soulpepper's concert series curated by music director Mike Ross, brings back its 2017 hit Riverboat Coffee House:The Yorkville Scene, November 5 to 17. Written and directed by Frank Cox-O'Connell, this concert weaves together songs by and stories about such iconic Canadian singer-songwriters as Gordon Lightfoot, Joni Mitchell, Murray McLauchlan and Neil Young, to recreate the anarchic excitement of Yorkville in the 60's.
Bands on stage
Onstage bands are the anchors of two more new plays with live scores opening in Toronto this month. The world premiere of The Wager is inspired by the true story of a scientist in the 19th century who accepted a bet to prove that the planet Earth is round rather than flat, only to have his proof rejected by the hostile flat-Earthers. Provocative and timely in our era of climate denial, the play employs Theatre Gargantua's signature combination of physical theatre, innovative use of technology and a live vocal score to tell the story, with the cast doubling as the live on-stage band. (November 14-30 at Theatre Passe Muraille).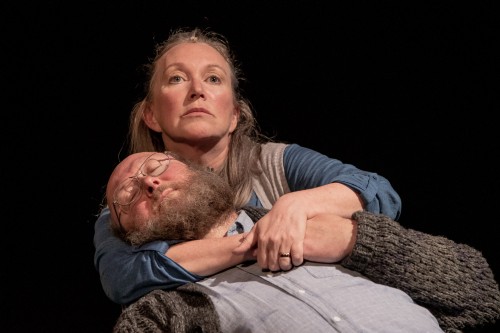 Opening shortly after The Wager, down the street at Factory Theatre (November 20 to December 8) is the Toronto premiere of Between Breaths, an Artistic Fraud of Newfoundland production written by Robert Chafe and directed by Jillian Keiley (famous for her very physical, almost stylized, productions at the NAC and Stratford). Inspired by the real life of Jon Lien known as "the Whale Man" the play tells the story of his inspiring career during which he freed more than 500 whales from fishing nets off Newfoundland's coast. As might be intuited from the title, there are also links here to A Million Billion Pieces, as later in his life Jon Lien suffered from dementia ending his days in a wheelchair, chronically short of breath. Between Breaths begins at the end of the story and travels back to Lien's very first whale intervention, the whole story buoyed and infused by the live music, vocal and instrumental, of famed Newfoundland folk trio The Once.
MUSIC THEATRE QUICK PICKS
NOV 4, 8PM: One show only. Stratford Festival. Avon Theatre. The House of Martin Guerre in concert. A wonderful chance to see Leslie Arden's musical version of this classic tale, starring the luminous Chilina Kennedy, directed by Richard Ouzounian.
NOV 4 TO NOV 17: Harold Green Jewish Theatre Company. The Pianist of Willesden Lane. A play that makes classical music a character of its own through the piano playing of the protagonist. An intriguing premise.
NOV 6 TO NOV 10: National Ballet of Canada. Giselle. Music by Adolphe Adam. Sir Peter Wright, choreographer. Four Seasons Centre for the Performing Arts. One of the most beloved romantic ballets, and one of my favourite productions at the NBC. There will be some notable debuts and farewells in the role of Gistelle this fall.
NOV 12 AND NOV 14, 8PM: Mirvish. Mandy Patinkin in Concert: Diaries. Ed Mirvish Theatre. A rare chance to see a great musical theatre star live. Mandy Patinkin is electric onstage whether playing Che in Evita or singing concert material with Patti Lupone, or alone with a band.
NOV 28 TO DEC 22: Theatre Orangeville. Little Women. Canadian composer Jim Betts' musical version of the classic Louisa May Alcott novel. It debuted to acclaim in 2001 with a great cast that included Douglas Chamberlain, Tracey Michailidis and Michael Therriault.
Jennifer Parr is a Toronto-based director, dramaturge, fight director, and acting coach, brought up from a young age on a rich mix of musicals, Shakespeare and new Canadian plays.