The holiday season is almost here, overflowing with family-oriented musical theatre offerings, beginning with YPT's beautiful new production of The Adventures of Pinocchio in a musical version by Canadians Neil Bartram and Brian Hill. Originally commissioned by the Chicago Shakespeare Theatre, this is the Canadian premiere of a delightful 75-minute version of Carlo Collodi's classic tale of the wooden puppet who longs to become a real human boy.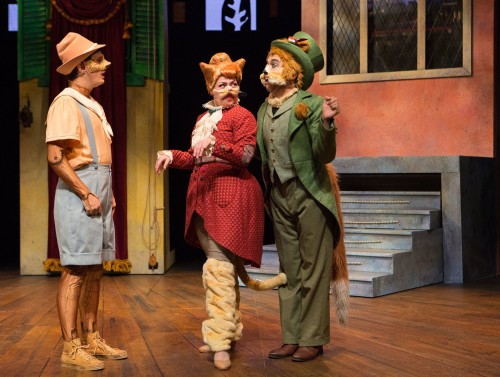 I have to admit that Pinocchio has never been one of my favourite fairy tales, even in the iconic 1940 Disney animated film, but I was completely won over by this version. At its heart is a warmth and gentleness that focuses on how the impulsive puppet learns through his (sometimes scary) misadventures and impulsive mistakes how to start thinking of others before himself, that life is about making (sometimes very hard) choices, but if he has courage, and looks inside himself, he can find the right choices to make and achieve his dream of becoming a real boy. Sheila McCarthy's imaginative production is fast-paced and fun, with the young dynamic cast moving nonstop through multiple scene and character changes. Veteran Shawn Wright as a sympathetic Geppetto and Malindi Ayienga as a majestic Blue Fairy anchor the story while Connor Lucas as Pinocchio, though wearing a half Harlequin-like mask, wins the audience's heart with his impulsive energy and vulnerability – and fantastic tap dancing. Joanna Yu's storybook design for set and costumes perfectly matches the material, and hearing the children in the theatre reacting audibly as events unfold adds to the fun.
Pinocchio continues at Young People's Theatre until January 5 (suggested for ages five and up).
The Nutcracker: Another tale of magic and children learning through adventure is the National Ballet of Canada's The Nutcracker, an annual tradition for many families. In choreographer James Kudelka's version set in 19th-century Russia, we meet quarrelling brother and sister, Misha and Marie, at their family's fabulous Christmas party complete with a dancing horse, performing bears, and the magician-like Uncle Nikolai who gives all the children presents, including a wooden Nutcracker doll for Marie. That night, while the clock strikes midnight, the Christmas tree grows immeasurably tall and the children enter a magical world where first they have to work together to help the Nutcracker (who has transformed into a real young soldier) in an epic battle against the evil Mouse Tsar before travelling to the magical lands of the Snow Queen and Sugar Plum Fairy. One of the delights of this sumptuous production is the number of young people onstage; 98 out of the total cast of 233 each night are students from every class of the National Ballet School as well as younger "associates" from various public schools who play mice and Little Bo Peep's sheep. Of course, there is also Tchaikovsky's beautiful score underlying everything, played live by the NBOC orchestra.
The Nutcracker plays from December 12 to January 4 at the Four Seasons Centre for the Performing Arts.
The Panto: On the more raucous side of holiday fare is the "Panto," made an indelible part of Toronto's Christmas season by Ross Petty Productions for the past 23 years. Following the centuries-old British tradition of starting with a well-known fairy tale and turning it into a not-so-veiled commentary on the current state of the world at large, then filling it with broad comedy, fabulous dancing and top-notch singing of well-known tunes with new lyrics, the Panto is a great mix of entertainment for both children and parents. This year's offering is Lil' Red Robin Hood (with a book by Matt Murray), clearly a mix of a couple of favourite stories. Aptly for the setting of both stories, it takes place not in the Elgin Theatre as usual, since the superb company of Come From Away are still in residence, but upstairs in the same building in the beautiful Winter Garden Theatre with its ceiling of tree branches and "real" leaves. Given this setting, director Tracey Flye is going to literally immerse the audience in Robin Hood's world using not just the stage but the entire theatre space to tell this fun-filled tale. Robert Markus, from Dear Evan Hansen, will have a chance to bring back the wacky side he showed in Stratford's The Rocky Horror Show last season as Lil' Red, and Sara-Jeanne Hosie, who was a hit in the Panto last year as the Wicked Witch of the West, returns as the evil Sheriff of Naughtingham. (No, that's not a typo, this is Panto.) Lil' Red Robin Hood plays until January 4.
Pantos are popping up all over Ontario, summer stock in effect becoming holiday stock for the next six weeks or so, with versions of Cinderella, Sleeping Beauty and Jack and the Beanstalk taking place alongside lots of musicals, and many versions, both musical and not, of A Christmas Carol, including Tim Carroll's adaptation with music by Paul Sportelli at the Shaw Festival's Royal St George's Theatre (with the charismatic Michael Therriault returning as Scrooge). Shaw is also presenting a second holiday show this year (running now until December 22), Irving Berlin's classic musical, Holiday Inn, (best known from the film starring Fred Astaire and Bing Crosby) directed by Shaw Festival associate artistic director, and author of the Last Wife play series, Kate Hennig.
Mary Poppins: While the Stratford Festival doesn't offer a holiday show, nearby in London at the Grand Theatre, a selection of Stratford and Shaw stars can be found in Mary Poppins including Deborah Hay (most recently Roxanne in Cyrano at Shaw) as Mary, Ben Carlson (The Front Page) as Mr. Banks, and Alexis Gordon (Brigadoon, Guys and Dolls) as Mrs. Banks. This is the stage version of the beloved 1964 film based on the stories of P.L. Travers, with some new songs added to favourites such as Chim Chim Chir-ee, and Supercalifragilisticexpialidocious, and a revised book by Downton Abbey's Julian Fellowes. In Mary Poppins, it is not just the children, but the whole family, who go on a journey of discovery, and it is famously the children who begin it all by writing a letter looking for the perfect nanny. Luckily, it is Mary Poppins who answers and who, although she is a disciplinarian, is so in a way that always includes kindness, generosity, and fun. With her philosophy of "anything can happen if you let it" she helps the Banks family back onto the right and happy path once more, along the way taking them, and us, on a wonderful journey full of the discovery of the magic all around us. Another wonderful show to share with family in the holidays. Mary Poppins plays November 29 to December 29.
For more musical choices to see in the holidays and new year, both family-friendly and more experimental fare, please see our musical theatre listings and the quick picks below.
MUSIC THEATRE QUICK PICKS
ONGOING TO JAN 5, 8PM: Piaf/Dietrich: A Legendary Affair, Mirvish Productions, CAA Theatre. Not for children unless they have parents who play the songs of Edith Piaf and Marlene Dietrich all the time, this intriguing show about the deep friendship between the two stars has been extended again by popular demand.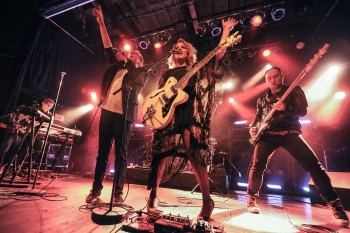 NOV 26 TO DEC 15, 8PM: Stars: Together. Crows Theatre, Guloien Theatre. Not for children. Described by its creators as a "theatre/concert hybrid by one of Canada's most theatrical Indie-rock bands." Two years in development by Crows' Artistic Director Chris Abraham and members of the band Stars, notably actor/musician Torquil Campbell, this is a no-holds-barred concert/play about the "family" dynamics of a band that has played and toured together for 20 years.
NOV 27 TO JAN 5: Cats. Mirvish Productions, Princess of Wales Theatre. The magical combination of T.S. Eliot and Andrew Lloyd Webber is back, but, in a possibly audience-polarizing move, with new choreography by Andy Blankenbuehler, inspired by, but replacing, the original dances by Gillian Lynne.
ONGOING FROM NOV 29: Stand! A movie musical in movie theatres. Usually I don't include movie musicals in my listings but I am making an exception as this is based on the acclaimed 2005 Canadian stage-musical Strike!, by Danny Schur and Rick Chafe. A Romeo-and-Juliet tale set amidst the country-changing Winnipeg General Strike of 1919, there are all too many analogies to be made to our own times.
DEC 3 TO JAN 12: Anastasia. Mirvish Productions. Ed Mirvish Theatre. The long-awaited Canadian premiere of the musical story of the lost Romanov princess, perhaps best known from the film starring Ingrid Bergman and Yul Brynner, but here with a book by acclaimed playwright Terrence McNally, and a score from Broadway veterans Lynn Ahrens and Stephen Flaherty.
DEC 7 TO JAN 5: Bend It Like Beckham: The Musical. St Lawrence Centre for the Arts. A highly anticipated new, mostly Canadian, production of the musical based on the beloved 2002 film.
DEC 12 TO JAN 14: The Nutcracker. Meridan Hall (formerly the Sony Centre). Toronto International Ballet Theatre and the Bolshoi Ballet join forces to bring a different version of this classic ballet, with a cast including many young Toronto dancers led by two guest stars from the Bolshoi: Anastasia Stashkevich and Vyacheslav Lopatin.
JAN 7 TO 18: The Solitudes. Aluna Theatre in association with Nightwood Theatre. Harbourfront CentreTheatre. Inspired by Gabriel Garcia Marquez's One Hundred Years of Solitude, this new experimental-group creation uses original musical compositions by Brandon Valdivia, along with spoken text, to tell the story of eight women exploring the threads of history and bloodlines.
JAN 17 TO FEB 1: Legally Blonde, Hart House Theatre.The new year begins with a high-energy, fun story of female empowerment through witty dialogue, based on the iconic movie starting Reese Witherspoon, and with a score and lyrics that effect a perfect translation from screen to stage. This is a university production but it will be directed by Saccha Dennis who sings the heartbreaking I am Here in the Toronto company of Come From Away.
Jennifer Parr is a Toronto-based director, dramaturge, fight director, and acting coach, brought up from a young age on a rich mix of musicals, Shakespeare and new Canadian plays.