Two unconventional music theatre works opening in early October caught my eye right away for the excitement of their risk-taking and also for the clear desire each production has to find new ways to involve audiences in a deeper, more immersive way.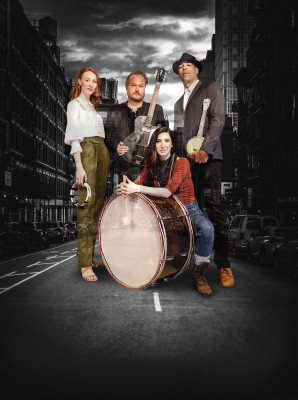 Ghost Quartet: Dave Malloy's Ghost Quartet, a four-person ghost-storytelling "live concept album" presented in a joint production by the new Eclipse Theatre Company (Kiss of the Spiderwoman at the Don Jail) and the always innovative Crows Theatre, is the first. Malloy is best known for his Tony Award-winning popera take on Tolstoy's War and Peace: Natasha, Pierre & the Great Comet of 1812.
Ghost Quartet is a smaller show but hugely ambitious within a deceptively straightforward format. A camera breaks, and four friends drink whiskey and tell each other ghost stories in an interwoven narrative that spans seven centuries drawing on sources as varied as The Arabian Nights, a retelling of Poe's The Fall of the House of Usher, Japanese Noh Drama, Grimmsian fairly tales, grisly urban legends and 19th-century broadsheet ballads. The music is equally eclectic including gospel, folk ballad, honky-tonk, electropop, doo-wop and jazz. The cast is made up of four of Toronto's top actor/singer/musicians: Hailey Gillis (star of Soulpepper's Rose), Kira Guloien (Doctor Zhivago on Broadway, The Who's Tommy at Stratford), and Beau Dixon (Soulpepper's Ma Rainey's Black Bottom, and Harlem Duet), led by Andrew Penner (Sunparlour Players and Harrow Fair) who is also the music director.
Wanting to find out more about how this show works from the inside and how they will be approaching the production, I spoke with Andrew Penner and stage director Marie Farsi:
WN: What do you think led Dave Malloy to create this show in the format of a "live concept album"?
Marie Farsi: It was definitely an homage to great masterpieces made on vinyl. Dave explains that his desire was to take the narrative form of the rock concept album "with all of its vaguery and weirdness, symbolism and surrealism, adrenaline and angst" and theatricalize it. In the show, each of the songs is announced by one of the performers with its track number and title. I think the intention is to use it as a device to reframe the narrative and encourage a looser frame of mind.
How do the different styles of music contribute to the telling of the individual stories, and the overall theme of the show?
MF: Through different styles of music, we can paint different worlds for the audience to travel to through their own imagination; and the restlessness and unexpectedness of the music captures love, which is so beautifully complicated. It makes us feel alive and invincible until it's gone, or stolen, or lost.
What is it like as music director, working with a cast of actor/singer/musicians to master all these different styles?
Andrew Penner: The three other performers in the show are killers. We made sure of that before we went ahead with the show. They're all amazing multi-instrumentalists with great instincts. Plus, we're all really hard on ourselves in the best way. The styles are very genre spanning and we are trying to bend them as far as we can.
Will the staging be traditional or more immersive than we usually expect to mimic the telling of ghost stories and how they interconnect?
MF: The staging will definitely be more immersive. Among the multiple storylines, one is simply the four performers (Hailey, Kira, Beau and Andrew) as friends, jamming, drinking whiskey and telling each other ghost stories. So I anchored the reality of the show in the "here and now" of the theatre: instruments, microphones, cables are all on stage. However, I'd say our production is even more theatrical than the original, which was presented at the McKittrick Hotel and had a real concert feel, because I'm creating a secret hideout for the band, placing it in a more natural environment. I was inspired by the Black Forest associated with the Brothers Grimm, and the stories we tell around the campfire. We're bringing the magic of fairytales and the wonder of haunted forests a bit more to life on stage!
Have the different styles of music led to different styles of staging within the one show?
MF: I'd say the different worlds have led to different styles of music and staging. Many ghosts haunt (or come visit?) our four actor-musicians each night. We eventually understand piece by piece that the characters are reincarnations of each other, and ultimately past lives of the performers. Some of those past realities have very distinct atmospheres (created musically and sonically of course) that I am amplifying through visuals.
How do you expect audiences to react to this mix of storytelling elements?
MF: I'm expecting total disorientation and confusion at first, but in a very good and intended way. The show is a huge mishmash of various horror and fantasy tropes, and taps into our irresistible curiosity for mysteries (the murder kind along with the mystery of ghosts, life, love and death). The show is a very well-constructed puzzle to solve as well as an exciting adventure quest for the main character Rose. I have no doubt that the audience will be wrapped in the dreamy and dark.
Ghost Quartet runs October 5 to November 3 at Streetcar Crowsnest: crowstheatre.com.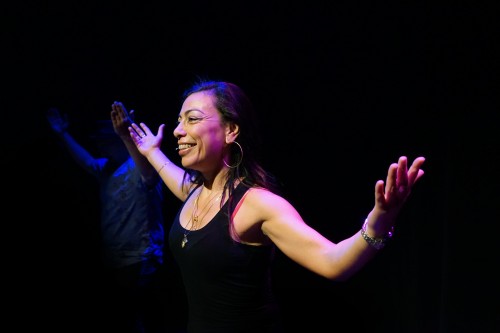 Broken Tailbone: The second show that caught my eye is even more immersive than Ghost Quartet, aiming to not only wrap the audience completely in the show's context but to make them moving, dancing participants in the story. Broken Tailbone was inspired by multiple award-winning creator and performer Carmen Aguirre's personal experience arriving in Vancouver as a child with her parents, all Chilean refugees, and helping her family recreate wildly popular makeshift Latinx dance halls. She also really broke her tailbone, which comes into the story.
While there are chairs around the sides for those who need to sit, most of the audience is literally on their feet learning to salsa, being taught by Aguirre as she takes them through a partly choreographed, partly improvised immersion in an irresistible musical environment that weaves together hilarious personal stories with tales of radical resistance in South American history.
The show was wildly successful in Vancouver in 2018 and I got in touch with its creator to find out more about the inspiration behind it and what it is like to perform.
WN: What made you decide to create this show – to share your own experience with audiences in this unusual format?
Carmen Aguirre: About six or seven years ago I spent two years touring the country with my one-woman show Blue Box, also dramaturged and directed by Brian Quirt, and also developed and produced by Nightswimming Theatre. In that show, I talk for 80 minutes. Non-stop. I literally stand in one spot for almost the entire show. The theatricality of that piece lies 100 percent in the text.
However, in the middle of the piece a loud salsa song comes on seemingly out of nowhere, and I break into dance. I invite the audience to join me onstage and we have an impromptu dance party. Once the song is over, they sit back down and I continue with the story. There were several reasons to have that moment in Blue Box, which did actually make sense in terms of the content of the play. Every night the response was different, of course. (There were a couple of times that every single person in the audience got up and danced and there was one time that no one did.) Brian Quirt and I were really taken with that part of the show and decided to create a piece where the audience is dancing with me the entire time. The fact that the form is simultaneously accessible and confrontational is compelling to us.
How does the audience follow the story while they are in the midst of learning to salsa?
Interestingly, they follow the story far better than when they are seated. The act of listening while you're moving makes you listen better. You are taking in a story about a dance hall while you are dancing in an impromptu dancehall, or a story about the dance form that you are actually doing in the moment, or geopolitical history of Latin America from a Marxist perspective, all while listening to a song with political lyrics and learning to dance to it. You are listening, processing, digesting with your entire body. It is embodied listening.
How does this change the usual performance experience for you?
I'm juggling a lot during the show. Remembering my lines; really watching the audience and interacting with them because it truly is a dance lesson; improvising based on what I'm seeing; translating bits and pieces of the songs; and dancing! It is completely immersive for me and for the audience. This type of performance requires you to be completely yourself. There are no filters.
How intricate is the relationship of the music to the storytelling and immersive staging?
There are 15 songs in the play that were curated by Brian and I over a series of workshops. I brought in dozens of songs that mean something to me, each with a story attached. We played with all of them, and at the end of each workshop process we shared what we had with an audience. We finally distilled it down to the 15 songs in the play based on the particular story that was attached to it and how it fit in the over-all narrative arc.
Broken Tailbone runs from October 2 to 13 at Factory Theatre: factorytheatre.ca.
For some of the other exciting and varied shows opening this month please see my quick picks below.
MUSIC THEATRE QUICK PICKS
OCT 2, 8PM: No Change In The Weather, Jane Mallet Theatre. In a world where Come From Away is at the top of the musical theatre pinnacle, here comes another show from the Rock but this time looking at a story older than 9/11 The identity of Newfoundland and Labrador is explored through a historical lens focusing on the 23-year tenure of Premier Joey Smallwood and the controversial creation of the Churchill Falls power plant. Packed with traditional music the show has been on a cross-country tour and is garnering great word of mouth: nochangeinitheweather.com.
OCT 3 to 5, 9 to 13: Caminos Festival, Aluna Theatre and Native Earth Performing Arts. Artscape Daniels Spectrum. An increasingly important launching pad for new work by Canadians from the South American diaspora and Indigenous populations, this year's program features some exciting experimental music theatre content including The Art of Storytelling, Catarsis, We are, what we are, The Mente, and the free Aluna Cabaret (October 10 to 12) alunatheatre.ca.
OCT 9 TO 20: Something for the Buoys. Sapling Productions/Bygone Theatre. George Ignatieff Theatre, A new musical that sounds like a fun take on an old-style musical à la Anything Goes or On the Town, in one of Toronto's best intimate theatre spaces.
OCT 13, 7:30 PM: ONE NIGHT ONLY. "Portrait of a Collaboration." Meighan Forum, Stratford Festival Theatre Lobby. A rare treat of an evening with celebrated composer Alan Menken (Little Shop of Horrors and many Disney shows) in conversation with one of the Festival's best kept secrets, the multi-talented Marion Adler, interwoven with performances of songs from Little Pinks, the musical they created together from Damon Runyon's short story.
OCT 20, 2:30PM: Fallis & Tiefenbach. Haliburton Concert Series. If you have never seen the inimitable Mary Lou Fallis (soprano) and Peter Tiefenbach (piano) in concert, now is your chance! Their theatrical concerts can leave you helpless with delighted laughter and this one promises to have songs from the very best of their Primadonna shows as well as "a sendup of every voice recital you've ever been to."
OCT 25, 7:30PM: Urinetown, (The Musical) in concert. Toronto Musical Concerts. Al Green Theatre. TMC concert stagings of important musicals are getting stronger all the time. Urinetown is more of a parody than a serious look at the dangers of politics gone wrong, but this should be fun. Featuring Erica Peck from We Will Rock You and Kinky Boots.
Jennifer Parr is a Toronto-based director, dramaturge, fight director, and acting coach, brought up from a young age on a rich mix of musicals, Shakespeare and new Canadian plays.