Clubs have traditionally been the lifeblood of a city's jazz scene. It was certainly that way for this "old dog" in the early part of my career, during the heyday when Toronto boasted numerous longstanding clubs such as George's Spaghetti House, Bourbon Street and Basin Street, the Montreal Bistro and Top O' the Senator, which presented both international and local jazz six nights a week.
If measured by this yardstick alone the health of jazz in Toronto now, with just three major clubs presenting the music on a multi-night-per-week basis – The Rex, Jazz Bistro, and the Home Smith Bar – can be called into question. However, it's not as bad as all that, because in recent years new ways of hearing live jazz have arrived, thanks to the persistence and ingenuity of the jazz community at large – those who play the music, those who are trying to learn to play it, those who enjoy listening to it, and those who present it. These new models include:
Student Jazz Concerts at The Rex
For the past several years, Monday nights at The Rex have been given over to sets by student ensembles from the jazz programs at U of T and Humber College. These generally begin with three different U of T ensembles starting at 6:30pm and playing for 40 minutes each, followed by the Humber groups at about 9:30pm. I began teaching (and, unusually, also playing in) a jazz ensemble at U of T last year, which brought me into direct contact with this scene, and I liked what I saw and heard right away. Playing in a real club setting, one where their teachers often perform, brings out the best in the students, and I wish this opportunity had been on offer when I was a jazz student. Mondays are not a prime night out but I urge local jazz fans to attend, not just to support the students – which is worthy in itself – but because you will hear some interesting and sincere music. Both schools are brimming with young talent; in essence you will hear the future of the music in Toronto, a future I feel confident is in good hands after hearing some of these young people play.
Big Bands Are Back
Well, sort of. Phil Nimmons retired his big band years ago and following the deaths of Rob McConnell and Dave McMurdo, it seemed the future of big-band jazz in Toronto was in peril. Starting and running a big band in these times is perhaps the ultimate jazz labour of love, but John MacLeod has persisted in doing so with his Rex Hotel Orchestra, which has performed at its namesake club on the last Monday of every month for years now. The lion's share of the arrangements are written by MacLeod in an eclectic style reflecting both modern and traditional elements, featuring stellar ensemble work and plenty of solo room for some of Toronto's best players carrying on in the tradition established by those mentioned above. The band has produced several recordings and its latest, The Toronto Sound, will be released at a gala concert at the Old Mill on November 6, which I will be attending. Kudos to John MacLeod for his perseverance and talent in guaranteeing that high-quality big-band jazz can still be heard around these parts.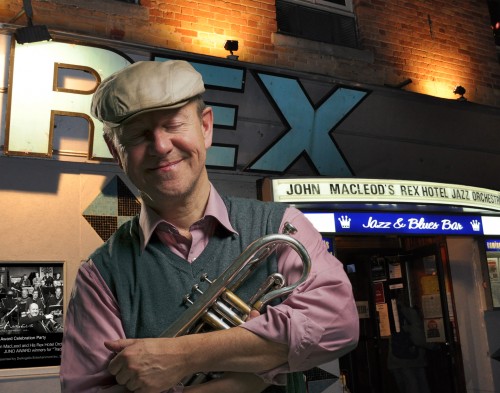 But there's more. Three days after the Old Mill event, November 9, the Wee Big Band will be heard in concert in the Garage at the Centre for Social Innovation, 720 Bathurst Street, starting at 7:30pm. The band has been a Toronto fixture for years and has survived the death of its founder-leader Jim Galloway and several of its key players, such as lead-alto stalwart Gordie Evans. But it continues in the capable hands of Martin Loomer, its longtime rhythm guitarist and principle arranger, or perhaps I should say transcriptionist. The band's repertoire consists mostly of early big-band classics from masters like Fletcher Henderson, Don Redman, McKinney's Cotton Pickers, Duke Ellington, Benny Moten, Count Basie, Jimmie Lunceford and many others, all lovingly transcribed by Loomer and played with authenticity and spirit by the musicians. It's not possible to hear this kind of music performed live very often anymore and I for one look forward to the November 9 concert.
The House Concert
The old model of the salon concert has been revived in recent years, as an alternative to bigger clubs which can be crowded, noisy and expensive. Increasingly, dedicated fans are staging intimate concerts in their own homes, offering a unique up-close jazz experience. By necessity the audience size is small and the concerts are sporadic, which only makes them more special. Perhaps the greatest success story of these is the Jazz in the Kitchen series presented by John and Patti Loach in their spacious Beaches home, which is uniquely equipped for musical presentation. Opposite their large open kitchen is a music room sporting a wonderful Steinway grand and perfect natural sound that encourages the non-amplified jazz on offer. The audience is generally limited to 35 or 40 paying guests who sit very close to the band – Mark Eisenman's trio plus shifting guests including John Loach on trumpet – and simply listen, enjoying both a real jazz experience and the verbal byplay between the musicians. The series started about four years ago and is always sold out. October 22 will be the 40th concert in what looked at first to be a risky proposition. I'm sure there are others run along the same lines, such as JazzNHouse in the Ottawa area, which I'll experience for the first time when Mike Murley's trio plays there on October 28 (also sold out).
A New Jazz Festival
The Kensington Market Jazz Festival made its debut in September of 2016, the brainchild of star singer Molly Johnson – long a neighbourhood resident – ably abetted by her organizational partners in crime, performers Ori Dagan and Genevieve (Gigi) Marenette, plus an army of volunteers. This year's festival, a weekend affair held September 15 to 17, significantly built on the promise and success of the first one. Well over 300 local musicians performed in various small venues in the tight streets of Kensington in a dizzying array of one-hour concerts running from solo piano and guitar to trios and larger groups in various styles, all well- and enthusiastically attended. The recipe is simple, inclusive and refreshingly non-corporate – keep it small, because small is good, present "all jazz as we know it" played by local musicians of many generations, and use the vibe of the 'hood, its unique food, local businesses and "streetness" as a feel-good backdrop. As to the finances, I have no idea how they make it work, but there are ticketed events and free events; it's cash only and all of it goes to the musicians save for a small percentage to cover costs. I played one concert in the first festival and two this year, enjoying each immensely while being paid very fairly. It was a pleasure to walk the streets and see so many musical friends all packed together so happily; this is an event which puts "festive" back into the jazz festival. Congratulations to Molly and company for their leap-of-faith vision in bringing this unique festival to Toronto at a time when the city desperately needed it.
CDs Galore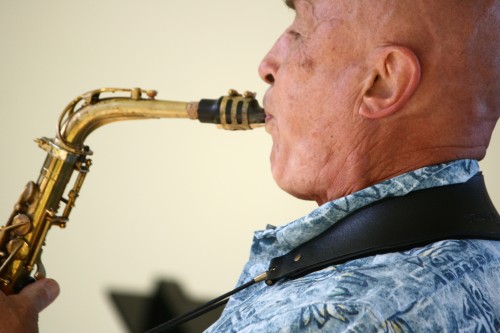 The self-financed CD is another way jazz artists can continue to reach and expand their audience, and good locally produced jazz records have spread like wildfire in recent years. One can barely keep up. These involve a leap of faith in that the outlay involved cannot often be recouped, but musicians keep making them anyway as a means of documenting their art. Even ones who have nothing left to prove, like PJ Perry. Now 75, a JUNO-winner and recent recipient of the Order of Canada, PJ has long been one of the best alto saxophonists in the world, although he doesn't have that profile because he plies his trade in the relative isolation of Edmonton. His latest release, just out, is Alto Gusto, recorded live during two nights at Edmonton's venerable Yardbird Suite. But here's the real leap of faith on his part: while he had played with each member of the rhythm section – veteran Los Angeles pianist Jon Mayer; drummer Quincy Davis, originally from Michigan and until recently based out of Winnipeg, and yours truly on bass – the three of us had never even met before this gig. PJ just knew the chemistry would somehow work and it did, about two bars into our hasty rehearsal. The result is a very hard-swinging, inventive record, an honest portrait of musicians creating music in the moment.
As long as jazz has enough people – musicians, fans and presenters – who believe in it enough to make these leaps of faith, it will continue to evolve and flourish. Perhaps not as in the "good old days," which are past, but by creating some good new days.
Toronto bassist Steve Wallace writes a blog called "Steve Wallace –
jazz, baseball, life and other ephemera" which can be accessed at wallacebass.com. Aside from the topics mentioned, he sometimes writes about movies and food.