Since the last issue of The WholeNote went to press, the jazz world suffered the deaths of three major and long-term contributors: producer George Avakian, innovative singer Jon Hendricks – both on November 22 – and on December 21, trombonist Roswell Rudd. Momentous losses indeed, but at least these blows were softened by the realization that each of them lived long, productive lives – Avakian was 98, Hendricks, 96, and Rudd, 83.
I had a mild heart attack on the morning of November 23 and the subsequent fallout took me out of my routines and away from the jazz grapevine, so I completely missed the passing of Avakian and Hendricks and it was some time before I heard the news. And Rudd's death came amid the hustle and bustle of Christmas preparations, so I was late hearing about that too. Given all this and the significant contributions each made to jazz, I feel it's only right to use this space to pay tribute to them.
George Avakian – Avakian became an obsessive jazz fan listening to the radio as a teenager and while attending Yale University began to amass a huge record collection and to write a relentless series of letters to the Decca and ARC record labels, urging them to reissue the back catalogues of bankrupt imprints such as Brunswick and Okeh. In 1940 Jack Kapp of Decca responded to these letters and hired the young Avakian to produce his first record, Chicago Jazz, featuring Eddie Condon and musicians in his circle. Consisting of six 78s issued in a set with Avakian's copiously detailed liner notes, this was considered the first jazz album long before the emergence of the LP. It was a success in every way and set the tone for future Avakian projects while also raising the bar for jazz releases in general.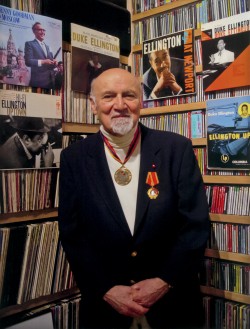 The rest, as they say, is history – jazz history. CBS acquired ARC in 1940 and decided to form a subsidiary called Columbia Records. Eventually they asked Avakian to supervise a reissue series and the young man leapt at the chance to comb through the company's vaults. Using the format he established at Decca, he created box sets devoted to Louis Armstrong, Bix Beiderbecke, Fletcher Henderson, Bessie Smith and Billie Holiday, among others. In the process he discovered many unreleased sides, including some priceless Armstrong Hot Fives and Hot Sevens, which he included in the reissues.
After war service he returned to Columbia, responsible for popular music at large, but always with an eye toward strengthening and promoting the label's jazz roster. During this time Columbia perfected the LP format and Avakian was immediately alive to the possibilities of exploiting this new technology for both marketing and artistic purposes. He brought Erroll Garner, Dave Brubeck and Miles Davis to the label just as each was set to become a star, while continuing to produce albums by Armstrong, Gerry Mulligan, Art Blakey, Tony Bennett, Buck Clayton (he co-produced the trumpeter's legendary Jam Session LPs with John Hammond), Eddie Condon, J.J. Johnson and many others including classical and folk performers.
He also became a pioneer in live jazz recording, issuing many performances from the Newport Jazz Festival and other venues. He supervised the first issue of Benny Goodman's historic 1938 Carnegie Hall concert and also Duke Ellington's legendary 1956 Newport performance, which did so much to revive Ellington's career. His tenure at Columbia was studded with too many masterpieces to mention, but highlights would include Louis Armstrong Plays W.C. Handy and Satch Plays Fats; Erroll Garner's Concert By the Sea; such Miles Davis classics as 'Round About Midnight and Miles Ahead; many by Brubeck such as Jazz Goes To College and Jazz Red Hot And Cool, as well as the aforementioned classics.
He elected to leave Columbia in 1958, but was hardly done. He created the record label at Warner Brothers and soon after moved on to RCA where he produced Sonny Rollins' celebrated comeback album The Bridge, as well as his notable encounter with Coleman Hawkins, Sonny Meets Hawk. While there he also produced a superb series of Paul Desmond records with Jim Hall, which did a lot to cement Desmond's identity apart from Brubeck.
Avakian also branched out into artist management at this point, overseeing the phenomenal mid-60s success of the Charles Lloyd Quartet at a time when many jazz artists were feeling the pinch of rock 'n' roll. This brought Avakian into contact with Keith Jarrett and he shepherded the pianist through the early part of his career as both his manager and record producer, helping to launch one of the most influential and successful careers jazz has witnessed in the last half century. There's much more, but enough. Suffice it to say that it's impossible to overstate the positive impact that George Avakian had on jazz, or to imagine it without him.
Jon Hendricks – Eddie Jefferson and King Pleasure are generally credited with inventing modern, bebop vocalese – the practice of putting lyrics to an instrumental jazz solo and singing it, a kind of scat with words. But Jon Hendricks took the idea and ran with it, making it more popular while broadening its horizons and raising its vocal and literary (i.e. lyric writing) standards. And with the formation of Lambert, Hendricks & Ross in 1957, for which he is best known, he translated it into a vocal group art. L, H & R remade the idea of the vocal group – they weren't The Modernaires or The Four Freshmen or The Four Lads – they were funnier, rawer and swung more. They were hip, baby.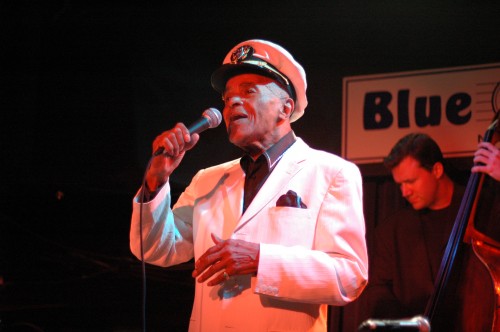 Dave Lamberts and Annie Ross were both formidable vocal talents and ideal partners, but Hendricks was the driving force behind the group both organizationally and musically, doing most of the arranging and the lion's share of the ingenious lyric writing. His skill at this was unsurpassed, earning him the title "The Poet Laureate of Jazz" as well as the "James Joyce of Jive". He had an uncanny gift for shaping and infusing words which made sense into the jagged and acrobatic rhythms of jazz solos. His pithy lyrics always had something to do with the original soloist involved or with the title of the given tune; they told a story and were always delivered with swing and feeling. Hendricks went on to do much more after the eventual breakup of L, H & R and his witty performances, ever alive with both tradition and inventiveness, always fostered the idea that jazz could be both fun and high art.
Roswell Rudd – Much of his career took place outside the jazz mainstream and was interrupted by several hiatuses, so Roswell Rudd may be less known than these other two except to hard-core jazz fans. A New Englander, Rudd began his career in the mid-50s playing trombone in a Dixieland band at Yale University called The Eli Chosen Six. The group recorded two albums, including one for Columbia, which show Rudd entirely at home in the gutbucket trombone tradition of men like Kid Ory and Jimmy Archey.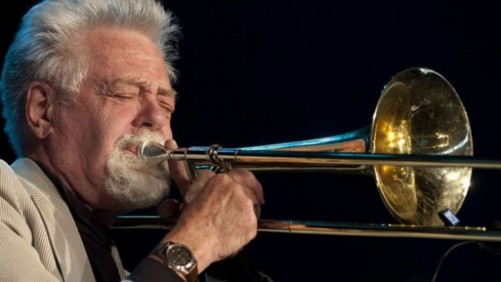 But like Steve Lacy, a frequent collaborator who also started his career in traditional jazz, Roswell was equally interested in the expressive abstraction of free jazz and spent his career in that astringent field. He performed around New York and on records with Lacy (sometimes offering highly personal takes on the music of Thelonious Monk), lifelong friend Archie Shepp, Cecil Taylor, John Tchicai, the New York Art Quartet, Charlie Haden's Liberation Music Orchestra and his own groups. His playing – always interesting, human and very alive – was both intelligent and emotional. He could definitely blast but had the kind of projecting sound that could be heard at the back of a room even while playing quietly. His musical oeuvre combined both adventurous and traditional elements and offered the paradox that jazz, even in its earliest forms, was always iconoclastic, always subversive.
I had the unexpected pleasure of getting to know Roswell Rudd in 2007, so his death is more personal for me. I took part in a week-long recording project led by Toronto percussionist Geordie MacDonald which yielded a suite over two CDs called Time, After Time, a collaboration of 18 Canadian musicians with Rudd aboard as a ringer/featured guest. He was a joy to be around both musically and personally, a mensch who radiated integrity and unpretentiousness. I remember his humour and energy and him entertaining us on breaks by sitting down at the studio's (intentionally) beat-up old upright and playing some highly personal stride, boogie-woogie and Monk.
Here's the kind of guy he was: he took down the names and addresses of every musician on the session and some weeks later each of us received in the mail a beautiful folio of Herbie Nichols compositions, signed with a nice note from Roswell. He was a long-standing expert on Nichols and had assembled and published the book himself. It was a gesture of extraordinary generosity and the book remains one of my most prized possessions.
"Jazz is dead" predictions have continuously been trotted out through the years but I have to ask: how is jazz going to die when it's had the devoted and passionate commitment of brilliant men like these, among so many others?
Toronto bassist Steve Wallace writes a blog called "Steve Wallace jazz, baseball, life and other ephemera" which can be accessed at wallacebass.com. Aside from the topics mentioned, he sometimes writes about movies and food.