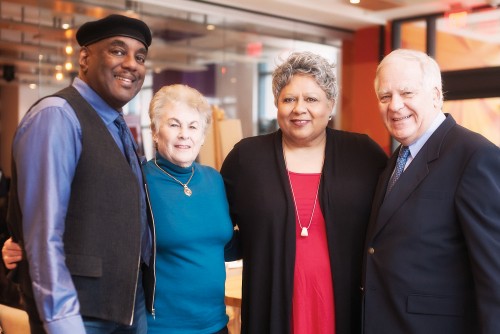 I can't remember a year in which the Toronto jazz scene suffered so many momentous losses; it's been absolutely dreadful and has left many of us reeling in grief and shock. Close on the heels of Ed Bickert dying in late February, Norma Thompson (wife of the brilliant multi-instrumentalist Don Thompson) and pianist Gary Williamson both passed over the Easter weekend. We had barely begun to absorb those losses when drummer John Sumner died in early June after suffering a massive stroke. And in late July came the news that Rochelle Koskie, long-time Toronto jazz fan and co-founder of JPEC, had died unexpectedly. I hate to keep using this space as a floating jazz obituary, but when in Rome, as it were. Each of them deserves remembrance and never so more now that they're gone.
Don Thompson is a private and stoical man, so there was very little public marking of Norma's death. Out of respect I won't say much except that Norma had been suffering from advanced Alzheimer's for some years and Don had been looking after her with heroic dedication, hence his reduced presence in public recently. Norma was a lovely woman, kind and vivacious, and also a talented musician – she played the bagpipes and the drums. She'll be missed by many of us who knew her for a long time and our hearts go out to Don, who will miss her most of all.
Gary Williamson died at 75 after a long struggle with cancer which had left him unable to play much in recent years. Perhaps for this reason, Gary's passing didn't attract a lot of public attention either, but it certainly did among his fellow musicians. In fact, Gary was a classic example of a "musician's musician" – one capable of improvising extraordinary things on the piano which might have gone over the heads of many listeners, but regularly left his musician colleagues open-mouthed.
He was a brilliant man who had an unusual and interesting life. His gifts extended beyond music to the academic sphere, where he particularly excelled in sciences and math. He made the Ontario Scholar's list and was in the Engineering Physics program at U of T when he decided he wanted to pursue music full-time, much to the initial chagrin of his parents. As a young man, he played around Toronto on all manner of gigs, jazz and otherwise, including a stint in the house band at the Victory Burlesque Theatre which he often looked back on with great affection.
Gary spent much of the mid-to-late 1960s on an extended tour with a showband covering most of Asia. It was adventurous to say the least, leaving him with many great stories and a lifelong interest in all things Oriental. He met his lovely wife Rose in Hong Kong and brought her home to Toronto, where they bought a house and raised two beautiful children, Ty, and Sue May.
He became a fixture on the Toronto jazz scene from the early 70s on, performing regularly at Bourbon Street, George's Spaghetti House and many other clubs, as well as doing his share of jingles and other studio work. He was the pianist with Nimmons 'N' Nine Plus Six during its heyday, and Gary and I often performed together with Phil Nimmons in his quartet and with trumpeter Sam Noto's quintet among other groups. In recent years, he could be heard in many of bassist Dave Young's bands. He was very active on the Local 149 TMA board and for a time edited its publication, Crescendo. He taught piano in the jazz program at U of T for many years and the list of fine young pianists who benefitted from his guidance is a long and distinguished one.
Pianistically, he had very few peers. His studies with Darwin Aitken left him with a thorough mastery of the instrument which he augmented with his own incisive intellect – especially when it came to harmony – and his wide-ranging and adventurous tastes in music and pianists. Gary had a natural feeling for blues and gospel and blended these with elements from older bebop masters like Bud Powell, Red Garland and Phineas Newborn, and more modern players such as Chick Corea, Herbie Hancock and Keith Jarrett to form a challenging and intense personal style with great scope and a very wide, swinging beat. His playing was invariably inventive and uncompromising – he came at you – and expected you to respond in kind. I always found playing with him immensely rewarding and being around him a lot of fun, largely due to his rich sense of humour and wit.
I wish Gary had cultivated himself more as a leader and made more recordings of his own – there's only one, long unavailable – but it wasn't in his nature to do so. For this reason, he's much less well-known than he should be and his illness keeping him off the scene in recent years didn't help. Simply put, he was one of the very best pianists I've ever heard or played with. Like many, I miss him a lot but am glad his suffering is at an end.
Though a vastly different character than Gary Williamson, John Sumner was similarly under-recognized by the jazz public, even locally. Part of this was due to his somewhat reserved and standoffish nature – at least until you got to know him – and like Gary, John's declining health had kept him out of the public eye lately. Along with long-term hypertension, he began suffering from acute fibromyalgia in the last 15 years, which left him with constant muscle/joint pain and fatigue, hampering his mobility in recent years. He somehow managed to still play the drums well through all this, but as the condition worsened, he was less able to get out and play, which was sad for his friends to witness.
He had become virtually housebound, and when he suffered the stroke in late May, doctors told his wife Juanita that even if he recovered, his days of living at home were over. This was unthinkable to his many friends because John was a guy who loved to be at home surrounded by his incomparable library – many thousands of CDs, scores of jazz books, favourite films, DownBeat magazines dating back to the 50s and all sorts of other goodies.
In this sense, and this sense only, John's death was a mercy; otherwise I've found it personally unsustainable. He was my closest jazz friend for 34 years, and even though I'd seen him almost gradually disappear before my very eyes in recent years, he's loomed so large in my life that I simply can't believe he's gone.
I'm in the midst of writing a long memorial blog on John that may take the rest of my life, so I'll confine my remarks to the musician side of him rather than the personal. He was a superbly musical drummer, not given to technical displays – he often eschewed solos or even exchanges of eights – but always listening, always knowing what to deliver and when. He valued swing, groove and sound, and understood the subtleties underlying them, the value of texture and dynamics and how to develop these over a long arc in a performance.
He and I had an effortless rhythmic consensus, which developed when we first met and played together on an epic jazz concert tour of the Soviet Union led by Fraser MacPherson in 1986. After 30 concerts in 30 days we were joined at the hip, both musically and personally. Not long after that, he and his beloved Juanita moved to Toronto, and I soon introduced John to pianist Mark Eisenman, knowing that the rhythmic chemistry would extend to three. And it did. Playing with that rhythm section has provided me with many of the most enjoyable and satisfying musical moments of my career.
John was the ultimate autodidact. With only a couple of introductory drum lessons, he was playing high-level professional jobs in Portland, Oregon by the time he was a teenager, followed by vast experience playing with just about everyone imaginable in San Francisco and Los Angeles before moving to Canada in the early 80s. He knew more about jazz than anyone else I've ever met and was extremely generous in sharing his vast knowledge with anyone who showed interest. I can't possibly say how much I learned from him and his vast collection of records and stories over the years. Suffice it to say that not one word of anything I've written about jazz in numerous blogs and articles would have been possible without knowing him, and that's no exaggeration. I'm enormously grateful to have had John Sumner as a friend for so long and will miss him for the rest of my days.
And then out of nowhere, the news that on Sunday, July 28, 2019, Rochelle Koskie died suddenly and peacefully at home. Along with her husband Ray, Rochelle was co-founder of the Jazz Performance and Education Centre (JPEC) which celebrated its tenth anniversary last year. The vitality that fed Rochelle's love of jazz could be seen in everything she did and her relationships with jazz musicians were personal and long-lasting. I observed this often with both local and American musicians over many years of knowing Rochelle as a jazz fan. She was also a grandmother extraordinaire. Condolences to Ray and the rest of her family, and to her JPEC colleagues; she'll be greatly missed.
Her special love was JPEC's School Outreach program, which she created. As a former teacher, bringing music to children was extremely important to her and she was personally involved in arranging and paying musicians to head up JPEC workshops in schools with little or no music education.
A memorial fund has been set up to keep her love of music for students alive. Donations can be made to the Rochelle Koskie Jazz Student Scholarship Fund c/o The Benjamin Foundation, 416-780-0324. www.benjamins.ca.
In the midst of all these losses, I suffered a small calamity of my own: on June 20th I had a small fall and tore one of the rotator cuff muscles in my left shoulder. It left me unable to play the bass and I had to cancel out of all upcoming gigs, some of them on short notice. The good news is that it's improving thanks to physiotherapy and I've been able to resume practising and actually did my first real gig in almost two months on August 17. I was rusty, but it went pretty well and I didn't have to stop playing at any point during the one-hour concert. As John MacLeod told me when I first began, the key to playing jazz bass is not stopping, no matter how much it hurts.
Oddly, this time on the shelf has helped me deal with the reeling sense of loss I've felt all spring and summer. Not being able to play made me realize how much I love it, and never to take it for granted again. The same goes for knowing these departed ones and others. Never take your friends for granted, mourn their passing but be grateful for the gifts they brought. And keep on, one foot in front of the other. It's all we can do. The living owe the dead that much and more.
Toronto bassist Steve Wallace writes a blog called "Steve Wallace jazz, baseball, life and other ephemera" which can be accessed at wallacebass.com. Aside from the topics mentioned, he sometimes writes about movies and food.