I turned 62 last August and have been a jazz bassist for 46 years now and counting, so aging has been on my mind some for a while. It's so bewildering on so many levels. On the one hand I'm amazed I've made it this far and feel the accumulated mileage, at least in my body. On the other hand, I often feel as though I'm just getting started and that, while I don't quite have the stamina and energy I used to, I know much more now and can think my way around the music better than ever. But maybe that's just my aging brain rationalizing, and there's the rub: is jazz mostly a young person's game or is there still room for those approaching their dotage, like me? Is the music primarily physical or mental? Obviously it's both, but playing an instrument as large and demanding as the bass has me wondering occasionally how long I can keep up, physically speaking.
I recently had an epiphany which made me realize that because of its openness and constantly evolving nature, but also its considerable history, jazz is music for all ages and for all seasons. Jazz constantly puts you in the moment, so being involved with it at any age – whether as a player or a fan or a student – can act as a kind of anti-aging renewal of the mind, even if the body is showing signs of creeping rust. Before coming to this eye-opening experience though, I'd like to relate a favourite story on the subject, one involving one of our ageless jazz wonders, Phil Nimmons.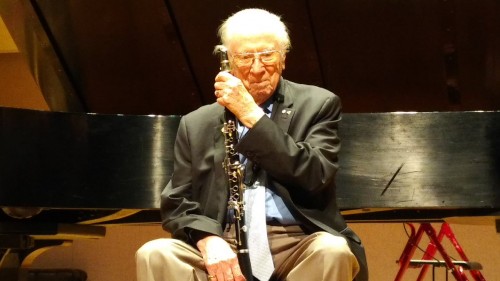 About 15 years ago my oldest (that is to say longest-standing) friend Robert Allair told me that a colleague of his had been to hear Phil Nimmons play with his quartet (which I was in) at the Montreal Bistro, and commented that he was amazed not only by Phil's music but at the infectious energy and enthusiasm he put out. Robert asked, "Yeah, but do you realize how old Phil Nimmons is?" (He was a mere pup of 80 at the time.) And the colleague answered, "You know, when somebody is having that much fun, it's hard to tell how old they are."
The simple and profound truth of this observation delighted me then and has stayed with me ever since. It resurfaced in an unexpected way during the epiphany I mentioned earlier, which came from a lecture I gave on February 11 to a seniors' jazz appreciation course, a part of the Academy for Lifelong Learning program which has taken place the last 25 years at Knox College, the center of theological studies at U of T. (The irony of delivering a lecture on the "devil's music" in such a setting was not lost on me.)
The class, which meets every two weeks, is run by a charming and savvy gentleman named Colin Gordon, a long time and knowledgeable jazz fan. Members of the class are asked to make presentations and every once in a while they bring in a special guest. Mike Murley gave a lecture on Lester Young last October which was a resounding success, and he recommended me to Colin, who asked me some months ago to give a two-hour talk on a jazz subject of my choice. With some guidance from Colin, I decided to present an informal lecture on the role of the bass in jazz, how it has developed and changed over time, and some of the pioneers who helped move this process forward.
Colin suggested I bring along my bass so I could play and demonstrate some musical points directly, which I thought was a good idea. And to further avoid the monotony of my droning voice, I decided to pick some recorded examples of key bass innovators and present them in a more or less chronological sequence. These selections represented the bulk of my preparation along with a few notes, which I ended up mostly ignoring. I also resolved to weave the story of my own development as a bass player into the narrative to make the whole presentation more personal and less academic.
Hurtling toward senior citizenship myself, I was not concerned about the age of the 30 or so class members – they were largely in their late 60s, 70s or early 80s, about the same as many stalwart jazz fans on the local scene. I was a little concerned that what I had to say might be too dry or detailed for them and maybe too boring, but I needn't have worried. To cut to the chase, after about five minutes it was clear from their faces – smiling, eager, engaged, loving the musical examples – that they were enjoying what I was presenting and I relaxed and started to wing it a bit.
I'd like to say their pleasure had to do with my insight or scintillating delivery, but no, it was mostly on them. They were bright, humorous, curious and eager to learn about something they were personally interested in. Not because of work or money or because they had to be there, but because they wanted to be there. Like Phil Nimmons in the previous story, they were having a ball and so was I, so they all seemed ageless and only a dolt could have turned off an audience like this. The two hours flew by with me covering only about two-thirds of what I had planned. Such is jazz and the value of preparation.
It was all very satisfying and afterward there were some takeaways I turned over in my mind. I love presentations that combine education with entertainment, and it was nice to watch these folks learn new things while also having fun. I've often thought that the keys to keeping your mind and outlook fresh are spending time with younger people, and learning new stuff. Teaching is just learning turned inside out and teaching younger students as I have recently has demonstrated this; their energy and enthusiasm rub off. But this was a little different; I felt the same inspiring feedback from folks who were my age or older. It occurred to me that jazz is not a trendy flavour-of-the-month music, but one which you can savour for your whole life. It's not a race, there is no finish line and I felt my angst about aging fade. I also love the term "Lifelong Learning." The minute you think you have nothing more to learn, your life may as well be over.
I was also struck by this paradox in the age-defying process of teaching/learning: that the very exhilaration of imparting information to a receptive audience is in itself exhausting – it lifts you up while wearing you out. Old and young.
It also occurred to me that the "new stuff" you may teach or learn doesn't have to be contemporary to be relevant. If you discover a record or a song or any other piece of information that is interesting to you, its age doesn't matter because if you're experiencing it for the first time, it's new to you, and that's all that really matters. Learning about things from the distant past can lead just about anywhere and sometimes can offer a new and illuminating window from which to assess the often inscrutably chaotic present.
As a case in point, the first music track I played for the class was an off-script illustration of the brilliant-yet-obscure New Orleans bassist Sidney Brown, from 1927 with the Sam Morgan Jazz Band. I only vaguely knew of Brown and I'd like to say that this discovery was the product of my in-depth research for this lecture, but no. As is so often true, this nugget of new-old information came randomly from the invaluable musical grapevine: my friend Bill Kirchner sent a YouTube clip of Brown with Morgan which demonstrated Brown's fluid and driving 4/4 bass lines, years ahead of the accepted notion that early jazz bass playing was all thumping primitive two-beat. This was back-to-the future modern and after 40-plus years of study and listening it forced me to reconsider my preconceptions about the past and I decided to include this in my survey to the class. Thus do we all learn, by ad-hoc sharing.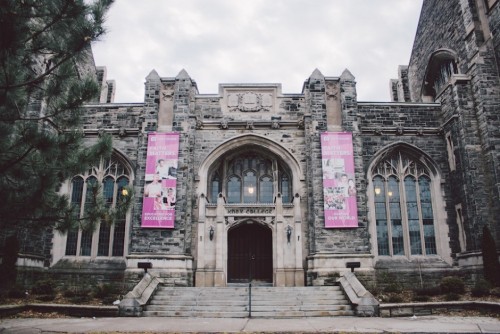 An Aging Bassist's Timeout
True to form, schlepping around a bass offered a dose of reality which almost counteracted all of this rosiness about the class and the youth-restoring mental benefits of learning. Namely, getting a bass into Knox College, built in 1828. I'm pretty sure the architects didn't exactly anticipate anyone having to get a bass through its front doors. You know how there's never a cop or a cab around when you need one? Well, picture this: there I was with a knapsack and the bass slung on my back to enter this Hogwarts, which proved next to impossible. For one thing, the doors are about 25 feet from St. George Street so nobody noticed my plight and for another, they're really narrow, heavy as lead and begin to close on you immediately, even if you don't happen to be carrying a large heavy log on your back. With nobody to help I got trapped and, inwardly laughing while inventing scathing new combinations of swear words and worrying that the weight of the door would crush my bass, I wrenched my shoulder in the ensuing and undignified lather. It was even worse on the way out and the result was a tight knot of pain which has been slow to dissipate, unlike me. The good news is that playing the bass seems to help it rather than hurt it. Go figure.
One more story which illustrates the anti-aging effects of music and learning about it, albeit a bittersweet one. About ten years ago when my mother's cancer became terminal, the family decided for various reasons she should spend her remaining time at my place. It was tough, but being around my mom in her last days was a great gift. She was very passionate about music, mostly classical piano and ballet music. My clearest and dearest memories of those days are about hearing music with her. One day we were listening to a bunch of her beloved Chopin played by Vladimir Ashkenazy. Among his many compositions, I'd forgotten about the macabre Funeral March, and in a surreal moment as its famous grave theme started, my wife Anna leapt for the fast-forward button. My mother, a gamer to the end, just chuckled and said, "Now, there's some appropriate music." One day while listening to her favourite Tchaikovsky ballet music, I decided to play her the Ellington/Strayhorn version of The Nutcracker Suite. I wasn't sure she'd like it, but about a minute in she raved. "Oh my goodness, this is wonderful. I can recognize the music, but they're making it dance in a new way, with their own colours. This really goes!"
Yes, Mom, it sure does. And that's what discovery about music does for us: when least expected, it makes us GO.
JAZZ NOTES QUICK PICKS
MAR 10, 4:30PM: Christ Church Deer Park. Jazz Vespers. Amanda Tosoff Quartet. 1570 Yonge St. Freewill offering. Religious service. A thoughtful and graceful pianist performing in a thoughtful and reflective setting. What's not to like?
MAR 21, 7:30PM: University of Toronto Faculty of Music. U of T Jazz Orchestra and 11 O'Clock Jazz Orchestra. Rathbun: The Atwood Suites; and other works. Tim Hagans, trumpet; Andrew Rathbun, composer; Gordon Foote, Director, U of T Jazz Orchestra; Jim Lewis, Director, 11 O'Clock Jazz Orchestra; Tony Malaby, saxophone; Terry Promane, director. Walter Hall, Edward Johnson Building, University of Toronto Both these big bands are first rate and so are the guest soloists, making this doubleheader a bargain.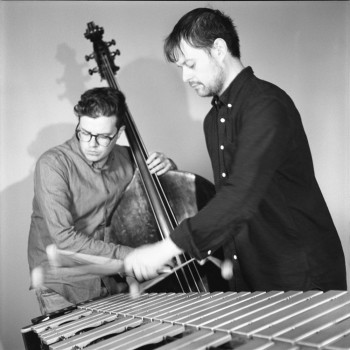 MAR 23, 8PM: Michael Davidson & Dan Fortin. Clock Radio CD Release. Works by Davidson. Michael Davidson, vibraphone; Dan Fortin, bass; Chris Pruden, piano. Canadian Music Centre, 20 St. Joseph St. A CD release by two of my favourite young Toronto players, Fortin and Davidson.
MAR 24, 7 TO 9PM: Mike Murley Trio with Reg Schwager and Steve Wallace Dakota Tavern, 249 Ossington Ave. 647-637-7491. Forgive the shameless self-promotion, but what can I say? This is one of the best trios going, even though I'm in it.
Toronto bassist Steve Wallace writes a blog called "Steve Wallace – jazz, baseball, life and other ephemera" which can be accessed at wallacebass.com. Aside from the topics mentioned, he sometimes writes about movies and food.