I mentioned in my last column that I injured my left shoulder in a fall on June 20, just as the Toronto Jazz Festival was starting – timing has not always been my long suit. Like most accidental falls, it was silly and avoidable, but only in hindsight. I was about to put out the recycling bin, which was quite heavy owing to some stranger mysteriously filling it with an outrageous number of wine bottles. My neighbour Gary was standing at the bottom of the steps and, noticing I was struggling with the weight, decided to lend a helping hand by grabbing the bottom of the bin and pulling it. The sudden yank caught me off guard and I did a spectacular twisting tumble down the steps – the international judges would have given me 9.5s across the board for clumsiness, which has always been my long suit. Just as well I play the bass, but as I was about to discover, I wouldn't be playing it for quite a while.
I was lucky in that the bin broke my fall and prevented my head from smashing on the pavement, preventing a concussion. But otherwise I was buggered; I'd landed in an awkward position with the left arm bent up behind my back at an angle I was pretty sure was not natural. My wife Anna, and Gary, helped me to my feet and the arm felt dead; I couldn't move it or feel anything except a dull ache, which started to intensify.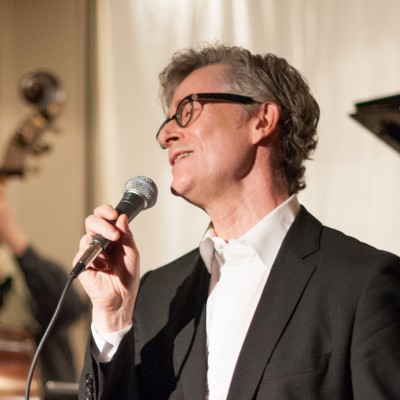 I iced the shoulder, which seemed to be the main problem, and took some Advil for the inflammation. As the shock wore off the reality set in – I could barely move the left arm, certainly not enough to play the bass. The next night I was to play a festival gig at Jazz Bistro with John Alcorn which I had been looking forward to because it involved such wonderful players – Drew Jurecka on violin and clarinet, Reg Schwager on guitar and Mark Micklethwaite on drums. I hated to do it but there was nothing for it except to call John and tell him he needed to get a sub, no easy task on such short notice. He took it well and, incredibly, Neil Swainson was available to take my place. I resigned myself to the fact that I would have to cancel out of other upcoming gigs as well, and made the necessary phone calls.
An aside: Neil also subbed for me on a Pilot gig a few days later with Mike Murley, Harrison Argatoff and Harry Vetro. When a bassist as good as Neil is available twice on short notice during Jazz Festival time... well, something is rotten in the state of Denmark.
The morning after the fall I awoke and soon noticed another problem: my left wrist and hand were incredibly sore and swollen, roughly the size and colour of a ham hock. I hadn't noticed this at first and immediately iced the hand, trying to fight off the growing panic that my issues were worse than I had first thought. It was a losing battle. An irony – one that I could have done without – is that my wife Anna has been suffering for months from a similar injury to the same shoulder, enduring a lot of pain and limited mobility. I wondered if it would be the same for me and how we would cope with basic daily functioning now that we both had broken wings. I realized it would be weeks, maybe months, till I could play the bass and this sent me to a dark place. Playing the bass and just schlepping to gigs has become harder with aging, but this had taken it to new level.
I came out of this despair after about a day or so. Despite having a deep cynical streak, I'm a cockeyed optimist at heart – probably one of the reasons I chose a "career" in jazz – and I began to feel more philosophical about the setback. I heard a voice inside me saying, "Steve, you've been pounding on that big goddamn log for 45 years now, you've given at the office, so maybe having to take a break from it for a couple of months is not the worst thing ever. Try to enjoy the summer, kick back and relax, watch some baseball, see how the other half lives."
This small optimism was helped by my first visit to East Toronto Orthopaedic & Sports Injury Clinic, where I met Mackenzie Merritt, the splendid young man who would be my physiotherapist. He examined the arm and tested it for range of motion and told me I likely had a full tear of the supraspinatus tendon in the shoulder, part of the rotator cuff, a diagnosis later confirmed by an MRI. I explained to him about being a jazz bassist and tried to demonstrate the movements that bass playing required of the left am, which he understood immediately. He said this was typically a slow-healing injury and that I was probably looking at six to eight weeks of rehabbing before I would be able to start practising again. He showed me some simple exercises designed to increase strength and range of motion in the shoulder and also to loosen it. He also told me about "muscle guarding," essentially the mind protecting the muscles by "telling" them not to do certain things which might be painful. He said there would be pain but the good news was that I couldn't do further damage to the muscle unless I had another fall calamity.
This was heartening and I set about faithfully doing the exercises, while gradually the swelling and soreness in the hand and wrist subsided. I began weekly physio appointments where Mackenzie manipulated and stretched the shoulder and ramped up the difficulty of the exercises I was to do at home. These involved stretching and lifting the arm at various angles to increase flexibility, and some resistance training to strengthen the muscle. Gradually I began to notice improvement; there was still soreness but I was able to do more with the arm.
Meanwhile, back at the bass ... I was concerned about getting rusty and losing my calluses, so I began just plucking the open strings to keep my right hand in shape, which was pretty boring. Toward the end of July I decided to try lifting the left arm up enough to get on the fingerboard and begin fingering some notes. There was an initial pinch but I found that if I angled the bass back toward me – or better still, sat down – I could use my left arm to actually play some. It was a Eureka moment and I began practising this way a little every day, increasing from about ten minutes to half an hour. I was usually quite sore afterward and was concerned but Mackenzie told me not to worry about it, that this was progress.
I had an upcoming gig with the Mike Murley trio on August 18 at the PEC Jazz Festival, with my son Lee filling on guitar for Reg Schwager, and I decided I'd made enough progress to manage doing it. As it approached I grew more anxious – it would be my first real performance in over two months and practising is one thing but actually playing for a solid hour on stage is another. It was a leap of faith because until I was out there and got a tune or two under my belt, I had no real idea how the arm would hold up or how long I'd be able to go. What if I had to suddenly stop? What if my left hand wouldn't do what I wanted it to do? I stanched down these doubts, telling myself it was like riding a bicycle and that Mike and Lee had my back; there are no two musicians I trust more than them.
In the end, the concert was a kind of out-of-body experience, but it went fine. I felt a pretty serious burn in the shoulder after the second tune, which went away, only to return a couple of times later. Playing wasn't as easy as it should have been but that was to be expected; I was really rusty. But the arm held up, none of the tempos slowed down and I didn't have to stop playing at any time, so overall I was pleased. We closed with Just in Time at a "manly" tempo which I was able to keep up with and I even managed to solo on it – not the best solo I've ever played, but I had enough gas left to pull it off. Best of all, both Mike and Lee said that I sounded like myself.
The following Sunday I had a Jazz In The Kitchen gig, which would raise the stamina ante some. Murley's concert was just one hour, whereas this would be two one-hour sets, with no amplifier and playing with drums, so there would be some more grinding involved. It was the first JITK gig in some time and there were some unique emotional stakes involved. For one thing, others in the band were also in the process of physical recovery. John Loach, who co-hosts and plays trumpet, had been suffering from embouchure issues since the spring from dental surgery gone wrong. Saxophonist Perry White is suffering from multi-concussion syndrome and has had to greatly reduce how much he can play. Patti Loach, who always plays a piano piece before each concert, had broken her collarbone in early July in a biking accident. So I had company among the walking wounded; only pianist Mark Eisenman and drummer Mark Micklethwaite were healthy.
Beyond this, there were memorials involved. Just days before the gig, Patti and John's good friend Tex Arnold, a first-rate pianist and composer based out of New York, died suddenly after suffering multiple strokes. They were devastated, but in tribute to him decided to play his arrangement (for Margaret Whiting) of a complex and obscure song called The Coffee Shoppe. They brought it off brilliantly, injuries be damned. And this was the first JITK since John Sumner died in June. He'd played on the vast majority of the nearly 60 concerts we've done and his absence was palpable. We played a trio version of Django dedicated to him.
I've always thought of JITK as an easy gig and in a lot of ways it is, being held in a relaxed, small venue with good sound and a listening audience. I told myself to take it easy, but it's a funny thing. Once the music starts and the players start coming at you with all that energy and intensity, you can't take it easy, you have to match them. I found myself digging in for all I was worth, pain and all, sweat streaming everywhere. It hurt and I started to develop some serious blisters but I was overjoyed to be back where I belong, in the crucible of a jazz band creating in the moment. It was one of the most emotionally satisfying gigs I've ever done and when it was over I realized I was mostly back. Amen to that.
JAZZ NOTES QUICK PICKS
OCT 5, 7:30PM: Yamaha Canada Music. Yamaha Canada Jazz Orchestra Featuring Bobby Shew. Led by Rick Wilkins. Walter Hall. 416-408-0208. $25. A rare Toronto appearance by the estimable veteran trumpeter Bobby Shew, with Rick Wilkins directing the band – enough said.
OCT 13, 4:30PM: Christ Church Deer Park. Jazz Vespers: Tribute to Ray Brown. Dave Young. 1570 Yonge St. 416-920-5211. Freewill offering. Religious service. A tribute to one of the great jazz bassists by one of our best, Dave Young.
OCT 24, 7:30PM: University of Toronto Faculty of Music. U of T 12tet. Walter Hall. 416-978-3750. Free and open to the public. A first-rate ensemble of U of T jazz students directed by trombonist-arranger Terry Promane.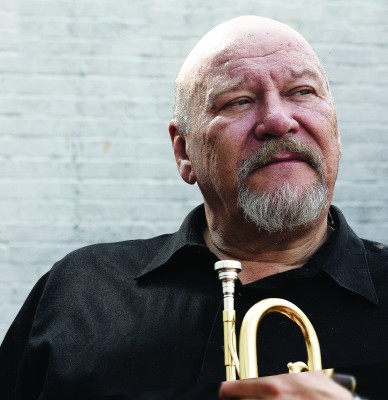 OCT 31, 5:30PM: Ken Page Memorial Trust. The Irresistible Spirits of Rhythm Halloween Jazz Party. Warren Vaché, cornet; Guido Basso, trumpet/flugelhorn; Ken Peplowski, reeds, Houston Person, tenor saxophone; Russ Phillips, trombone; and others. Old Mill Toronto. Call Anne at 416-515-0200. $200. Complimentary cocktail reception, gala dinner service and grand raffle. Not sure who the "others" are, but the list of headliners alone makes this attractive, even at that price.
Toronto bassist Steve Wallace writes a blog called "Steve Wallace jazz, baseball, life and other ephemera" which can be accessed at wallacebass.com. Aside from the topics mentioned, he sometimes writes about movies and food.