On two recent performances I experienced epiphanies which reminded me of something that often gets overlooked amid the hubbub and organized chaos of gigs: that, at the core of live jazz there is a process of generosity and giving, an exchange of gifts, which is the essence of what we celebrate during Christmas and other religious holidays. The exchange is circular, as there is an unspoken pact between jazz players and their audience which goes something like this: give us your attention, your ears, and we musicians will give you our very best – or at least try to – and make some music, out of thin air, you've never heard before and will never hear again. This commitment to playing one's very best holds for all good musicians, but because jazz involves so much improvising, and thus risk, the giving in a jazz performance is much more personal, coming from deep inside the musicians themselves in a sort of spontaneous, high-wire communion. It has very little to do with money. Yes, musicians are paid for performances and must be – after all, it is their work and they have to survive like everyone else. But the level of effort and commitment put forth by jazz players has nothing to do with how much a gig pays; indeed I've been involved in many sessions and after-hours jams where there is no money involved and everyone plays out of their skin. Why? Simply because they love music and wouldn't think of letting it, or each other, down. Jazz players give to each other, too.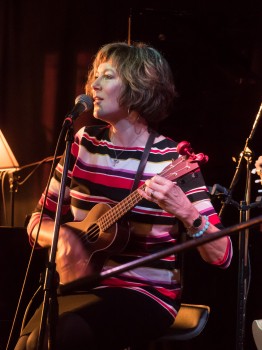 The first of these epiphanies came courtesy of singer Karin Plato in back-to-back concerts at Jazz in the Kitchen, October 20 and 21. Karin is one of my favourite singers today, to hear or play with. She has a beautiful, slightly smoky voice in the alto range and sings with flawless intonation and unerring musicality. And she has a special brand of sincerity and open soulfulness as a person and performer; there's real feeling there. Beyond her vocal talents, she's also a first-rate musician – plays some piano, is a good songwriter and arranger with big ears and a thorough knowledge of harmony which allow her to improvise freely. She also has a touch of the poet about her, a love of words which comes to the fore in her interpretation of other's lyrics and the thoughtful ones she writes herself. While utterly contemporary, she also has a special gift of recasting old songs, finding something new and fresh in them in quite imaginative ways. Best of all is her open and generous attitude toward performance. She's modest to a fault and there's never a sense while playing with Karin that she's "out front" and the band is simply there to back her. She sees herself as part of the band and takes great delight in the spontaneous contributions of the other players; she never wants to get in the way of the creative process. Indeed she's a central part of that process; a poised risk-taker, which makes playing with her so rewarding.
These concerts were to be a reunion of sorts between Karin, pianist Mark Eisenman and me. Quite a few years ago when the CBC was adequately funded and still a cultural institution we could all be proud of, Mark led a quintet accompanying a selection of jazz singers from across Canada in a series of concerts at the Glenn Gould Studio, which were recorded and broadcast. Karin, who hails from Saskatchewan but has lived in Vancouver since 1985, was among the singers and made a strong impression on Mark and me. On the strength of this initial bond, Karin asked me to be part of her Ontario tour with pianist Nancy Walker and drummer Joel Haynes, which culminated in her 2008 CD, Downward Dancing. We've been friends ever since and have stayed in touch, so I very much looked forward to this chance to play with her again, knowing she would love the special intimacy of JITK. I also looked forward to the instant musical rapport I knew would form between Karin and drummer Mark Micklethwaite, who had never even met before. This is a big part of the giving spirit in jazz I'm referring to, the willingness and capacity of musicians who don't know each other to set aside preconceptions or personal agendas and put out the antennae to make music together. It's called listening, and like the listening of an attentive audience, it is perhaps the greatest musical gift of all.
Karin brought along a selection of charts for songs she loves and which she thought would be suitable for the JITK audience, a nicely varied program of standards and some seldom-heard songs, many bearing her deft arranging touch. She also brought along her ukulele, a new wrinkle she played on a couple of numbers. As I've come to expect, there was nothing cutesy or gimmicky about this; in her hands the tiny four-string guitar added a special sound and texture appropriate to the given songs. And hers is not just any old ukulele, it's a J.F. Martin with a lovely plangent sound. In no time at all she had the audience spellbound, not just with her singing, but with her sincere presentation and effortless inclusion of them. She has a way of talking about herself to the audience between numbers which is not self-indulgent, but serves to draw back the curtain for the listeners and make them feel a part of what's happening. She talked about what some of the songs meant to her or why she chose them and how privileged she felt to be there making music for people who appreciate it.
The epiphany came as we were about to start the second set and Karin said that she wanted to begin with a tune accompanying herself at the piano, with trumpeter John Loach and her friend Geoff Claridge, who was in the audience and had brought along his clarinet. I took a chair at the entrance to the music room, glad to unexpectedly be a part of the audience while in mid-performance. She told the audience she was going to sing her new arrangement of an old song that would be very familiar to them, especially to any who had played piano when they were kids. It was Heart and Soul, along with Chopsticks; one of the cliché duets all young piano students end up playing with their teachers or parents.
She began s-l-o-w-l-y with a contemplative pattern of simple gospel chords voiced in ringing tenths, ascending on off-beats, immediately stirring and hypnotic. Then she entered with that subtle sultry voice in unmistakeable jazz rhythm: "Heart and soul, I fell in love with you. Heart and soul, the way a fool would do, madly….." and it was goose-bump time. Meanwhile, behind her, John on cup-muted trumpet and Geoff on clarinet, shared a written obligato part which beautifully complemented what she was doing. Once again, musicians giving to each other and to the rapt audience, putting themselves on the line in a humble and fearless off-the-cuff offering. I was gone, swept away and surprisingly – or perhaps not – tears welled in my eyes at the sheer beauty of it. This is it, I thought, this is what music is. It felt like being in church in the best sense, or like Christmas morning. With this emotional reaction, there was some self-chiding: "Steve, you old softie, you." But I couldn't help it, Karin had lifted the song from the parlour into something haunting and inspiring. Such is the generosity of her transformative imagination. I'd completely forgotten that the song had such lovely words and was originally a ballad by Frank Loesser and Hoagy Carmichael, no slouches. Like all good things in life, it was over far too soon and in typical fashion, Karin didn't tie it all up in a neat bow but left the song hanging with an unresolved dominant chord, hovering in the silent air like a question mark.
Disclosure: those who want to hear this wonderful rendition may do so on Karin Plato's latest CD, This Could Be the One (and believe, me, it is), or in a live performance available on YouTube.
The second epiphany came during a gig with Mike Murley's trio at The Homesmith Bar on November 6. During the first break, an elderly lady asked Mike if he could play Love For Sale, and he was so charmed by her and surprised by her request that he assented, even though he doesn't often play that tune and was a little unsure of it in spots. It came off quite well and indeed may become a permanent part of our repertoire. On the second break, I was outside taking some nicotine when a silver-haired elderly lady, well-wrapped against the cold evening, came out and sat on her walker waiting for her friend to fetch the car. I went over to her and asked if she had requested Love For Sale and she smiled shyly and answered in her English accent, "Yes, and I really enjoyed it. I asked for that tune because I really love the way Sidney Bechet played it on one of his records." I replied that I didn't know Bechet had recorded it, adding that had Mike known he might have played it on his soprano rather than tenor, although Mike plays the curved model rather than the straight horn like Sidney. "Oh there was nobody like Bechet on that soprano," she said. "Such passion and authority, and that sound… God, I love him."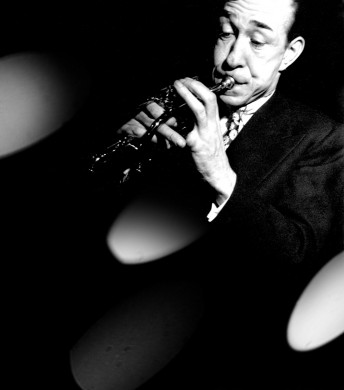 "And Muggsy!" she continued. I started vibrating a little at this – she was talking about cornetist Muggsy Spanier, whose playing I've loved since I became a jazz fan. "People talk about Louis (Armstrong) doing so much to bring jazz out of the rinky-tink and he did, but Muggsy was great, he could break your heart!" I told her I was a big Muggsy fan, too and that he had that heart-on-his-sleeve streak of Irish sentimentality that could make you cry. I asked her if she knew the wonderful one-off session Bechet and Muggsy recorded together in 1940 and her face went blank for a moment then her eyes widened in recognition. "Oh my, yes! Those two got to some romping!"
She told me that she was 91 and lived in a seniors' apartment near Christie and Bloor. "My husband died some years ago but I've made friends with a 93-year-old blind man named George who lives down the hall. You wouldn't believe what he has in his apartment, everything that Muggsy ever recorded and lots of other goodies. I go round to his flat and we listen to these wonderful records. We have such fun, jazz makes you feel so happy, so alive." I thought… at 91 or otherwise, we should all be so lucky. She was so lovely and interesting that despite the cold I wanted to stay and talk with her some more, but I had to go back inside and play. She said "My name is Joyce East and it's been so nice meeting you." I couldn't resist, I leaned down and hugged her and she reached up and hugged me back warmly and gave me a peck on the cheek. The pleasure was all mine, Joyce, nighty-night.
As Fats Waller once said, "One never knows, do one?" Karin Plato's stunning transformation of Heart and Soul and this chance encounter with a nonagenarian hipster brought Christmas early to me this year. I can't thank either of them enough. My best wishes to you all for a joyous Holiday Season and a Happy New Year.
Toronto bassist Steve Wallace writes a blog called "Steve Wallace jazz, baseball, life and other ephemera" which can be accessed at wallacebass.com. Aside from the topics mentioned, he sometimes writes about movies and food.