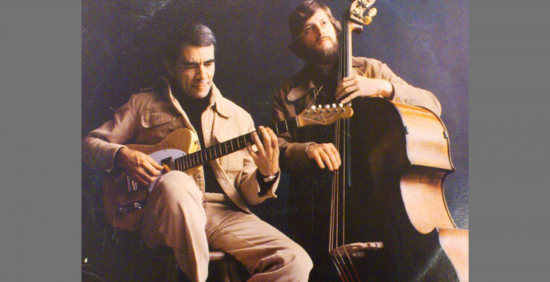 As all Canadian jazz fans know, guitarist Ed Bickert passed away on February 28 at the age of 86. A bit of time has elapsed by now and his death has been marked by numerous eulogies in the jazz and mainstream press, both here and abroad. I wrote a remembrance of him on my blogsite on March 6 which some WholeNote readers have probably read. For those who haven't and are interested, it's available here: wallacebass.com/so-long-ed-a-remembrance/
Despite all this coverage, it's only right that Ed should be remembered in the jazz column of this publication; he was that important and his death is a huge loss that is still reverberating, just as his magically voiced chords once did. Judging by the many comments left after my post about Ed, the scores of emails I have received, not to mention perfect strangers who have come up to me in clubs to share their memories and stories of Ed and how much they admired him as a person and musician, he will not soon be forgotten, if ever. He withdrew from playing in late 2000, yet the huge body of work he left behind, both live and on recordings from the mid-50s on, made a lasting impact on both musicians and fans. As he would have put it, he was an "Ed-biquitous" presence on the Toronto jazz scene: with Phil Nimmons, on the CBC; with Rob McConnell (in duo, small groups and with The Boss Brass); with Moe Koffman, his own groups, the Barry Elmes Quintet, the Mike Murley Trio; accompanying countless US jazz luminaries here and abroad; and much more.
He was a true original and Toronto jazz fans knew how great he was for years, but word began to leak out south of the border by the early 70s. I was at Bourbon St. as a young jazz fan the first night he played there with Paul Desmond, the first of several such engagements. I clearly remember the altoist's head swivelling slowly toward Ed as he played some of those penetrating, glow-in-the-dark chords which so often punctuated his solos like little gems. Desmond's jaw dropped ever so slightly – he was a subtle man, not given to overt gestures – and he grinned and shook his head slowly with his eyes closed. The thought bubble over his head would have read "Oh, my God, this guy is a jewel."
Indeed he was, and we know the rest. Desmond admired Ed's playing so much he took him to New York to record Pure Desmond, one of the finest albums of his career and one which brought him out of retirement. Such was the inspiration of playing with Ed; and the impact of this belated showcasing of Ed's playing with such a star, universally well-received, boosted the standing of Canadian jazz and musicians almost overnight. Before long, Canadian players such as Don Thompson, Bernie Senensky, Dave Young and Terry Clarke were being celebrated and recognized by Americans. Without saying much, Ed kept the bar high and led by example through his understated but powerful playing. Quiet though he was, his inspiration of, and influence on, several generations of Canadian jazz musicians cannot be overstated, and continues to this day. His playing was inimitable, yet the let's-keep-it-real musical values he projected became an integral part of the jazz aesthetic around these parts even well after he retired. When Ed Bickert was around, either on the bandstand or in the audience, you sharpened up, brother, and played your best.
It's a big loss for us all and Ed Bickert can't be replaced, but he can be remembered and will be. He lives on through other musicians, his many fine recordings and the countless stories that are told about him. Nobody gets out of this saloon alive, but in our sadness over his passing we must be grateful that he was with us for so long and left behind so much good music and so many nice memories. Thanks for everything Ed, and rest in peace.
Mezzetta
Ed Bickert was a jazz institution and I want to touch on several others which crossed my mind lately. One is Mezzetta, the excellent Middle Eastern restaurant on St. Clair Ave. W. which has featured live jazz on Wednesday evenings since soon after opening in 1991. One night a week may not seem like much, but the café is small and primarily a restaurant, yet is also a wonderful place to play partly because of its tininess. Its commitment to presenting jazz in a respectful and uncompromising way has been steadfast for over 25 years, making it an integral part of the Toronto jazz mosaic. Mezzetta is worth going to for the food alone, which consists of mezze – the Middle Eastern version of tapas – a choice of 40 small dishes priced at five dollars each which offers a wide variety of flavours and textures for vegetarians and meat-eaters alike. I've probably had everything on the menu over the years and it's all authentic, delicious and very consistent in quality. Like the food, the presentation of music at Mezzetta is living proof that small is good, small works. Owner Safa Nemati is a very cultured and congenial man who always treats the musicians fairly, introducing the groups – generally duos featuring a guitarist, as there is no piano – with a polite but firm insistence that people listen, and they do. The ten-dollar cover charge all goes to the musicians; nobody gets rich playing there but that's not the point. I've always left there feeling musically fulfilled because Mezzetta's intimacy, natural acoustics and warm atmosphere encourage audiences to listen intently, which in turn brings out the best in musicians. And that's all we want, really. It's real, a small oasis of culture, high-minded yet modest, not unlike Ed Bickert.
I played at Mezzetta on March 13 with Mike Murley and Reg Schwager. It was originally booked as a duo, but at the last minute Mike asked me to come along to fill out the trio, and that he'd take care of paying me himself. It would serve as a kind of live, paid rehearsal for an upcoming concert and recording we would be doing a few days later with pianist Renee Rosnes as a guest. It was a very special evening for a number of reasons, chief among them being that Ed Bickert seemed to be in the room with us. My piece on him had been out for about a week and the room was packed with his fans, many of whom came over to me to talk about him or share a memory. Mike spoke about him briefly before we started, mentioning that Mezzetta was Ed's favourite place to play in Toronto, which says a lot. And we played I'll Never Stop Loving You as a tribute to him, inspired by his beautiful 1985 recording of it. With the people sitting so near and listening so closely, there was an effortless and silent communion between the audience and the band which was as close to a religious experience as I can imagine coming to.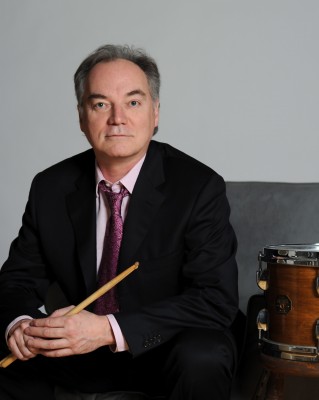 Ellington Society
Another longstanding jazz institution is The Duke Ellington Society, chapters of which have existed in major cities worldwide for decades, celebrating and promoting knowledge of the most imperishable genius jazz has produced. The Toronto DES will be presenting its annual concert on April 27 at Walter Hall in the Edward Johnson Building; further details in the Quick Picks section that follows. This year's concert features a big band led by, and arranged for, by drummer Brian Barlow, featuring vocals by the estimable Sophia Perlman. I've played on quite a few of these concerts over the years in groups ranging from trios to quintets to big bands, including one led by Ron Collier and an another one by Barlow some years ago. They're always rewarding; partly, of course, because they offer the chance to play music by Ellington and Billy Strayhorn, but mostly for reasons similar to the ones mentioned in connection to Mezzetta: the audience wants to be there, values the music and they listen. The concert I played with Brian Barlow's big band revealed a side of him I didn't realize until then: what a fine and imaginative arranger he is. He clearly loves and knows Ellington's music and his charts managed to bring out new things in the maestro's music; no small achievement.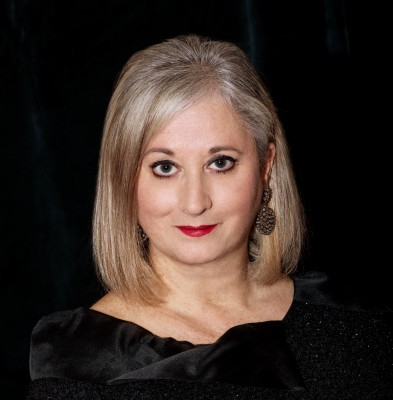 Renee Rosnes
Finally, a few words about another great Canadian musician who, much like Ed Bickert, has raised the bar and inspired so many jazz players in this country: Renee Rosnes. Being a major star out of New York and internationally for many years now, Renee hardly needs the likes of me to pump up her tires, but nevertheless, I'm going to. The aforementioned project with Renee joining the Mike Murley trio as a guest consisted of a March 16 Jazz In The Kitchen concert, followed the next day by a marathon recording session in the same venue, namely the home of Patti and John Loach in the Beaches. Much thanks to both of them for generously hosting this event and to John for his superb and easygoing engineering.
As for Renee, well, we've known each other for about 35 years now and this was the first time we'd played together, which came as a small mutual shock. All I can say is that finally playing with her was the fulfillment of a long-held wish and she was everything I expected and hoped for, and more. Simply put, she's a joy to play with and to be around. She fits into the trio's dynamic effortlessly, plus she doesn't seem to have any ego whatsoever. With her, it's all music all the time and she can play anything with anybody, anytime. And as we discovered on the recording, she's a two-take gal: she plays great on the first take, and really great on the second. If I had to pick someone to offer as a model to a young aspiring jazz musician, male or female, it would be Renee Rosnes. They might as well aim high.
Oddly enough, as if to underscore all this, the last tune we recorded was a trio version of I'll Never Stop Loving You featuring Reg Schwager, as a tribute to Ed Bickert. Mike Murley's cell rang right after we'd finished and it was Ed's daughter Lindsey calling. They chatted for a moment and Mike told her we'd just finished the recording with Renee and that it had gone really well. Lindsey asked Mike to tell Renee that Ed once told her that Renee was one of his favourite people. Being Ed's daughter, we knew Lindsey meant it, and nobody was about to argue.
JAZZ NOTES QUICK PICKS
APR 13, 8PM: Kitchener-Waterloo Chamber Music Society presents the Dave Young Trio. Music of Duke Ellington. KWCMS Music Room, 57 Young St. W., Waterloo. 519-569-1809. $35; $20(students). The dean of Canadian jazz bassists leads a trio performing Ellington music. My guess would be Robi Botos on piano and Terry Clarke on drums, but whoever is playing with Young, this is sure to be well worth hearing.
APR 14, 4:30: Christ Church Deer Park. Jazz Vespers. Rob Pitch, guitar; Neil Swainson, bass. 1570 Yonge St. 416-920-5211. Freewill offering. Religious service. Two of Toronto's best veteran players who have a special chemistry through a long history of playing together.
APR 27, 7PM: Toronto Duke Ellington Society's "Annual Concert." Ellington: Suites (excerpts). Sophia Perlman, vocalist; The Brian Barlow Big Band. Walter Hall, Edward Johnson Building, University of Toronto, 80 Queen's Park. 416-239-2683. $35. Limited availability. This was already discussed in the article. Enough said – be there or be square.
APR 28, 2PM: Visual and Performing Arts Newmarket presents the Drew Jurecka Trio. Jazz trio with violin, piano and bass. Newmarket Theatre, 505 Pickering Cres., Newmarket. 905-953-5122. $30; $25(seniors); $10(students). Drew Jurecka is listed here as a violinist and he's a brilliant one. But he's also one of Toronto's most talented and rangy multi-instrumentalists, playing clarinet, alto saxophone and singing. He's also stylistically encyclopedic, especially on violin, ranging from trad/swing to contemporary. Whatever mode he's in this evening, the music will be rewarding.
Toronto bassist Steve Wallace writes a blog called "Steve Wallace jazz, baseball, life and other ephemera" which can be accessed at Wallace-bass.com. Aside from the topics mentioned, he sometimes writes about movies and food.