Bookshelf
Pamela Margles Bookshelf will return in March 2010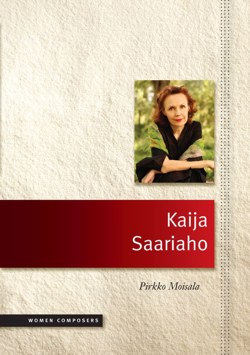 Kaija Saariaho
by Pirkko Moisala
University of Illinois Press
144 pages, photos; $40.00 US
In a recent blog, Canadian Opera Company General Director Alexander Neef revealed that the COC is planning a production of L'amour du loin by Kaija Saariaho. This is exciting news, since this is a beautiful opera by an important composer. So this excellent study of Saariaho is especially welcome.
Musicologist Pirkko Moisala offers a knowledgeable description of L'amour du loin, along with Saariaho's other compositions to date. Moisala appreciates Saariaho's work, and has interviewed the composer at length. In fact, Saariaho approved the manuscript for this book, meaning on the one hand that it is thoroughly reliable, while on the other that there is nothing written here that Saariaho herself does not want to see in print.
Moisala charts Saariaho's course from her childhood in Finland, through her years working in the electronic music studios at IRCAM in Paris, to her present work with both acoustic instruments and electronics.
This biography is the first in a projected series on women composers. Yet Saariaho's attitude towards her position as one of the few women – though not, as Moisala claims, the first – to reach the top eschelon of composers working today seems to be conflicted. Not wanting  her music to be considered feminine, Saariaho resists being classified as a woman composer.
Saariaho's music stands out today for the adventurous way that it expands conventional techniques without moving away from traditional sounds and structures. It sounds new yet familiar. But what really resonates is the emotional impact of her music. "The task of today's artist,"  Moisala quotes Saariaho as saying, "is to nurture with spiritually rich art."
One of the most striking aspects of Saariaho's output is how different each work is. Moisala clearly describes her method of composing, showing how the shape of each work develops from the material. I was interested to learn that Saariaho, like Messiaen, Sibelius, and Scriabin, experiences the kind of multisensory perception known as synesthesia, where all the senses are blended. For her, sounds are connected to colours, shapes, scents and textures, so they all provide sources for her to draw on for her rich palette.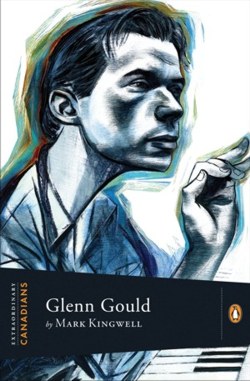 Glenn Gould
by Mark Kingwell; introduction by John Ralston Saul
Penguin Canada
251 pages; $26.00
It has been 45 years since Canadian pianist Glenn Gould gave his last concert, and twenty-seven years since he died suddenly at the age of fifty. Mark Kingwell is the latest writer to bring his own perspective to Gould's story, in a series called Extraordinary Canadians. Kingwell is a philosopher who teaches at the University of Toronto and writes frequently on cultural matters.  And like any good philosopher he raises more questions than he answers.
Kingwell offers numerous insights into how Gould "achieved a status of almost mythic dimensions." Yet by treating Gould's genius as "something larger than Gould himself," Kingwell contributes to that myth of Gould as an eccentric, socially dysfunctional genius who "broke all the rules" in order to put his personal stamp on whatever he played.
According to Kingwell, Gould became "stranded on a beachhead of his own thinking between past and future," unable to "fashion a bridge between them." But Gould never created a philosophical system of thought. The recordings, interviews and writings do reveal "tensions and paradoxes in Gould's thought." But his writings, interviews and spoken commentaries need to be understood in the context of his music-making.
Gould's pivotal decision to stop giving concerts and play only for recordings was psychological rather than philosophical, as Kingwell readily acknowledges. But he nonetheless treats it as a definitive philosophical stance, and relates it to the "then-fashionable notion of dropping out and going electronic." Improbably, he links Gould with James Dean and Elvis Presley as "one of the first clear casualties of postmodern life, shattered remains of the cult of celebrity hastened by the very technology that made his success possible."
The format of short, unlinked chapters allows Kingwell a variety of different "takes" on Gould. He uncovers some interesting connections in philosophy, fiction and poetry. But there is no bibliography or index to allow readers to make their own connections and investigate his many philosophical and literary references. And some of his sources are odd indeed. He writes that Gould's interpretations "were sometimes disparaged as 'loose," but in a footnote he reveals that the source of that observation is a fictional character from a novel.
There are numerous errors. Kingwell writes that William Byrd wrote "few" pieces for keyboard. But Davitt Moroney's recordings fill up seven CDs. Gould himself mentions Byrd's "prolific output for the keyboard" in the liner notes to his recording of Byrd and Gibbons. Kingwell describes how Gould would soak his hands in icewater before a concert. Gould's well-documented warm-up ritual did involve hand-soaking, but the water was hot.
Kingwell's take on Gould is both thought-provoking and illuminating. But the best passages result when Kingwell steps beyond Gould and considers the nature of music itself. By treating Gould as a cultural icon, Kingwell leaves me looking for the musician.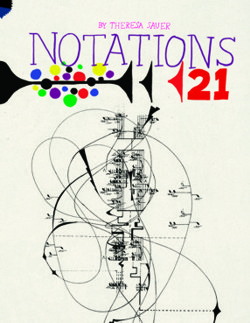 Notations 21
by Theresa Sauer
Mark Batty Publisher
318 pages; $78.00
"We live in an incredible time in music history," writes Teresa Sauer in her preface to this beautiful book. Sauer has collected scores from a broad range of contemporary composers to celebrate the 40th anniversary of the publication of John Cage's own collection, Notations. These scores are all remarkably eloquent – even for those who don't read music. In any case, most of these works do not use traditional notation at all.
Some, like Canadian composer Hope Lee's Tangram are more readily playable than works like Steve Roden's Pavilion Score, in which the performers are "mapping the space in sound" and "the audience would be listening to a drawing in sound of the space that they were sitting inside of." Peter Hölscher's Das Licht im Dunkel der Wolke and Douglas Wadle's Amphiboly, work as pieces of visual art. Some made me laugh, like John Stump's Love Theme from Prelude and the Last Hope in C and C-Sharp Minor. Teresa Sauer's Parthenogenesis features a picture of a Komodo dragon, whose genetic code forms the basis of her piece. Canadian composer Chiyoko Szlavnics uses the evocative untitled drawings reproduced here as inspiration for her traditionally notated compositions. The notation of A Rose is a Rose is a Round by the influential American composer James Tenney, who taught at York University for many years, reflects back on the form of the piece itself. Two works by Canadian R. Murray Schafer, Epitaph for Moonlight and Snowforms, like many of his scores, show his graphic skills.
Like Cage, Sauer has arranged the scores in handy alphabetical order. But she adds an index and biographical sketches. Whereas Cage's collection was in black and while, many of the scores in this volume, like Cage's own Aria, make use of vivid colours.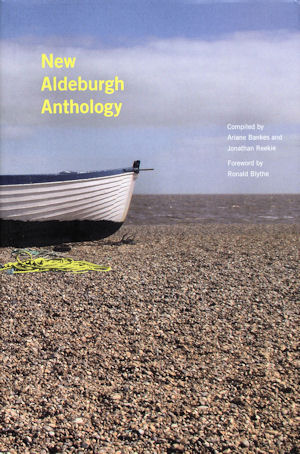 New Aldeburgh Anthology
compiled by Ariane Bankes
and Jonathan Reekie
Boydell Press
360 pages, illustrated; $70.00 US
Ariane Bankes and Jonathan Reekie have compiled a dazzling collection of articles, poems, stories, photographs, paintings, set designs, memoirs, short fiction, to celebrate the Aldebugh Festival.
I cannot imagine a more fitting tribute to the festival that British composer Benjamin Britten, his partner tenor Peter Pears, and librettist Eric Crozier started in Britten's native Suffolk over sixty years ago.
Expanding on the original Aldeburgh Anthology published in 1972, the editors have wisely followed their own "interests and inclinations." The result is an evocation of the physical and poetic landscapes of Britten's music, especially the operas, which are referred to throughout this volume.
Composer Hans Werner Henze describes the setting of the festival, where " you can sense the vicinity of the sea; you can hear the facets of grey, silver grey, ash grey, white and mother-of-pearl of which the low-lying sky is composed." Art historian Frances Spalding writes about the paintings and sculptures collected by Pears and Britten, including six Constables and a work by William Blake, whose poems Britten set. Art historian Kenneth Clark, who grew up across the river from Aldeburgh, writes, "My days were all pleasure… I loved the Suffolk country, the heaths and sandpits, the great oaks in Sudbourne wood and the wide river at Ilken." Mezzo Janet Baker recalls singing for Britten, writing, "Ben was a king. When he walked into a room, the air began to crackle; everyone came alive, became more than themselves." Journalist Tom Service writes about how composer, conductor and pianist Thomas Adès, just twenty-eight when he became director of the festival, continued the tradition of innovation and individualism.
So much to enjoy here. There's a poem by Britten's friend, colleague and librettist W. H. Auden, called The Composer, "Only your notes are pure contraption/Only your song is an absolute gift." Another by W.G. Sebald, translated by poet Michael Hamburger, who's represented here as well, closes with, "Whispering madness on the heathland of Suffolk. Is this the promis'd end?"
PERFORMANCE NOTES:
The Toronto Symphony under Peter Oundjian presents Britten's War Requiem on November 11 and 12 in Roy Thomson Hall at 8.00. The Aldeburgh Connection presents Blessed Cecilia on November 22 at 2.30 in Walter Hall at the University of Toronto Faculty of Music. And on Jan. 28 and 30 at 8:00 in Roy Thomson Hall, the Toronto Symphony under James Gaffigan presents Leila Josefowicz performing a Violin Concerto, "Concentric Paths," by Thomas Adès, who just completed nine years directing the Aldeburgh Festival.