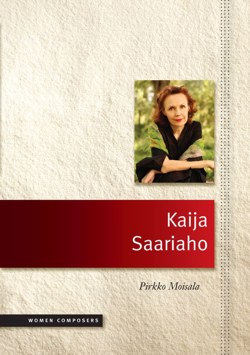 Kaija Saariaho
by Pirkko Moisala
University of Illinois Press
144 pages, photos; $40.00 US
In a recent blog, Canadian Opera Company General Director Alexander Neef revealed that the COC is planning a production of L'amour du loin by Kaija Saariaho. This is exciting news, since this is a beautiful opera by an important composer. So this excellent study of Saariaho is especially welcome.
Musicologist Pirkko Moisala offers a knowledgeable description of L'amour du loin, along with Saariaho's other compositions to date. Moisala appreciates Saariaho's work, and has interviewed the composer at length. In fact, Saariaho approved the manuscript for this book, meaning on the one hand that it is thoroughly reliable, while on the other that there is nothing written here that Saariaho herself does not want to see in print.
Moisala charts Saariaho's course from her childhood in Finland, through her years working in the electronic music studios at IRCAM in Paris, to her present work with both acoustic instruments and electronics.
This biography is the first in a projected series on women composers. Yet Saariaho's attitude towards her position as one of the few women – though not, as Moisala claims, the first – to reach the top eschelon of composers working today seems to be conflicted. Not wanting  her music to be considered feminine, Saariaho resists being classified as a woman composer.
Saariaho's music stands out today for the adventurous way that it expands conventional techniques without moving away from traditional sounds and structures. It sounds new yet familiar. But what really resonates is the emotional impact of her music. "The task of today's artist,"  Moisala quotes Saariaho as saying, "is to nurture with spiritually rich art."
One of the most striking aspects of Saariaho's output is how different each work is. Moisala clearly describes her method of composing, showing how the shape of each work develops from the material. I was interested to learn that Saariaho, like Messiaen, Sibelius, and Scriabin, experiences the kind of multisensory perception known as synesthesia, where all the senses are blended. For her, sounds are connected to colours, shapes, scents and textures, so they all provide sources for her to draw on for her rich palette.