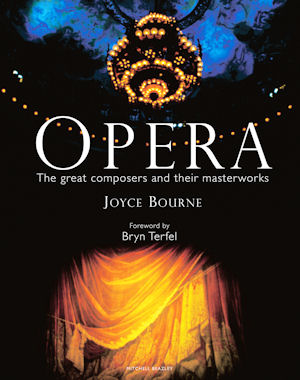 Opera: The Great Composers and their Masterworks
by Joyce Bourne
Mitchell Beazley/ Octopus Books
224 pages, photos; $27.95 US
Joyce Bourne, who wrote the delightful Who's Who in Opera (recently updated as Who Married Figaro?: A Book of Opera Characters), has packed a remarkable amount of material into this attractive, intelligent survey of opera from Monteverdi to John Adams.
She doesn't find much space for the operas of Lully, Vivaldi, or Haydn, whose operas are all being rediscovered today. The operas of Martín y Soler, Halévy and Ambroise Thomas, all hugely successful in their time, and presently finding their way back into the repertoire, are completely shut out. But I enjoyed her broad-ranging approach. Along with discussions of the operas themselves, she looks at the composers, librettists, performers, theatrical venues, stage sets, directors, the artistic milieus and political context. As well, she offers an excellent discussion of voice types and vocal production, along with a glossary of musical terms.
The best thing about this book is that one quarter is devoted to opera of the past century, right up to the present. Only Verdi and Wagner get more coverage than Britten.
What does not work, however, is the practical information. The list of "major" opera houses includes the State Opera of South Australia, but omits Rome Opera and the Teatro Real in Madrid. Virginia Opera is mentioned, but not Vancouver Opera, an older, more ambitious company. Sloppy captions on photos – Time Square for Times Square, and singers like Juan Diego Florez left unidentified – detract only marginally from the superb photos. The index is reliable, and the layout is extremely attractive, with an effective use of a variety of typefaces.
In her final chapter, called "The Future of Opera," Bourne makes the simple but often overlooked point that "if the music is not good enough, the work will not survive for long, no matter how good the story." Like Schwarzkopf, Bourne objects to director thrusting their own concepts of an opera down the throats of audiences, particularly when they contradict what the composer and librettist wanted. But this is not a desire for directors to honour tradition by avoiding innovation altogether, but rather for them to work with "respect for the work they are directing, consideration for the singers, and the knowledge that many people in this audience are seeing this opera for the first time."