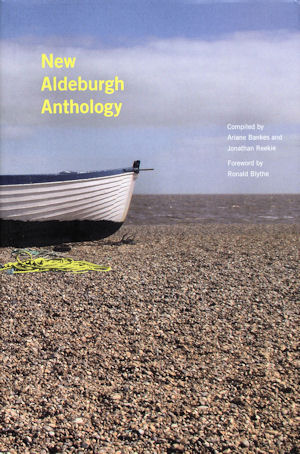 New Aldeburgh Anthology
compiled by Ariane Bankes
and Jonathan Reekie
Boydell Press
360 pages, illustrated; $70.00 US
Ariane Bankes and Jonathan Reekie have compiled a dazzling collection of articles, poems, stories, photographs, paintings, set designs, memoirs, short fiction, to celebrate the Aldebugh Festival.
I cannot imagine a more fitting tribute to the festival that British composer Benjamin Britten, his partner tenor Peter Pears, and librettist Eric Crozier started in Britten's native Suffolk over sixty years ago.
Expanding on the original Aldeburgh Anthology published in 1972, the editors have wisely followed their own "interests and inclinations." The result is an evocation of the physical and poetic landscapes of Britten's music, especially the operas, which are referred to throughout this volume.
Composer Hans Werner Henze describes the setting of the festival, where " you can sense the vicinity of the sea; you can hear the facets of grey, silver grey, ash grey, white and mother-of-pearl of which the low-lying sky is composed." Art historian Frances Spalding writes about the paintings and sculptures collected by Pears and Britten, including six Constables and a work by William Blake, whose poems Britten set. Art historian Kenneth Clark, who grew up across the river from Aldeburgh, writes, "My days were all pleasure… I loved the Suffolk country, the heaths and sandpits, the great oaks in Sudbourne wood and the wide river at Ilken." Mezzo Janet Baker recalls singing for Britten, writing, "Ben was a king. When he walked into a room, the air began to crackle; everyone came alive, became more than themselves." Journalist Tom Service writes about how composer, conductor and pianist Thomas Adès, just twenty-eight when he became director of the festival, continued the tradition of innovation and individualism.
So much to enjoy here. There's a poem by Britten's friend, colleague and librettist W. H. Auden, called The Composer, "Only your notes are pure contraption/Only your song is an absolute gift." Another by W.G. Sebald, translated by poet Michael Hamburger, who's represented here as well, closes with, "Whispering madness on the heathland of Suffolk. Is this the promis'd end?"
PERFORMANCE NOTES:
The Toronto Symphony under Peter Oundjian presents Britten's War Requiem on November 11 and 12 in Roy Thomson Hall at 8.00. The Aldeburgh Connection presents Blessed Cecilia on November 22 at 2.30 in Walter Hall at the University of Toronto Faculty of Music. And on Jan. 28 and 30 at 8:00 in Roy Thomson Hall, the Toronto Symphony under James Gaffigan presents Leila Josefowicz performing a Violin Concerto, "Concentric Paths," by Thomas Adès, who just completed nine years directing the Aldeburgh Festival.