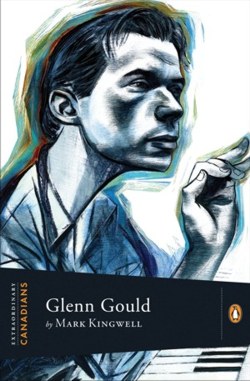 Glenn Gould
by Mark Kingwell; introduction by John Ralston Saul
Penguin Canada
251 pages; $26.00
It has been 45 years since Canadian pianist Glenn Gould gave his last concert, and twenty-seven years since he died suddenly at the age of fifty. Mark Kingwell is the latest writer to bring his own perspective to Gould's story, in a series called Extraordinary Canadians. Kingwell is a philosopher who teaches at the University of Toronto and writes frequently on cultural matters.  And like any good philosopher he raises more questions than he answers.
Kingwell offers numerous insights into how Gould "achieved a status of almost mythic dimensions." Yet by treating Gould's genius as "something larger than Gould himself," Kingwell contributes to that myth of Gould as an eccentric, socially dysfunctional genius who "broke all the rules" in order to put his personal stamp on whatever he played.
According to Kingwell, Gould became "stranded on a beachhead of his own thinking between past and future," unable to "fashion a bridge between them." But Gould never created a philosophical system of thought. The recordings, interviews and writings do reveal "tensions and paradoxes in Gould's thought." But his writings, interviews and spoken commentaries need to be understood in the context of his music-making.
Gould's pivotal decision to stop giving concerts and play only for recordings was psychological rather than philosophical, as Kingwell readily acknowledges. But he nonetheless treats it as a definitive philosophical stance, and relates it to the "then-fashionable notion of dropping out and going electronic." Improbably, he links Gould with James Dean and Elvis Presley as "one of the first clear casualties of postmodern life, shattered remains of the cult of celebrity hastened by the very technology that made his success possible."
The format of short, unlinked chapters allows Kingwell a variety of different "takes" on Gould. He uncovers some interesting connections in philosophy, fiction and poetry. But there is no bibliography or index to allow readers to make their own connections and investigate his many philosophical and literary references. And some of his sources are odd indeed. He writes that Gould's interpretations "were sometimes disparaged as 'loose," but in a footnote he reveals that the source of that observation is a fictional character from a novel.
There are numerous errors. Kingwell writes that William Byrd wrote "few" pieces for keyboard. But Davitt Moroney's recordings fill up seven CDs. Gould himself mentions Byrd's "prolific output for the keyboard" in the liner notes to his recording of Byrd and Gibbons. Kingwell describes how Gould would soak his hands in icewater before a concert. Gould's well-documented warm-up ritual did involve hand-soaking, but the water was hot.
Kingwell's take on Gould is both thought-provoking and illuminating. But the best passages result when Kingwell steps beyond Gould and considers the nature of music itself. By treating Gould as a cultural icon, Kingwell leaves me looking for the musician.