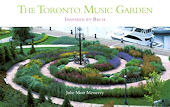 The Toronto Music Garden:
Inspired by Bach
by Julie Moir Messervy
Julie Moir Messervy Design Studio
61 pages, illustrated; $15.00
(available from: www.torontoparksandtrees.org, tel. 416-397-5178, the Toronto Botanical Garden bookstore or Bounty at Harbourfront Centre.)

Another celebration, the tenth anniversary of the Toronto Music Garden, provides the impetus for this book. Like the garden itself, this book is compact, clearly laid out, readily accessible – and lovely.


The Toronto Music Garden began to take shape  when cellist Yo-Yo Ma approached landscape architect Julie Messervy about creating a garden inspired by one of Bach's cello suites. The garden was to be the subject of a film in the series Inspired by Bach, based on Ma's performances of the six suites. The original plan was to build the garden in Boston, where both Ma and Messervy live. When that didn't work out,  a group of local donors helped to get built in Toronto. Ma and Messervy were given a forlorn 2.5 acre plot wedged in between the Lake Ontario shoreline and Queens Quay West, and they turned it into a veritable jewel.   


In her text, Messervy describes the intricacies of  basing a garden design on a piece of music. She offers an interesting discussion of  the relationship between landscape architecture and music, although she misattributes the comparison of architecture to frozen music. It  was first made not by the late twentieth-century American philosopher Susanne Langer, as Messervy writes, but by the early nineteenth-century German philosopher Friedrich von Schelling (although Goethe often gets credit for it).


Photos reveal the garden in full bloom, but no fall or winter views are included.  Maps show the overall scheme of the garden as well as details of the six sections. Plant lists for each section identify some of the nearly 10,000 perennials,  1380 grasses, 40 varieties of trees and shrubs, and 420 butterfly bushes.   


Various contributors add their own perspectives. Ma describes how  Bach's music has been "joyously and meticulously brought to life" in this garden. Tamara Bernstein, artistic director of Summer Music in the Garden,  shows how the park is put to good use by events like the series of concerts that she organizes. David Miller, soon-to-be-former mayor of Toronto, points out that the garden "has set the precedent for what is possible." Yet Miller doesn't mention how little has been done on the Toronto waterfront to build upon that precedent. During the past ten years the neighbouring forest of sky-scraping condos that blocks the lakeshore from the city has grown even faster than the plantings in the garden.  Nonetheless, as this book shows, the Music Garden succeeds in providing the place of "pleasure, sanctuary and delight" that Messervy and Ma envisioned.