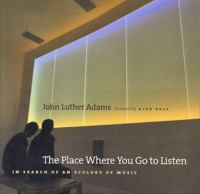 by John Luther Adams
Wesleyan University Press
176 pages, photos & diagrams; US $24.95

This book by Alaska-based composer John Luther Adams describes the process he went through to create his most ambitious work yet, The Place Where You Go To Listen. In a room located above the entrance to the Museum of the North at the University of Alaska, Adams has constructed a complex, self-contained environment filled with lights and sounds. The rhythms of sunlight and darkness, phases of the moon, seismic vibrations of the earth, fluctuations of the earth's magnetic field, are all monitored from stations around Alaska, then electronically  translated into music and visuals.
Adams' journal documents two-and-a-half years spent dealing with innumerable challenges and frustrations. So we understand how exasperated he must have felt when a member of the museum staff suggested hanging a painting of the aurora inside the space.  As New Yorker music critic Alex Ross points out in his foreword, and as Adams' diaries makes clear, what came out of the difficult process is a deeply personal work.
As the work nears completion, he wonders whether he has enough courage for a life in art, writing that  "sometimes I feel like a fraud, as though my life doesn't live up to the aspirations of my work." Inevitably, he wonders about his place in the tradition of European classical music. Yet he finds confidence knowing he is carrying on the tradition of his teachers, the experimental visionaries Lou Harrison and James Tenney, who taught at York University in Toronto for many years.  "Those of us who believe that music can help change the world," he writes, "must use whatever tools we can get our hands on to envision and create change."
I enjoyed Adam's previous book, Winter Music: Composing the North, enough to want to read this one. This new book leaves me longing to fly up to Alaska to experience The Place Where You Go to Listen first-hand.
Pamela Margles, theWholeNote's regular book reviewer, can be contacted at
bookshelf@thewholenote.com