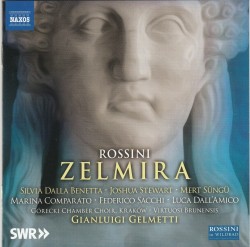 Rossini – Zelmira
Soloists; Górecki Chamber Choir, Krakow; Virtuosi Brunensis; Gianluigi Gelmetti
Naxos 8.660468-70 (naxosdirect.com)
Dating from 1822, Zelmira is the 33rd of Rossini's 39 operas and the last one he wrote in Naples. By that time he was aiming for international attention, first step to be Vienna. Zelmira achieved great success there and later in Paris, but inexplicably it fell out of public favour and simply disappeared for nearly two centuries. By a stroke of luck in 1995, Richard Bonynge and Joan Sutherland found the score in an antique bookshop in Paris and it was quickly bought by the Pesaro Festival and triumphantly performed there with a stellar cast.
The reason for the disfavour was Rossini's attempt to reconcile Italian and German styles by devising new harmonies and orchestral effects, no doubt to please Vienna audiences, but unfortunately it was too unusual for Italians. Too bad, because it's a tremendous grand opera with magnificent, original and highly inspired music and great opportunities for singers; particularly for the two principal tenors and the lead soprano (written for Rossini's wife, Isabella Colbran).
The story takes us to the Age of Antiquity, to Lesbos on the Aegean Sea. It revolves around the king's daughter Zelmira, who after many vicissitudes, false accusations and even prison, saves her father, and her son, from wicked usurpers to the throne. The main villain is Antenore, secondo tenore (American tenor Joshua Stewart) with a tremendously difficult tessitura, full of powerful high notes à la Rossini. He comes to the stage first, but just you wait for the primo tenore, Ilo, prince of Troy and Zelmira's husband (sung by Turkish virtuoso Mert Süngü), and his first cavatina – Cara! deh attendimi! – with even more hair-raising vocal acrobatics.
Silvia Dalla Benetta is Zelmira. She crowns it all with her superb voice and is thoroughly enchanting in Perché mi guardi e piangi, one of Rossini's most inspired creations. All wonderfully held together and conducted by veteran Rossinian maestro Gianluigi Gelmetti.