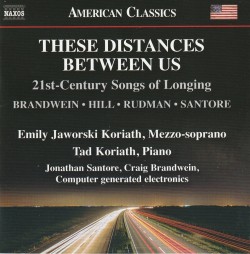 These Distances Between Us – 21st Century Songs of Longing
Emily Jaworski Koriath; Tad Koriath
Naxos 8.559908 (naxos.com/Search/KeywordSearchResults/?q=8.559908)
On this rather remarkable, multi-disciplinary recording, the significant works of four American "Art Song" composers is explored – both as lyricist/poets and composers. All of the contemporary artists here are award-winning – and in addition to the thrilling vocals of famed mezzo-soprano Emily Jaworski Koriath, Tad Koriath performs on piano and has also created the stunning arrangements for the collection. The concept stems from Jessica Rudman, composer of the title track. It has been said that, "These Distances Between Us charts a cycle that recognizes the precarious nature of personal connections." Joining the Koriaths on this CD are Jonathan Santore and Craig Brandwein, who are not only composers, but also magicians of computer-generated electronics.
Included here are Edie Hill's The Giver of Stars: Six Poems of Amy Lowell. Each of the six movements is lovingly imbued with the majesty of the composition and the beauty of the poetry. Jaworski Koriath's vocal instrument is both supple and salient – embodying the cornucopia of emotions arising from the material. Hill's music has been described as "full of mystery," which is self-evident in the other aptly titled poetic movements such as Vernal Equinox (which feels like a summoning of the spirts of lost lovers in the moist Spring). The innate lyricism of Lowell's poetry meshes perfectly with the enchanted piano work of Tad Koriath throughout the final three poetic movements.
Next up is Santore's mind-opening Two Letters of Sulpicia (version for voice and electronics), which utilizes the technology to enhance and support – such as digital creation of highly realistic pipe organ stops and tubular bells. Also of note is the almost unbearable beauty of Brandwein's Four Songs of John Charles McNeill. Of particular note is Rudman's four-movement title piece, in which Jaworski Koriath's voice easily reaches into the nearly unplumbable depths of human longing. The collection closes with Emmy-nominated Brandwein's breathtaking Three Rilke Songs, gilded by perfectly placed and executed electronica.