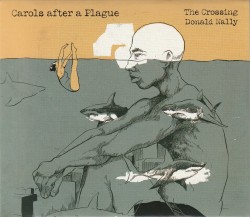 Carols after a Plague
The Crossing; Donald Nally
New Focus Recordings FCR357 (newfocusrecordings.com)
During the long global pandemic of 2020/21, our existential states were so fraught with death, that rarely did we think of ourselves as inhabiting a living planet teeming with a thriving humanity. We may have lived our lives together, yet we were hopelessly alone. And though the deadly virus may not quite be in the rearview mirror, communities of artists like The Crossing – led by Donald Nally – continue to challenge us to move forward, beyond the ubiquitous facemask; beyond our omnipresent fear of death by pandemic.
A title such as Carols after a Plague calls for us to return to joyfulness. The carol is, after all, associated with communal singing after darkness falls, albeit to usher in thoughts of the brightness and joys of the Christmas season.
This 12-song repertoire is woven into the three movements of Shara Nova's Carols after a Plague, I - Urgency, II - Tone-policing, and III - Resolve. This song becomes the artistic canvas for the whole album. It describes the interconnectedness of human life and is eerily reminiscent of Nova's song from her baroque chamber opera, You Us We All. The 11 other songs come from the crème de la crème of contemporary composers, each of which thematically examines the impact of the pandemic on global society.
Through the soaring, hour-long repertoire The Crossing, itself a living embodiment of an interconnected community superbly directed by Nally, shines as always, one glorious harmonious progression after the other.