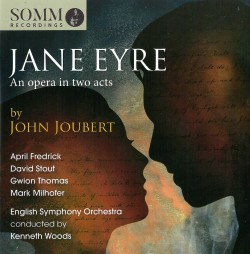 John Joubert – Jane Eyre
April Fredrick; David Stout; Gwion Thomas; Mark Milhofer; English Symphony Orchestra; Kenneth Woods
SOMM Recordings SOMMCD 263-2
British composer John Joubert and his librettist (and former student) Kenneth Birkin worked on his opera Jane Eyre from 1987 through 1997. Incorporating cuts made for the world-premiere concert performance in October 2016 in Birmingham, this live recording is a tribute for the composer's 90th birthday and an exceptional permanent record of a great work.
Charlotte Brontë's novel surprisingly suits this operatic venture. As Joubert explains in the detailed liner notes, the two acts of three scenes each are not an exact retelling of the lengthy story, but a selective take on Jane's adult life. The libretto captures all the important storyline components while the composition is amazing. The music is so original, with touches of such influences as Wagner and Strauss surfacing throughout. The vocal music captures the story but it really is the brilliant orchestration that rules – it almost sounds like equal duets between the vocals and instruments. The Act One argument between Jane and Brocklehurst is driven by rhythmic orchestral shots, low-pitched mysterious crescendos and countermelodies in the strings. The closing joy in Jane and Rochester's reunion is reinforced by the sweet string lines.
The soloists perform with passion and expertise. The orchestra members play with astounding musical force, driving the operatic score to out of this world artistic heights. There is so much musical detail here that only repeated listening can illuminate. Though at times musically too melodramatic, this is an opera that should stand the test of time.