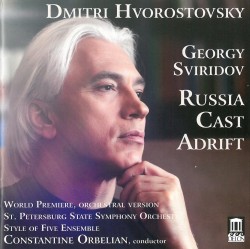 Russia Cast Adrift
Dmitri Hvorostovsky
Delos DE 1631 (delosmusic.com)
The relationships between composers and their favourite interpreters are responsible for some of the best vocal music ever written. Sometimes they are romantic in nature, as in the case of Benjamin Britten and Peter Pears. On many occasions, they are simply a meeting of two musical geniuses – both attuned to a secret chord within, as with Gerald Finley and the late Finnish composer Einojuhani Rautavaara. Georgy Sviridov found his muse in Dmitri Hvorostovsky. They met for the first time just four years before the composer's death in 1994. The occasion was an auspicious one: Hvorostovsky was performing Russia Adrift, a "poem" for voice and piano, immortalized in performances by the redoubtable Elena Obraztsova. Upon hearing Hvorostovsky's version, the composer was enchanted and a beautiful friendship followed. In the remaining years, Hvorostovsky became "the" voice for Sviridov's music.
The one project the composer did not finish before his death was an orchestral version of Russia Adrift. Here it is recorded by an orchestra and folk-instrument ensemble, in a version completed by Evgeny Stetsyuk. The words of Sergei Yesenin, the once-blacklisted Soviet poet from the 1920s, are filled with nostalgia for the Russia of yesteryear. Given the present situation in that great nation, those words acquire additional poignancy. Hvorostovsky's voice does not betray any traces of the serious health crisis he has been undergoing of late. The album closes with a spine-tingling song, The Virgin in the City, from the vocal poem Petersburg, written especially for him.