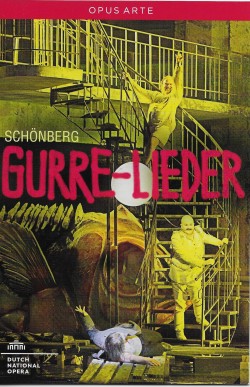 Schoenberg – Gurrelieder
Soloists; chorus of the Dutch National Opera; Netherlands Philharmonic Orchestra; Marc Albrecht
Opus Arte DVD OA 1227 (also on Blu-ray)
This is a video of an attempt to stage Schoenberg's extraordinary cantata based on poetry by Jens Peter Jacobsen. It is not an opera and actions on the stage do not always match the libretto. The text is dreamy and melancholic, a Tristanesque tale of impossible love. I confess that over many years of listening, although totally absorbed, I have not mentally pictured or "seen" the events described by the singers and the orchestra. The score does its job and the goings on, the thoughts, events and emotions are unmistakable, but remain abstractions.
The great room of Gurre Castle is director Pierre Audi's set for this production with various props to define a scene… a large bed, screens, panels, etc. The prominent curved metal staircase adds a vertical dimension and supports some of the action. A huge, rather formidable fish, perhaps representing a fantastic eel, passively enters into the room in Part Three during Klaus Narr's pantomime-like scene that follows the rousing, exhilarating Wild Hunt.
King Waldemar is sung by tenor Burkhard Fritz, who is scheduled to sing Siegmund in Leipzig's Ring Cycle early next year. Tove, his beloved, is soprano Emily Magee and the Wood Dove is contralto Anna Larsson. Bass-baritone Markus Marquardt is the Peasant and tenor Wolfgang Ablinger-Sperrhacke is Klaus Narr, the court jester. Actress Sunnyi Melles is the narrator who introduces the evening, settling the audience down for what's to follow. She moves as an observer through the scenes, sometimes commenting and finally breaking into an unusually impassioned delivery of the sprechgesang exultation of the sun. Internationally renowned for her interpretations of Mahler, Larsson's Wood Dove is outstanding and genuinely tragic as it should be, delivering the news of Tove's murder and closing Part One. Incidentally, because she is acting it out, Larsson is completely caught up in the role as she was not in the very fine recent version conducted by Edward Gardner reviewed in March. The chorus is better than outstanding. Under Marc Albrecht, the orchestral balances, so brilliantly recorded, are dynamic and expansive, letting the brass sing out, most importantly in the awe-inspiring choral finale as the sun rises and the nocturnal fantasies are banished.
On first viewing, not knowing what to expect, the staging was something of a letdown. By the third playing, no longer expecting anything different, I was enrolled, appreciating this most unusual experience immensely. As noted above, the surround sound is awesome. All in all, quite an experience.