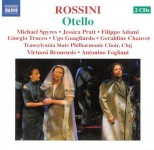 Rossini - Otello
Michael Spyres; Jessica Pratt; Filippo Adami; Gerogio Trucco; Ugo Guagliardo; Geraldine Chauvet; Transylvania State Philharmonic Choir, Cluj; Virtuosi Brunensis; Antonino Fogliani
Naxos 8.660275-76

Justifiably overshadowed by Verdi's penultimate masterpiece, Rossini's Otello has suffered terribly in the last 150 years. This beautiful opera, first performed in Naples in 1816 and very popular soon thereafter, was nearly ignored after the composer's death and in the 20th century. Rossini wrote it for Naples at age 24 about the same time as his ever popular Barbiere and La cenerentola. However, anyone seriously interested in the Othello of Shakespeare will be severely disappointed. Except for the 3rd act, the libretto by the Marchese Berio di Salsa took extreme liberties with the play, changed the plot, the location; no love duet, no Cassio…, no Cyprus…, no handkerchief. Everything takes place in Venice and the chief competitor for Desdemona's hand is Rodrigo, a minor character in Shakespeare.

But the opera! A wonderful collection of arias, trios and ensembles here immaculately performed by a group of young artists at the Rossini festival in Wildbad, Germany. Antonino Fogliani, young Italian conductor vigorously conducts with great flair and sensitivity in the great Rossinian style. His success is much helped by the Czech orchestra with their legendary wind players.

There are 3 major tenor roles in the opera (Otello, Rodrigo & Jago) perhaps because the original theatre group in Naples had an overabundance of tenors. Each of these are murderously difficult, especially Rodrigo who is a high tenor, and Filippo Adami is sensational with the Rossini fioraturas. Powerful American tenor Michael Spyres is in lower tessitura and sings Otello characterfully and flawlessly. English soprano Jessica Pratt, is strong and heartfelt in the role of Desdemona. All supporting roles are equally fine.

Before ending I'd like to commend Naxos for undertaking the huge task of recording all of Rossini's operas and if I may add, their uncompromising excellence overshadows many earlier recordings of other famous recording companies. Bravo Naxos!