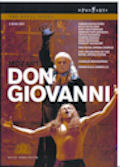 Mozart - Don Giovanni
Simon Keenlyside; Kyle Ketelsen; Eric Halfvarson; Marina Poplavskaya; Royal Opera; Charles Mackerras
OpusArte OA 1009 D
Francesca Zambello's brilliant production of 2002 has stood the test of time and this eagerly anticipated film was well worth the wait.
Such a pleasure to see a modern production of the complete score without the current trend of Euro-trash modernization, updating and inserting outrageous "new ideas" that pass for inventiveness. This performance is traditional in a sense, but full of imagination and inspiration. A revolving stage is simple and versatile with a curved wall that acts as a trompe l'oeil forming a false perspective of a magnificent renaissance hall for the first act finale. Generally the stage direction aims to clarify the sometimes confusing story and to show the hero in an unsympathetic light while the women are treated with compassion.
Apart from being a visual triumph it is also a wonderful musical performance. This opera requires eight soloists of the highest order, not always possible but here pretty well achieved. Simon Keenlyside is an outrageous and irreverent Don in fine voice and with his sidekick Kyle Ketelsen (Leporello) accentuates the comedy with an excellent vocal and dramatic performance. Among the ladies, all of them memorable, perhaps Joyce DiDonato (Donna Elvira), a highly accomplished singer, stands out the most. Ramon Vargas here is tested as Don Ottavio with splendid results. Robert Gleadow of the COC makes an effective Masetto with his fine deep baritone voice.
But the real success is Sir Charles Mackerras. Now in his 80's, he is a great conductor and scholar whose achievements are too many to mention, an advocate of period instruments and Mozart specialist (how can we forget his series of Mozart symphonies on Telarc). We can only admire how he springs his orchestra into life with a beautifully detailed, well paced and crisp sounding performance.
Janos Gardonyi