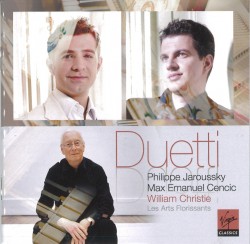 Duetti
Philippe Jaroussky; Max Emanuel Cencic; Les Arts Florissants; William Christie
Virgin Classics 5099907094323
Les Arts Florissants date from 1979. Founder William Christie has identified two of the finest younger countertenors, Philippe Jaroussky and Max Emanuel Cencic, and devoted a whole CD to 24 duetti from the Italian Baroque. It is encouraging that many of the composers included are being rediscovered. There is, for example, a magnificent stately quality to the opening piece, Pietoso nume arcier, a duet by Giovanni Bononcini.
Longest of the tracks is the eight-minute duet Quando veggo un'usignolo by Francesco Bartolomeo Conti. Demonstrating the countertenors' skills at their most testing, its dialogue is a clever "echoing" of the two sets of lyrics, in turn accompanied by the baroque ensemble at its most expressive.
Two further composers, Nicola Porpora and Benedetto Marcello, supply five and eight more duets, respectively. While relatively short in duration, they combine cheerfulness and interpretative difficulty and are, perhaps, a fine introduction to the Italian baroque countertenor. The informative notes describing the importance of each composer reinforce this.
Sometimes the tracks feature one singer only, but there is accompaniment in various combinations of violin, cello, lute, theorbo, harpsichord and organ. This is demonstrated clearly in Philippe Jaroussky's performance of Francesco Mancini's Quanto mai saria piu bello.
Full credit to William Christie for researching the composers, realising the talent of both countertenors and selecting pieces that so amply display their skills.