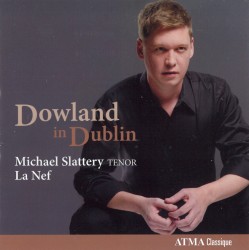 Dowland in Dublin
Michael Slattery; La Nef
ATMA ACD2 2650
Was Dowland Irish or English? We will probably never know but it has not stopped tenor Michael Slattery from working with La Nef in giving some of Dowland's compositions "a simple, Celtic flavour." Slattery in turn looked for a drone sound to accompany himself. He found it in the shruti box associated with Indian prayers …
The contrasts in this selection emerge early; the second track, Now, O Now, a stalwart of Elizabethan farewells, is sung unchanged but its musical accompaniment is composed by Slattery and La Nef! Behold a Wonder Here is slightly altered — slowed down — but again the accompaniment is far from the courts of Europe.
This is no conventional recital of Dowland. Some of his songs are performed as purely instrumental pieces — but effectively. Fine Knacks for Ladies is one such; its setting would grace any Elizabethan ball. And then there are those thoughtful, introspective and melancholy songs for which Dowland is most often remembered which are included despite the artists' aim of "lightening up" his music. Come Heavy Sleep is performed by Slattery with the dignity its words deserve, equally respectfully accompanied by flute, lute, cittern and viol da gamba — there are some songs (His Golden Locks is another) that can never be changed.
Tenors are often the unsung heroes of Dowland's music, overshadowed by bass, soprano or countertenor parts. Whether or not listeners approve of the arrangements here, Michael Slattery's tenor voice excels.