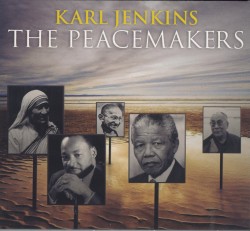 Karl Jenkins – The Peacemakers
Various Artists
EMI Classics 0 84378 2
While this disc was recorded in studio, it is of note that over 300 musicians and a full house gathered this past January at Carnegie Hall to participate in the live premiere of The Peacemakers by Karl Jenkins, offered as part of Martin Luther King Day celebrations.
The 17-movement work includes texts by Shelley, Gandhi, the Dalai Lama, Terry Waite, Mother Teresa, Albert Schweitzer, St. Francis of Assisi, Sir Thomas Malory, Rumi, Nelson Mandela, Bahá'u'lláh and Anne Frank. As witnessed in previous works (Adiemus comes to mind), Jenkins has always proved masterful at enhancing the western orchestra/chorus with ethnic instrumentation. In many movements of this work, birthplaces of these messengers of peace are evoked by use of, for example, the bansuri and tabla for Gandhi, shakuhachi and temple bells with the Dalai Lama, African percussion in the Mandela and a jazzy blues accompaniment to Martin Luther King. Uilleann pipes and bodhrán drums complete "A Celtic prayer."
While a profound sense of devotion and meditative reverence is felt throughout the musical settings, this is offset by moments of playful lightness (somewhat like the "In paradisum" movement of Jenkins' Requiem). Jenkins' music is full of hope, reminding and inspiring the listener to once again, against all odds, embrace the spirit of peace.
Concert Note: On April 28 the Oakham House Choir of Ryerson University and Toronto Sinfonietta present "Better Is Peace Than Always War" which includes Karl Jenkins' The Armed Man – A Mass for Peace and works by Penderecki, Bacewicz, Zielinski and Zebrowski.