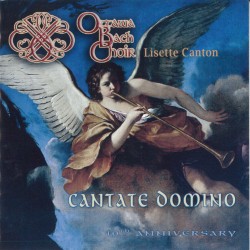 Cantate Domino
Ottawa Bach Choir; Lisette Canton
Independent 2011
www.ottawabachchoir.ca
The Ottawa Bach Choir celebrates its tenth anniversary with the release of this recording which includes the choir's favourite repertoire. Bach, of course, is given pride of place with first and last selections; first being the wedding cantata, Der Herr denket an uns BWV196, and lastly the motet Der Geist hilft unsrer Schwachheit BWV226. A small baroque ensemble led by violinist Hélène Plouffe serving as orchestra shines brilliantly in the opening Sinfonia and director Lisette Canton coaxes excellent work from the choir throughout. The choir's namesake appears again in a later setting; Knut Nystedt's Immortal Bach, in which the theme taken from Komm süsser Tod BWV478, with layered notes from the original, is sung in different time intervals. Rather than the expected fugal effect, a unique and ethereal mass voice emerges alternating between consonance and dissonance.
Soloists shine in Monteverdi's Beatus vir, and Messiaen's O sacrum convivium! shows off the choir's warm and unified responsiveness. One can only wish the Ottawa Bach Choir continues to delight their audience for (at least) another ten years.