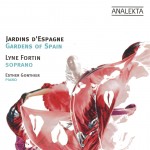 Gardens of Spain
Lyne Fortin; Esther Gonthier
Analekta AN 2 9972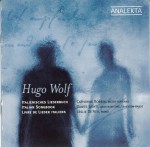 Wolf - Italienisches Liederbuch
Catherine Robbin; Daniel Lichti; Leslie De'Ath
Analekta AN 2 9956
Two recent Analekta releases feature the music of Hugo Wolf, the late 19th-century life-long composer of lieder. One recording focuses exclusively on one cycle by Wolf, while the other includes him in a collection of Spanish and Spanish-inspired pieces. While both song cycles are named for the countries the poetry originates from, Wolf's music itself is decidedly Germanic.
In each of the excerpts from Spanishes Liederbuch performed by Lyne Fortin, she certainly has the dramatic presence to handle the "Sturm und Drang" required by the constantly changing emotional content. In selections by Richard Strauss a garden flower is passionately compared to a girl or a woman whose nature reflects that of the blossom. Bizet and Delibes truly embrace the flavour of Spanish music with a dizzying flirtatiousness that Fortin delivers beautifully. Fortin conveys a fiery persona especially in the truly Spanish repertoire on this recoding. The cantos by Cuban composer Joaquin Nin start with an excitement and flourish that keep quite a pace until the third selection which slows but maintains the emotive momentum. In fact, throughout the CD, this singer sings as though always on edge, with smouldering moments juxtaposed with shrill peaks of high anxiety, keeping the listener thrilled with uncertainty. Pianist Esther Gonthier keeps the tension high throughout and especially shines in the Torroba, where her piano takes on the persona of a strumming guitar.
Hugo Wolf's Italienische Liederbuch is rarely performed in its entirety, consisting as it does of no less than forty-six vignettes. Having performed a few of them in a recent concert tour entitled "Songs of Venus and Mars", mezzo-soprano Catherine Robbin and bass-baritone Daniel Lichti were inspired to record the complete cycle since the lieder neatly fall into categories suitable for both male and female singers. Again, in paying homage to the Tuscan folk poems and Venetian vilote, Wolf's music reflects his own nationality, but the translations into German still make for quite the range of emotion, from passion to reverence and playfulness to despair. Both Robbin and Lichti along with pianist Leslie De'Ath add a certain elevation to sentiments of romantic exploration in the same way that Wolf transforms the simplicity of the lyric to a more classical standard of high art. The singers, well known for their expertise in this repertoire, imbue the performance with superb tonal quality, warmth and grace.