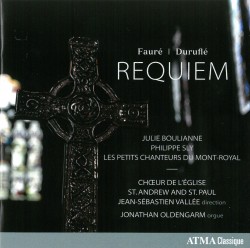 Fauré; Duruflé – Requiem
Julie Bouliane; Philippe Sly; Choeur de l'Eglise St. Andrew and St. Paul; Jean-Sebastien Vallée
ATMA ACD2 2779 (atmaclassique.com/En/Albums/AlbumInfo.aspx?AlbumID=1615)
The Requiem Masses by Fauré and Duruflé prove a nice pairing on this CD. Each composed three different versions of the choral Requiem, scored for chamber or full orchestra, or with organ accompaniment as chosen and lovingly performed by Jean-Sébastian Vallée on this recording. Both composers, eschewing the operatic 19th-century Requiem settings of Berlioz and Verdi, chose instead to focus on images of rest and peace. In both masses, the highly dramatic sections of Dies irae are omitted while the uplifting Pie Jesu is retained. Both composed Libera me for baritone soloist, and in this performance, Philippe Sly so beautifully intones the humble plea, never once diminishing the powerful timbre of his voice.
Fauré composed his melodies using the Hellenic principles of clarity, balance and serenity and Duruflé, writing 60 years later, based his on the Gregorian melodies for the Mass of the Dead, imbuing them with rhythmic variation and harmonic enhancement. The pace with which the Choir of the Church of St. Andrew and St. Paul is directed on this album allows for a deeply reverent quality throughout. In the Duruflé Pie Jesu, the interweaving of mezzo-soprano Julie Boulianne with Elinor Frey's ad libitum cello results in a beautifully warm and inviting entreaty, while it is interesting to hear Les Petits Chanteurs du Mont-Royal sing Fauré's Pie Jesu in perfect unison, rather than performed by the traditional solo treble.