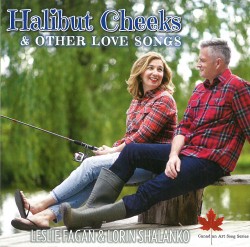 Halibut Cheeks & Other Love Songs
Leslie Fagan; Lorin Shalanko
Independent (canadianartsong.com)
Soprano Leslie Fagan and pianist Lorin Shalanko, both international performers and professors of music at Wilfrid Laurier University, are devoted to showcasing Canadian composers through their Canadian Art Song Series, which premiered with the release of Thread of Winter in 2016. This second recording in the series, which takes on the theme of love and romance, is bursting with heartfelt and melodious pieces performed with great warmth and passion. Since the prelude to romance is often a meal, the recording begins with the witty David L. McIntyre's Creek Bistro Specials in which a sumptuous (and very Canadian) menu, from appetizers to desserts, is extravagantly presented in song. Nestled within the mains is the title track Halibut Cheeks and one can't help but note a clever nod to Schubert's Die Forelle in the piano part at the end of the Grilled Trout course.
In the selections that follow, the performers mine exquisite depths of emotion, first with Lionel Daunais' Cinq Poèmes d'Éloi de Grandmont, then with Srul Irving Glick's sensuous Seven Tableaux from the Song of Songs. Gorgeous selections by Matthew Emery and Michael Coghlan by turn frame Gladys Davenport's Cool and silent is the lake, in which Fagan and Shalanko delicately evoke a sense of wonder at nature's tranquility.