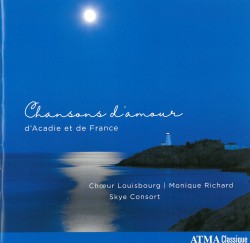 Chansons d'amour d'Acadie et de France
Choeur Louisbourg; Skye Consort; Monique Richard
ATMA ACD2 2776 (atmaclassique.com)
New Brunswick's Louisbourg Choir celebrated its tenth anniversary in this collaboration with the Skye Consort, a gifted early music ensemble whose mandate is to craft their own contemporary arrangements of seldom-heard vocal and instrumental pieces. For the first section of this recording, cittern-player Seán Dagher has arranged a number of charming selections from the Chansons folkloriques d'Acadie-La fleur du rosier and Chansons d'Acadie collections. Songs of love, travel, adventure and everyday life are delightfully and unreservedly performed by this accomplished choir, interspersed with spirited instrumentals by the ensemble.
The second half of the recording features chansons by little-known composer Jacotin Le Bel (1495-1556), who served in the royal court of France during the reigns of François I and Henri II. Here, the choir shines as director Monique Richard deftly leads them through the complexities of vocal polyphony and luxuriant voicings reminiscent of Josquin des Prés. In these renderings, one appreciates the small size of the chorus. With four or five to each vocal part, the singers are better able to navigate the fluidity of long melismas and realize greater clarity of text. Again, the Skye Consort intersperses with enchanting interludes.