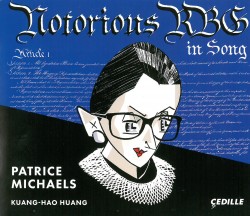 Notorious RBG in Song
Patrice Michaels; Juang-Hao Huang
Cedille CDR 90000 178 (cedillerecords.org)
Marking the 25th anniversary of Ruth Bader Ginsberg's appointment to the US Supreme Court, this recording honours an 85-year old champion of equal rights who continues to vigorously oppose injustice in an environment of increasingly reactionary conservatism. The title, Notorious RBG, a famous meme (and play on the late rapper Notorious B.I.G.), stuck to Ginsberg after her 2013 dissent in response to a rollback of voting-rights protections.
This recording features works by five American composers celebrating Ginsberg's family and professional life. Family is, after all, at the heart of this project. Cedille Records is Ginsberg's son James' label. Soprano and daughter-in-law Patrice Michaels is the ardent album performer and composer of the nine-part cycle The Long View, which gives us a deeply personal glimpse into Ginsberg's life as daughter, wife, mother, lawyer, academic and public figure. Composer Lori Laitman's setting of Wider Than the Sky by Emily Dickinson, was performed as a tribute to Ginsberg on her 80th birthday. Canadian composer Vivian Fung's Pot Roast à la RBG is a lighthearted play on the judge's domestic life, while Stacy Garrop's My Dearest Ruth poignantly recalls the farewell letter written by Ginsberg's late husband. The final piece, You are Searching in Vain for a Bright Solution, is an aria from Derrick Wang's comic opera Scalia/Ginsberg, celebrating the unlikely friendship of two colleagues able to find common ground despite oppositional viewpoints. A tribute to the intelligence and humanity of this phenomenal woman.