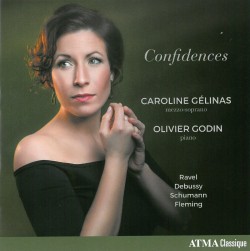 Confidences
Caroline Gélinas; Olivier Godin
ATMA ACD2 2781 (atmaclassique.com)
Mezzo-soprano Caroline Gélinas, having recently received the honour of Révélation Radio-Canada in the classical category, is, as an alumna of Atelier Lyrique de l'Opéra de Montréal, already known for her "magnetic stage presence, rich timbre and authentic and moving interpretations." And listening to the emotively complex repertoire chosen for this debut solo recording, one couldn't agree more. Having chosen to sing the roles of strong women acting ingeniously in difficult situations and tragic circumstances, Gélinas demonstrates an enormous dramatic range whilst maintaining exquisite vocal tone. As the three songs of Ravel's Shéhérazade progress, the singer increases the intensity to portray the storyteller's ingenious effort to prolong her life. For Debussy's Trois Chansons de Bilitis, her voice floats freely as if in a dream over a more structured accompaniment, beautifully executed by pianist Olivier Godin. Gedichte der Königin Maria Stuart by Robert Schumann is a song cycle which spans 26 years of Mary Stuart's life, from young girl to mother to imprisoned queen. Gélinas demonstrates a poignantly exquisite tenderness in the last movement as Mary prays while awaiting execution.
As a final offering on this recording, Gélinas tackles, and does great justice to, one of Maureen Forrester's favourite cycles, The Confession Stone by Robert Fleming, based on poems by playwright and teacher Owen Dobson. Gélinas deftly changes character with each segment, portraying Mary, Joseph, Mary Magdalene, Jesus, Judas and God.