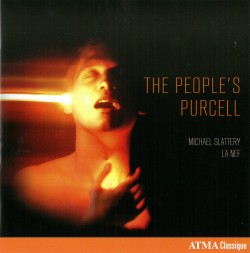 The People's Purcell
Michael Slattery; La Nef
ATMA ACD2 2726 (atmaclassique.com)
As with his 2012 recording, Dowland in Dublin, tenor Michael Slattery has collaborated again with La Nef to present the music of a beloved composer, reworked and transformed in fresh and novel ways that prove most pleasing (and accessible) to a modern listener. Though Henry Purcell enjoyed an elevated position as composer at the court of Charles II, his theatrical music, based on popular song and dance forms of the time, was clearly loved by the more common folk. As well, there has been a long tradition of re-arranging Purcell's sublime melodies for public use, beginning with Playford's collection The Dancing Master in 1651.
Each piece selected for this recording has been individually stamped by either Slattery or a member of La Nef, without compromising the original intent of the music. Baroque cellist Amanda Keesmaat and cittern player Seán Dagher infuse their arrangements of instrumental suites from The Fairy Queen and King Arthur with playful interplays and folksy articulations. Flutist Grégoire Jeay and tenor Slattery take turns providing arrangements of the songs, with stunning results. The recording ends with Slattery's reworking of Dido's Lament in which a vacillation between the minor and major key provides a surprisingly dramatic and rather surreal effect, poignantly enhanced by the tenor's artful and subtle delivery.