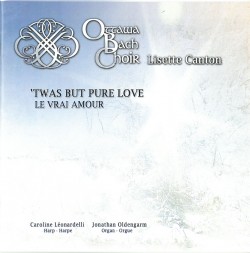 'Twas But Pure Love
Ottawa Bach Choir; Lisette Canton
Canto 2016 (ottawabachchoir.ca)
The splendid choral offerings on this recording range from Renaissance to contemporary works and it was recorded just in time for the holiday season last year in celebration of the Ottawa Bach Choir's 15th anniversary. It includes recording premieres for two Canadian works. The first, Sailor's Carol by Matthew Larkin (director of music, Christ Church Cathedral, Ottawa), is based on a text by Cornish poet Charles Causley. With a lovely harp intro and simple chordal accompaniment, three descriptive verses lead to the chant Ave maris stella, creating a sense of great awe at the everlasting guidance of a star. The Darkest Midnight in December by Kelly-Marie Murphy again features lovely passages by harpist Caroline Léonardelli, while the women of the choir present a gentle, yet sublimely shimmering interpretation of a 1728 text by Irish priest, Fr. William Devereux. Early works performed beautifully by the full choir include Tomás Luis de Victoria's O magnum mysterium, an unaccompanied motet realized in all its haunting splendour. Bach's Lobet den Herrn, alle Heiden, BWV 230 provides a lively contrast with its double-fugue passages, showcasing each of the choirs' sections and their superb tonal and rhythmic agility, as well as deftness of hand (and foot) by organist Jonathan Oldengarm.